Is 2023 the year you start learning Spanish? It's possible. As with every new year, many of us have set goals for ourselves that we hope to achieve before our next trip around the sun.
Some of the most rewarding endeavors provide us with new opportunities. Learning Spanish fits that description perfectly.
With over 400 million speakers worldwide, Spanish is only second to Chinese in most spoken languages. Recently, it isn't easy to find something that your smartphone can't do.
From the comfort of your armchair, you can do your weekly shopping, tune your ukelele, book a room on the other side of the world, and even purchase the flight to get there. You can even begin learning a new language with the tap of a button.
This article carefully details the 10 best tools for learning Spanish. It also provides the pros and cons, attaching links to get to them easily. Keep reading.
Why Use the Best Tools for Learning Spanish?
#1. You study at your own pace and only study what is relevant to you.
Signing up for a language course, showing up to class on the first day, and discovering all the possibilities are all part of the process. You can choose what to skip, and what you want to learn. Through the tool, you can evaluate yourself.
As a result, one of the most obvious benefits of using the best tools for learning Spanish is that you can control the pace and rhythm of your learning.
You can follow structured courses, which are conveniently divided into 10-15 short lessons. You have it in your hands!
#2. You can enjoy the disconnection and be free of distractions.
Another significant benefit of using the best tools for learning Spanish is the ability to choose where and when to learn.
With some of these tools, you can download the courses ahead of time and complete them on time. That is not all. After finishing a course or two on your phone, you can transfer your progress to your laptop.
This is to ensure you save and synchronize. All of your new information is not only in your ever-expanding brain but also in the ever-expanding cloud. Isn't it quite useful?
#3. A handy review manager can help you ingrain your new language.
The act of reviewing is only second to the act of learning in importance. Since our memories work to forget things we don't use regularly, using the review manager is critical to ensuring that all of the information you've learned is quickly and accurately recalled when needed.
You'll be able to review everything you didn't quite get right in the lessons with the review manager. You'll get to go over the areas where you've struggled again and again until you feel comfortable and confident enough to move on.
Related Article: 10 Best Google Project Management Free Tools In 2023
#4. You begin speaking from the beginning.
After only 5 hours of use, 73% of tools for learning Spanish report being able to hold a basic conversation in their new language. The courses are to get you speaking as soon as possible.
They focus on the first conversations and vocabulary you are likely to encounter. You'll be able to introduce yourself, order a beer, and ask where the restroom is in no time.
Although these are very basic, they provide you with your first opportunities for real, functional communication. This will motivate you to use the best tools for learning Spanish.
#5. You can save money and time.
Most traditional language schools have not evolved to meet the needs of modern society. They are stuck in the past, with rigid timetables, antiquated classes, and antiquated books with sterile exercises. And that's before we even get started on the cost.
Learning with the best tools for learning Spanish does not as expensive. The benefits are enormous. They give you the freedom and independence to learn where, when, and what you want, at very little cost.
How to Determine Which Tool for Learning Spanish is Best for You?
With so many language learning tools on the market today, it can be difficult to decide which one is best for you. After all, you don't want to pay for a subscription to a dozen different apps while looking for the right one. The steps you should take are-
Step 1
First, decide which language you want to learn ahead of time. Each app only supports a limited number of languages.
Some languages, such as Spanish, French, and German, will almost certainly be available on any app.
Other, less common languages, on the other hand, maybe more difficult to locate. Knowing what language you want to learn will help you narrow down your search for an app.
Step 2
It's also critical to think about how you learn best. Some language learning tools use a more traditional approach to teaching, while others use more innovative methods for non-traditional students.
Do you prefer to learn by reading words on a screen? Listening to a teacher explain a concept? Or is it as simple as hearing a language in use and picking it up as you go? Each app is unique.
Step 3
Finally, think about your ultimate goal for your language studies. If you enjoy learning languages but do not intend to use them in the real world, you may have a wider range of apps to choose from.
However, if you intend to use what you learn in real-world situations, such as traveling or interacting with native speakers, choose an app designed for that purpose.
Don't Fail to Read: 15 Productive Tools for Remote Workers in 2023
How to Select the Best Tool for Learning Spanish?
Every tool has its specifics. Look out for the tools for learning Spanish that have their unique features. In all, the tools for learning Spanish that you can choose from must-
Provide something unique. Whether it's through their teaching style, interactive features, or a one-of-a-kind approach.
Interesting methods of instruction
Have reasonable pricing
Reviews from previous users
Have the Spanish language
Must have features to record your progress
10 Best Tools for Learning Spanish in 2023
If you've always wanted to learn Spanish, or if you took some in high school or college and want to keep improving your skills but are too busy to take more lessons, you might have considered using a tool.
The 10 best tools for learning Spanish in 2023 are-
#1. Mondly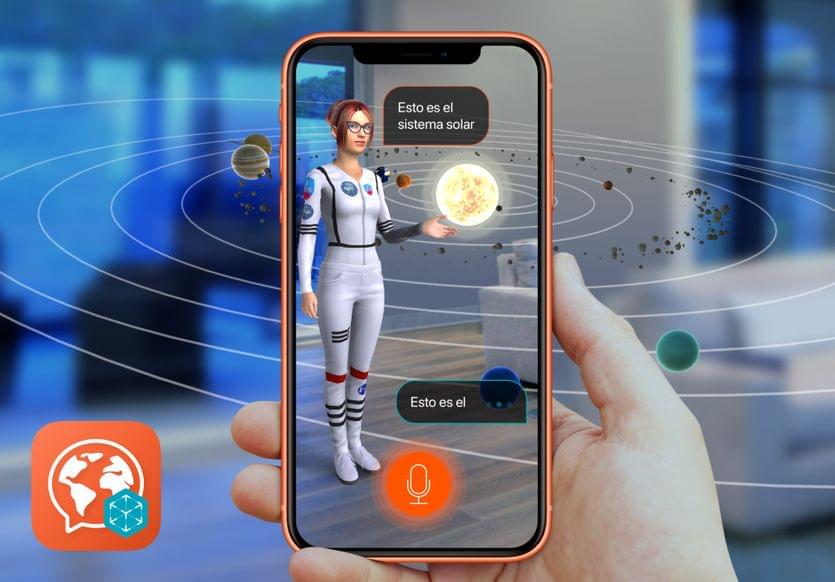 Price:$9.99 per month or $47.99 per year.
Mondly has grown in popularity since 2014. Its cutting-edge and daring technology made it one of the best tools for learning Spanish.
It employed augmented reality, virtual reality, and chatbots to help people learn languages.
This could be your tool if you enjoy experimenting with different features or clicking around to learn more. It works great on the Web, Android, and iOS.
Pros
It offers the option to learn Spanish…of course.
European Spanish is also an option
The ability to learn Spanish using languages other than English.
Rather than paying for content that will remain the same, you receive new lessons every day.
The ability to click any verb in context to open a small window with all conjugations, including pronunciation.
Mondly generates daily lessons based on your prior knowledge. The lessons pertain to you as an individual.
The app's chatbot and speech recognition features have received rave reviews.
Cons
You don't get much for free – if you want to use Mondly, you'll have to pay for it.
The app can sometimes appear to be a fancier version of Babbel or Duolingo. They somehow have similar translation exercises and match exercises. This can become tedious.
Mondly is not for you if you prefer a minimalist design or are easily overwhelmed by platforms with a lot going on visually.
You'll have to pay more if you want to access languages other than Spanish.
The intermediate and advanced levels aren't particularly difficult. They appear to be almost identical to the beginner level. With the exception that you get exercises instead of lessons.
If you dislike relying on translation to learn a new language, this is not the best option.
Dialogues can come across as stiff and artificial.
#2. Rocket Spanish
Price: For $259.90, you can purchase levels one, two, and three, which will take you from beginner to solid advanced.
Rocket Languages is one of those tools for learning Spanish that was heavily criticized in the past.
Of late, it has proven to listen to feedback and change its product to keep up with the times.
With some grammar demonstrations, the platform provides comprehensive courses. These help you practice all skills (speaking, listening, reading, and writing).
It teaches Latin American Spanish using the concept of chunking. This means you'll learn phrases rather than isolated words. It works perfectly on Web, Android, and iOS platforms.
Pros
There is an option for Latin American Spanish as a variation.
Dashboard is simple, intuitive, and easy to use.
Interactive audio lessons, language, and culture lessons.
There are also writing lessons, and survival kit lessons comprise the content.
Rocket Record is a voice recognition application that can help you improve your pronunciation.
It is ideal if you enjoy learning a new language through explanations and context in English. The course host functions almost as a teacher, guiding you through dialogues and asking you to repeat certain phrases.
The audio quality and dialogue are excellent, including everyday expressions.
Includes a "My Vocab" tool that allows you to search for specific phrases you've learned in the past. You can then see them in context with pronunciation right away.
If you purchase the course and decide it is not for you, you have 60 days to request a full refund.
Cons
Requires an immediate financial commitment and is quite expensive in comparison to other apps. This is especially when you pay for lifetime access rather than monthly access.
It's bad for you if you prefer immersion to constant explanations and guidance in English.
The first level costs $99.95 and takes you from beginner to low intermediate (lifetime access). Levels one and two are $249.90 when purchased together, taking you from beginner to intermediate/low advanced.
Related: 15 Free Team Collaboration Tools in 2023 | Realtime Access
#3. Glossika
Pricing: A 7-day free trial is available before purchasing the product. Following that, you can pay $30 per month.
Glossika is one of the best tools for learning Spanish. The app adapts content to your level and employs audio-based lessons.
It uses this to create an immersive environment and assist you in speaking Spanish from the start.
For practice, the platform also employs dictation, multiple-choice, and fill-in-the-gaps questions. It is great for web-based platforms.
Pros
There are two types of Spanish: European Spanish and Mexican Spanish.
Take a placement test to determine where you should begin.
Make a daily goal for yourself so that you can adjust your expectations and track your progress.
You can skip sentences that are overly simple for you (or that you already know).
You can save phrases that you think you'll use frequently.
The course introduces only about 5 phrases per lesson, so you don't get overwhelmed and can focus on improving your skills gradually.
You begin learning useful phrases from the beginning, even if they are not traditionally taught in a Spanish course. For example, you might learn how to say "Today is Wednesday" in your first lesson.
Access to all language courses, not just Spanish, is on the subscription. If you want to learn multiple languages, this can be a plus.
There are no grammar explanations, which is ideal if you prefer immersive learning.
Cons
Glossika may be overwhelming if you prefer a more traditional approach to learning Spanish or are a complete beginner. You begin learning entire phrases right away.
According to some reviews, the content can become tedious after a while.
If you aren't interested in learning other languages, the subscription includes more than just Spanish.
There are no grammar explanations, which can be a disadvantage if you prefer some assistance in that area.
The content is the same across languages, which can be off-putting.
Price: Lingodeer costs $11.99 per month, $29.99 per quarter, $79.99 per year, or $99.99 for life.
Lingodeer is a platform based on grammar. It is one of the best tools for learning Spanish out there. It may be the app on this list that most closely resembles a traditional course.
This is because it relies on grammar explanations alongside vocabulary study to help you understand Spanish from the start. Aside from that, Lingodeer provides some additional tools to assist you in learning Spanish.
This includes quizzes and tests, cultural stories, and flashcards. It works well on Web, Android, and iOS platforms.
Pros
Spanish from Europe and Latin America.
Simple design, ideal for those who prefer a clean platform that isn't visually crowded.
If you enjoy understanding the structure of a language as you go, this is a great option for you.
Lingodeer may be better for you if you're a complete beginner who prefers a structured, explanation of how things work before diving in
If you prefer to order and structure your learning, a linear curriculum with suggested categories may be beneficial.
Cons
Some vocabulary is in isolation, at least in beginner lessons (not in the context of a dialogue or sentence).
Lingodeer is not for you if you prefer to learn through immersion rather than having to deal with grammar explanations. The app's very foundation is on the importance of grammar in understanding a language.
It may be a little too easy for intermediate and advanced players.
#5. Babbel
Price: $12.99 for one month of access, $29.97 for three months, $47.94 for six months, and $71.88 for a year of access.
Babbel has completely dominated the language learning market with its appealing design. It also has great dialogue-based learning, and bite-sized (15-minute) lessons that are easy to complete every day.
The fact that you learn to dialogue right away is exciting and helps you understand how the language works right away.
There are also occasional grammar and cultural notes to tie everything together. As well as plenty of interesting courses to supplement it.
Aside from the standard courses that progress you through levels, you can find mini-courses such as Business Spanish, Mexican Spanish, Listening and Speaking, Countries and Traditions, and others. It works great on the web, android, and iOS platforms.
Pros
Unspecified variety, but several courses focus on Mexican Spanish.
Although Babbel offers a variety of languages to learn, each language's content is unique. That is, rather than copy-pasted material, you will find original content.
Babbel asks you a lot of questions right away so that they can curate content that speaks to your interests and level.
Studying on the go is simple.
Given the product's quality, the price is quite reasonable.
Each lesson employs dialogues that contextualize expressions and words. The discussions are not forced or robotic. You're also encouraged to begin filling in the gaps in these dialogues as soon as you begin, which is a great way to get started.
The interface is simple, well-designed, and easy to use.
Cons
Some may argue that Babbel is essentially a glorified Duolingo or Rosetta Stone with better marketing. This is because its activities aren't particularly diverse
After completing a few levels, the lessons become repetitive and boring.
There is no trial period: you can only try one lesson for free, which isn't always the best way to determine whether an app is right for you.
#6. Pimsleur
Price: A full course costs $575.00. (levels 1-5). You can also buy 30 lessons (one level) at a time for $150.00 each.
If you prefer a subscription-based payment method, that is also an option. Pimsleur Premium App subscriptions are $19.99 per month.
Pimsleur is an audio-based system that claims to eliminate noise and distractions while teaching you Spanish. It is one of the best tools for learning Spanish out there.
Pimsleur teaches you Spanish using the principles of anticipation, graduated interval recall, context, and limited amounts of information at a time. This ensures you get something similar to a traditional classroom experience. It has Web, Android, and iOS platforms.
Pros
There are two types of Spanish: European Spanish and Latin American Spanish.
Before you begin your free test, you'll use Dr. Pimleur's memory and language learning principles. It helps you form a habit and become more consistent. For example, you're invited to complete no more than one audio lesson per day, which sounds doable.
Some new words break down into parts so that you can perfect your pronunciation syllable by syllable and sound natural right away.
Pimsleur's courses are for you if you like guidance and explanations in English from a teacher who can lead you step by step.
It guides you through dialogue and asked to repeat expressions. Soon after, you are unexpectedly asked to recall expressions, which is a wise strategy.
It has an option for reading, flashcards, a quiz, a "Speak Easy" option, and a speed round in which you match expressions as quickly as you can, forcing you to recall under pressure.
Cons
Pimsleur allows you to try out one free lesson. It can be insufficient, especially if you are not a complete beginner.
If you mind a teacher's guidance or explanations in English that keep you from full immersion, this is not the product for you.
Since the course requires you to speak out loud and repeat words as you hear them, it is not the best option if you want to learn Spanish in public or during short breaks.
If you want to buy the entire course (all levels) right away, you'll have to make a significant investment.
According to recent reviews, the app is not performing well technically. It has frequent crashes and difficulties downloading lessons.
See also: 14 Free Business Growth Tools for 2023 | Skyrocket your business
#7. Busuu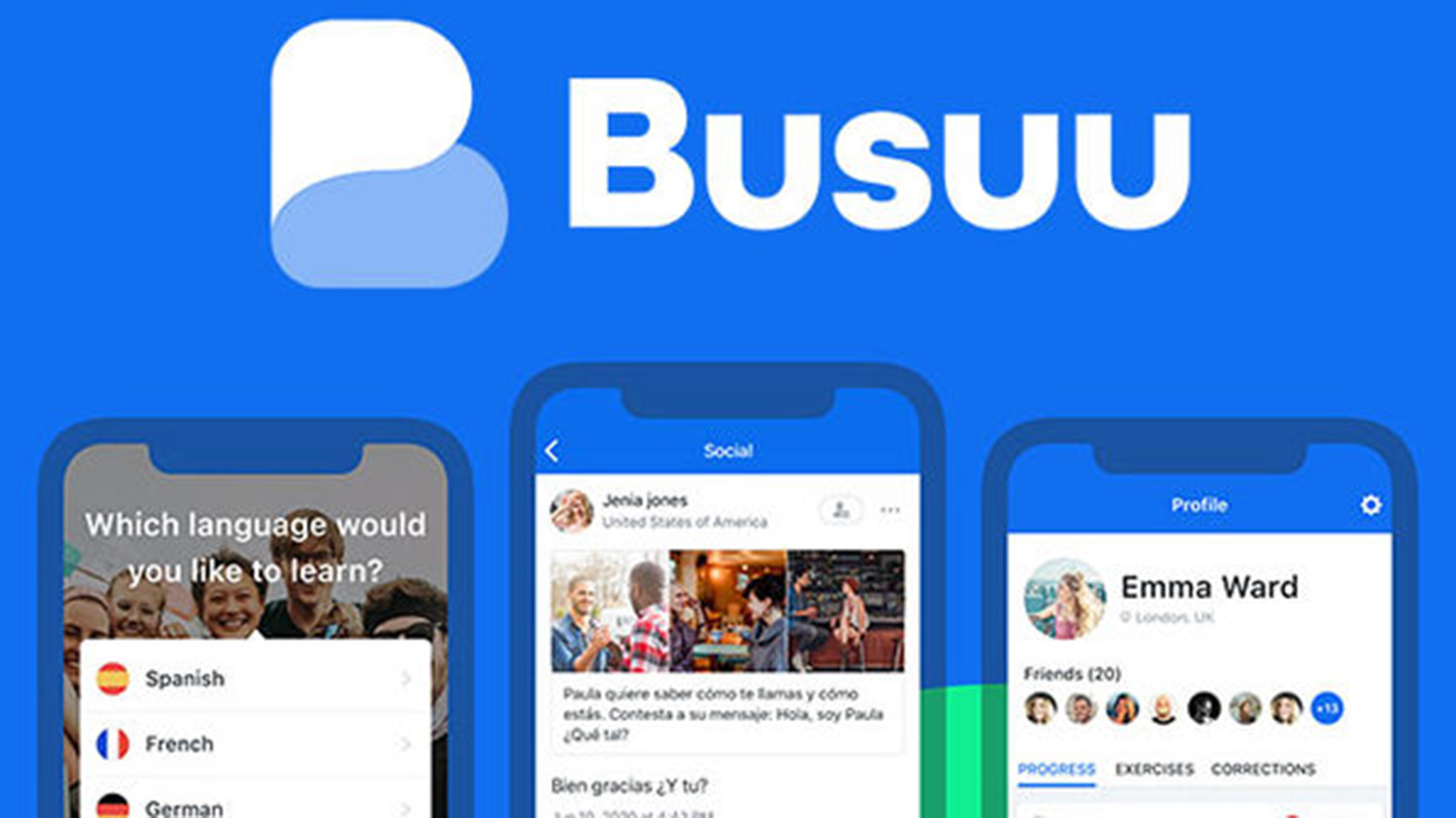 Busuu claims to teach you Spanish in just 10 minutes per day. It is another one of the best tools for learning Spanish.
It is appropriate for all levels due to the variety of courses, exercises, and topics available. Its method also includes an intriguing social component that allows you to connect with native Spanish speakers and other users.
This fosters a sense of community and collaboration. This is by allowing you to correct and receive corrections on other people's exercises.
Busuu appears to combine a lot of what other apps on this list do in a single platform: general courses, specialized courses, a social tool, and vocabulary/grammar practice. It has Web, Android, and iOS platforms.
Pros
European Spanish is a variation.
You don't have to settle for a standard Spanish class. Aside from the regular course, there are also Spanish for Travel, Learn Spanish with El Pais, and an All About Spanish podcast.
You can book a 30-minute one-on-one live lesson with a professional tutor to practice speaking if you're willing to pay a little extra.
It is appropriate for beginners, intermediate learners, and advanced learners. Some of the listening comprehension content and testing are difficult.
You can get a personalized study plan based on your objectives and available time. This feature, however, is not free.
Cons
You are not required to complete beginner levels before you can access more advanced content.
You could see the questions you answered incorrectly later, giving you a second chance.
#8. Rosetta Stone
Price: The Premium version costs 69.99€ per year. Premium Plus gives you access to up to 12 languages, official certificates, and a personalized study plan. You also get all of the other features found in the Premium version. All for an additional fee.
One of the best tools to learn Spanish is the Rosetta Stone. Like HiNative, the platform includes a social tool through which you can communicate with native Spanish speakers. You can also communicate with learners.
When compared to other apps on the market, the price is reasonable given the amount of content and flexibility provided.
The emphasis is instead on immersion and matching words with images to learn vocabulary over time, It works perfectly on Web, Android, and iOS platforms.
Pros
There are two types of Spanish: European Spanish and Latin American Spanish.
Clean, appealing, and user-friendly design.
The entire course is in Spanish, to create an immersive environment. Rosetta is a good choice if you prefer this approach.
The subscription includes weekly tutoring sessions of 25 minutes.
From the first lesson, the TruAccent speech engine assists you in perfecting your pronunciation and accent. While it is not perfect, it can help you overcome the initial insecurities that come with learning a new language.
You can download lessons and use them offline.
To practice listening skills, you can read stories narrated by a native speaker.
If you prefer learning Spanish without a heavy emphasis on grammar, Rosetta Stone is for you.
Cons
Even though Spanish is a flexible language, some exercises do not accept alternative wording of the same idea.
You must pay to practice with native speakers or gain access to offline content.
Since the entire course is on matching words and pictures, it can quickly become tedious.
If you prefer learning Spanish with English explanations, you may not like the courses.
The courses emphasize formal registers first and foremost, so if you intend to use Spanish with friends or in other informal contexts, you may find the content far too formal.
The images and content are not unique to the Spanish course. They are, in fact, the same for every language course.
According to many reviews, the product is too expensive for the value it provides.
See also: 10 Best Google Project Management Free Tools In 2023
#9. Duolingo
Price: Access to the entire platform is mostly free. If you want a version without ads, offline access to content, unlimited mistakes, and the ability to track your progress, you should try Duolingo Plus, which costs $6.99 per month. You can also take advantage of the 7-day free trial to see if you like the upgrades you receive.
Love it or hate it, Duolingo is here to stay, and if you're interested in learning Spanish, you've probably heard of it millions of times.
Because of how simple, visually creative, and practical it is, the free app that teaches you languages through repetition, translation, and quick exercises has conquered the world.
Duolingo guides you through a knowledge tree, where you gradually master vocabulary. They have made significant progress recently: not only do they continue to add new content to their courses. They also have an active community and are working to improve their existing features.
This would help diversify their study tools and provide learners with access to more materials. It works great for Web, Android, and iOS platforms
Pros
Varieties. No separation between European and Latin American Spanish in the same course.
The product is almost entirely free.
You can complete a tree of lessons that guides you topic by topic with increasing levels of difficulty. This is advantageous if you prefer some order and structure in your learning. You can also take a placement test to find out where you belong.
There are mini-stories to test your reading and listening comprehension on various topics. The story has audio, sentence by sentence, occasionally interrupting to test your comprehension of specific words. This app differs from others in that it includes a text and a quiz at the end with no rhythm or break.
Use the language forums to ask questions, clear up confusion, learn more about the Spanish course, and celebrate your victories.
Look for online and in-person events to attend by using the "Events" tab. This is helpful so you can only see events related to Spanish.
Duolingo has a free podcast for Spanish learners.
Cons
Duolingo has a reputation for including absurd sentences for learners to translate. While these are amusing to come across unexpectedly, they are not particularly useful for everyday language.
There is no clear distinction between European and Latin American Spanish, which can be a disadvantage if you want to specialize in one of them.
The system can become tedious quickly, especially if you've tried other apps that provide a variety of activities.
The app is translation-based, which means that the entire learning process is on a direct translation from Spanish to English or from English to Spanish.
#10. Lingvist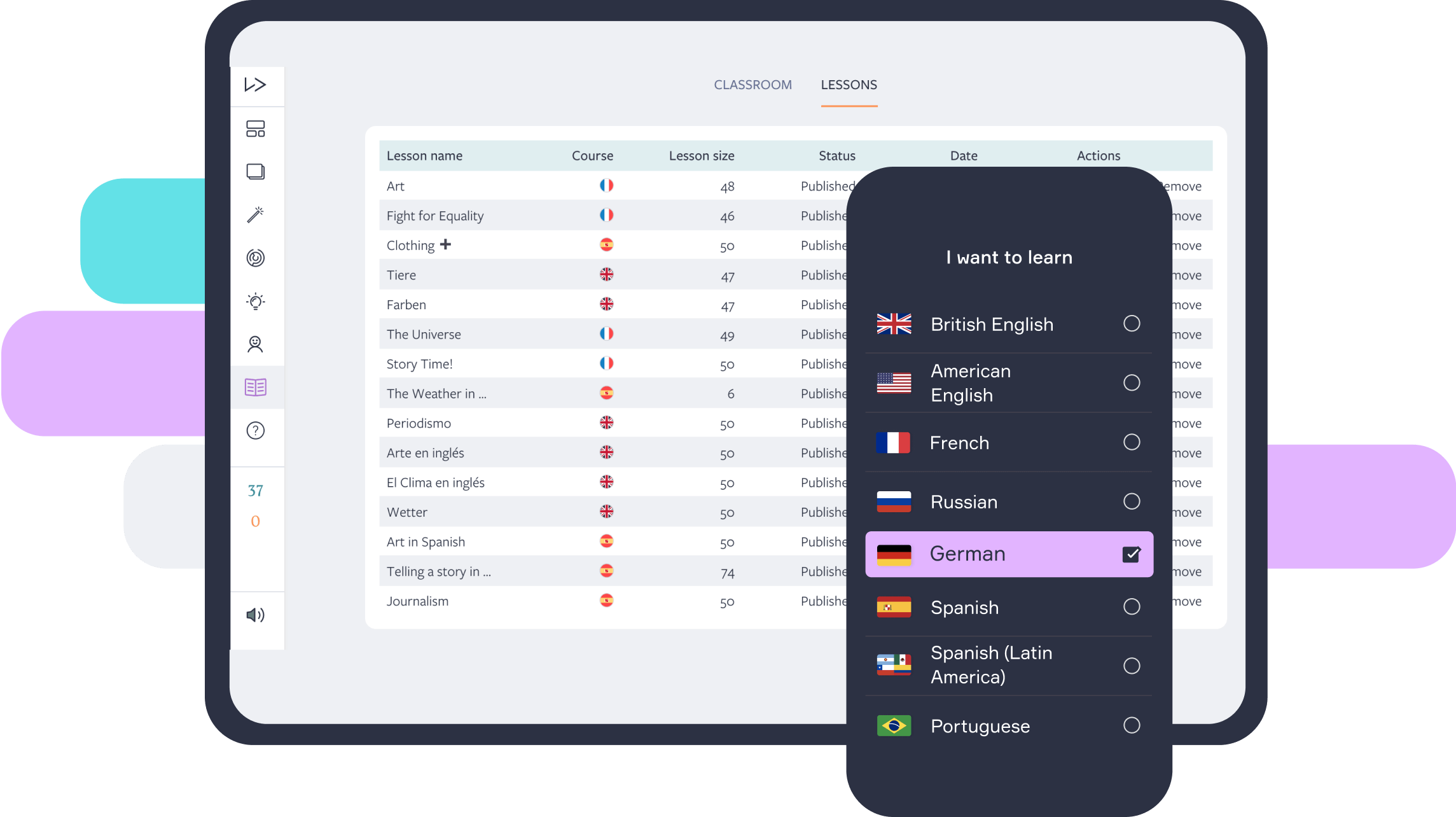 Price: One-week trial period (no credit card or payment method required). $9.99 per month, $199.99 once (for a lifetime subscription), $79.99 annually
Mait Müntel founded Lingvist, a flashcard app, in 2013. It is one of the best tools for learning Spanish. A standard Lingvist course includes the 4,000-5,000 most frequently used words in your target language. It also has the option of adding extra vocabulary for specific goals. The app's design is simple and pleasing to the eye, which is always a plus in a market that rewards overcrowded apps. It is mostly for Web, Android, and iOS platforms.
Pros
There are two types of Spanish: European Spanish and Latin American Spanish.
There's a placement test at the start, so all materials are together in place to your specific needs.
The app determines your level based on the number of words you can understand in any given text.
Lingvist offers decks with various themes, so you can get a wide range of vocabulary and decide which topics are most important to you. You have the option of creating your decks.
Rather than teaching words in isolation, the app teaches vocabulary in context.
The cards and decks can be completely customized. You are not required to follow the app's recommendations.
Cons
If you get bored with flashcards, this app is not for you. Its entire concept is on learning flashcards organized into decks (courses).
Frequently Asked Questions
Are language learning apps effective?
Yes. According to one study, 59% of language app users learn a language with these tools for learning Spanish.
What is the most effective free language learning app?
Duolingo is our favorite free language-learning app. It is simple to use, offers many languages, and has positive user feedback.
Can language learning apps help you become fluent?
Yes. A language app can teach you everything you need to know to become fluent. It works best when combined with consistent and real-world use of the language.
What is the best language learning app for Spanish?
If you want to learn Spanish, Mondly is a great app. The app makes it simple to learn Spanish by asking you to translate a sentence from Spanish to English. You can also speak a sentence in Spanish. It allows you to learn by speaking.
Aside from tools, how else can you learn Spanish?
View Telenovelas, read everything in Spanish, improve your commute, and try to translate as much as possible. You may also try visiting a Spanish-speaking location.
What is the most effective way to learn Spanish in 2023?
While living in a Spanish-speaking country and completely immersing yourself in the language is the best way to learn Spanish, taking an online class or two can get you most of the way there.
Is it difficult to learn Spanish?
Spanish is one of the easiest languages to learn, regardless of your mother tongue. It shares some surprising similarities with many other languages. Of course, Spanish still has difficulties that may differ for speakers of other languages.
Conclusion
You may feel you have been shopping for something that should be simple but completely overwhelms you. Every app claims to be "fun," "the best," "the fastest," or "the most engaging."
They all claim to be using cutting-edge technology. Unfortunately, many apps, like online Spanish classes, invest far too much in marketing and far too little in their product, and it shows. We hope this article has helped you to rightly pick from any of the tools for learning Spanish.
Related: Best Financial Planning Tools To Use In 2023
References
Recommendation