Are you having trouble effectively managing your tasks? Do you frequently miss deadlines because it's difficult to keep track of due dates and task progress?
If so, you're probably looking to upgrade to a more robust task management tool that will put you in a better position. Well, there are hundreds of task management tools on the market, and it's difficult to select one that meets your company's needs.
This is a guide to the best tools for task management. Showing you what you should expect from each task management.
Also included in the price and a link for getting to the task management tool easily. Read on!
What Is a Task Management Software?
A computer program that helps managers plan, track, and manages projects is task management software. It has tools for project planning, time tracking, resource allocation, and communication.
There are numerous types of project management software on the market today. You simply have to look and find one that suits your exact need.
You Should Check Out: Best Financial Planning Tools To Use In 2022
Why Use a Task Management Tool?
Do you end up wasting a lot of time organizing sticky notes, searching your emails, and deciding which tasks to do first and which can wait?
Is your team notorious for failing to complete tasks on time? If so, you should use task management software to create and assign tasks (and subtasks) all in one place.
You can easily prioritize tasks, set deadlines, and track time spent on them with a good task management tool to stay on track at all times.
You can visualize tasks and progress through various stages to monitor your team's performance and the completion of projects.
The main reasons you should consider using the best task management tools are:
#1. It assists you in organizing your work.
Without a dedicated tool, it's impossible to keep track of every project task, meet deadlines, track progress, and manage your team. Fortunately, the best tools for task management help with this, acting as a safeguard against going insane!
It's a dedicated area for tracking task progress, assigning tasks, and managing schedules. It ensures that you can efficiently track tasks and subtasks to meet deadlines.
#2. It facilitates effective team collaboration
Your task management tool will improve not only the tasks of your in-office and/or virtual teams but also the capabilities of your team collaboration.
Since each task has its own space, it's easier for your team to share information and collaborate on projects. Furthermore, because every assignee has access to this task space, you would carry everyone along.
#3. It aids in task prioritization
Not all tasks are equal. While each task needs completion, some are more important than others. The best tools for task management ensures you prioritize tasks.
For example, finishing a client project is probably more important than deciding on a theme for your office party, right? Your task management software will assist you in prioritizing tasks so that you can focus on what is most important right away.
See Also: 15 Free Mobile App Development Tools For Beginners in 2022
What are the Features of the Best Task Management Tools?
The features the best task management tools have are-
Comprehensive Integrations: You should consider whether the tool integrates with a wide range of apps, including Google Calendar, Slack, Salesforce, Zapier, Bugsnag, and others?
Tracking Task Progress: Is it simple to see where everyone is in the project and how you and your team are getting there? Can you see the project from a variety of perspectives?
Customer Support: Does the task management solution provide quick chat and email response times if you need assistance?
Ease of Use: Can both novice and experienced project managers use it? Can both code and no-code teams use it? and can departments collaborate on it?
Intuitive Flexibility: Can you apply it to an infinite number of scenarios? Can you plan tasks for personal goals and university projects in addition to marketing campaigns and software development?
Frequent Updates and Features: Is the task management platform's team committed to squashing bugs? Releasing new features, and listening to their users' feedback?
Project scheduling: Users should be able to set timelines and deadlines using the tool. Can you visualize timelines using calendars, Gantt charts, and other tools?
File sharing: This refers to the ability to upload and share files. Can you upload, organize, and distribute files to team members? Users should be able to engage in project-specific conversations and discussions. Can you use @ mentions to tag team members, create threaded discussions, and keep conversations organized?
Reporting: Users should be able to generate reports on project progress, budget usage, and resource usage using the tool. Can users easily generate and share reports based on software data?
UI (User Interface): Is it neat and appealing?
Usability: How easy is it to learn and master? Is the company's tech support, user support, tutorials, and training adequate?
10 Best Tools for Task Management in 2022
It's now time to look at the best task management tools that you can start using right away.
Before you begin exploring, keep in mind that some tools have an advantage over others due to abilities and features that are unique to them.
The 10 best tools for task management are:
#1. ClickUp
#2. Score
#3. ProofHub
#4. Infinity
#5. StudioCloud
#6. Wrike
#7. Odoo
#8. Trello
#9. Airtable
#10. NetSuite
#1. ClickUp
ClickUp is a simple, fully customizable task manager. This task management tool helps you optimize sales, marketing, project management, CRM, and other business functions.
You get over 35 unique task design templates. The tool also enables simple online team collaboration.
ClickUp can also generate Doc files that your team can customize, share, and edit.
It can also create Kanban Boards that visualize project-related tasks. The Kanban Board has a design in such a way that you can see all workflows at once. It offers:
Native time tracking.
Gantt graphs
Assign points to the Spring.
Make a to-do list.
Real-time activity tracking with an intuitive dashboard.
It is one of the best tools for task management and what you need if you want to create tasks using documents, Gantt charts, and Kanban boards.
The tool also allows for online team collaboration, allowing you to assign comments or make edits with your colleagues.
Price: There is a free plan available. The Unlimited Plan includes $5 per month per user.
Also check out: 10 Best Google Project Management Free Tools In 2022
#2) Scoro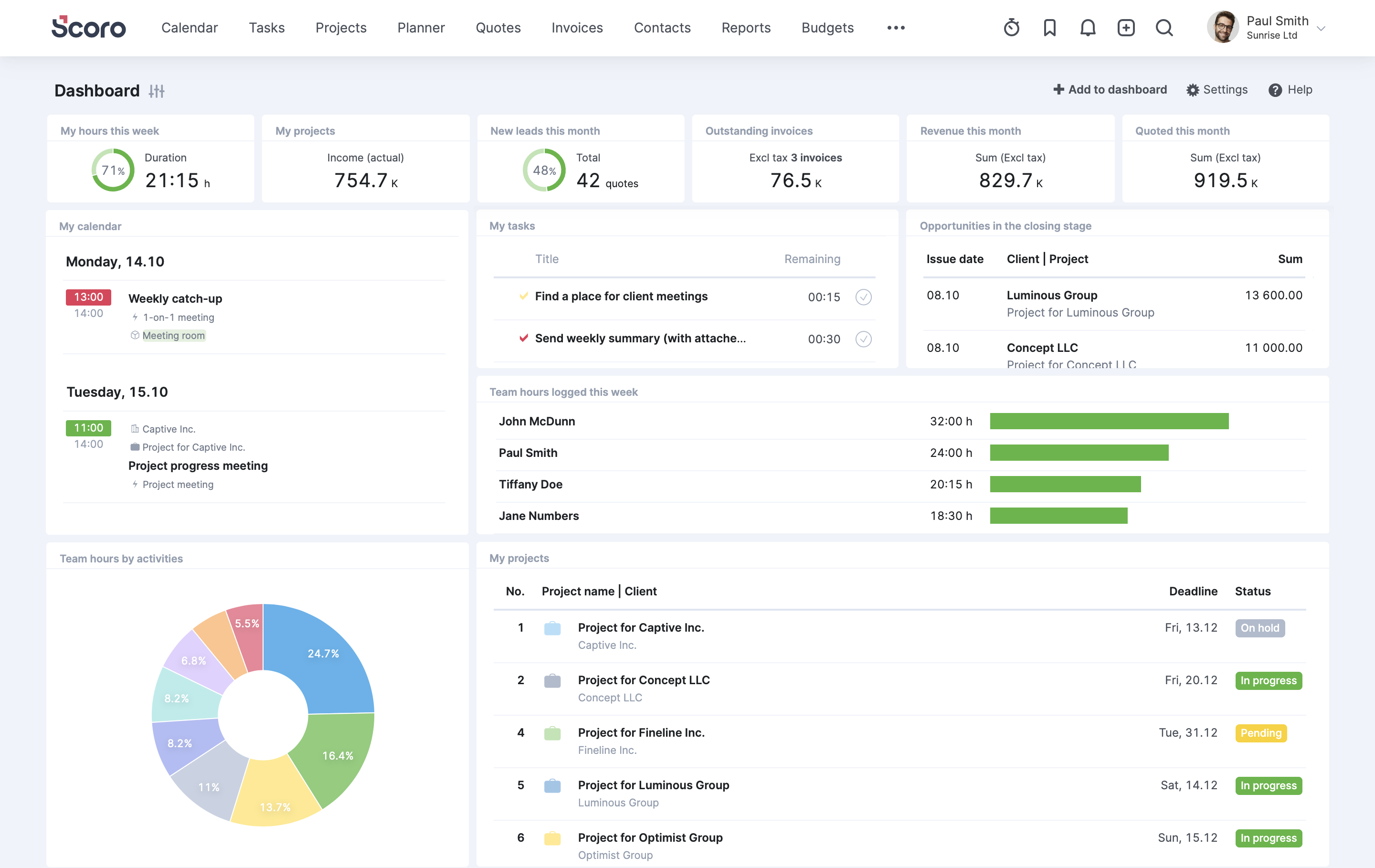 Scoro provides a comprehensive service that assists businesses in simplifying, automating, and optimizing a variety of key business-related tasks.
It is one of the best tools for task management. It includes a drag-and-drop planner used to evenly distribute tasks.
Also, it includes a built-in tracker for easily tracking employees' billable and non-billable hours. Basically, it provides the following:
A real-time Gantt Chart for tracking progress, events, and dependencies.
You also get a complete picture of all planned and completed activities.
It also provides users with pre-set project templates and bundles.
In addition, the platform can streamline billing and provide a 360-degree view of all customers.
Routine tasks are automatic.
Keep track of all customer transactions in real-time.
Monitor sales targets and performance.
Monitor performance and key performance indicators.
Scoro provides a platform that allows you to get a bird's-eye view of several key components of your business.
Price- Essential costs $26 per user per month, Work Hub costs $37 per user per month, and Sales Hub costs $37 per user per month.
#3. ProofHub
ProofHub includes several features that will assist your company in planning. It also aids in organizing, and collaborating on task management-related tasks.
Kanban Boards are for dividing and assigning tasks based on your preferences.
You can also use this tool to create Gantt Charts, which allow you to plan and visualize your entire project in a timeline view. It provides:
The ability to store, organize, and access all of your files from a single, secure database.
You can also define custom permissions to control who in the team has access to which files.
You can also start direct or group chats to improve communication among your project team members.
Automatic Reminders and Multiple Calendar Views are among the features.
Timesheets are set up to track billable hours.
Comprehensive project reports.
White-Labelling.
ProofHub can assist you in creating a clear communication channel among team members working on a single project. It is one of the best task management tools out there.
With it, you can automate and optimize several Project Management functions. This also ensures you make the process more convenient and less confusing.
Price: Essential costs $45 per month, while Ultimate costs $89 per month.
#4. Infinity
Using several customizable view templates, Infinity allows you to create tasks and organize or monitor them.
You can use tables, calendars, Gantt charts, lists, and forms to organize your projects… all from a single platform. It provides-
Creation of folders, subfolders, boards, and workspaces to organize your files. With over 50 templates to choose from, all of these views are completely customizable.
The tool also allows for online collaboration. Multiple team members can work on the same task at the same time by commenting, assigning tasks, inviting other members to join, and much more.
It is also very simple to automate tasks on Infinity using features such as reminders, a form submitted trigger, recurring tasks, and so on.
Multiple customization options are available.
There are six different ways to view created data.
Infinity allows you to create, organize, and customize your tasks in six different views. You have complete control over how you manage and view your day-to-day tasks on the platform. The platform also has outstanding online collaboration and automation features.
Price: One-time fee of $149
#5. StudioCloud
tudioCloud provides an all-in-one solution for managing various business-related functions daily.
Leads, clients, customers, vendors, and suppliers can achieve this through the platform. It provides:
Creation and sending invoices with ease. StudioCloud can also help you schedule events, appointments, and interviews.
It can also assist you in developing and launching automated marketing campaigns tailored to a specific customer base.
Aside from that, StudioCloud allows you to create forms, and questionnaires, use e-signatures, and track time cards.
It's only for one user but performs all of its features surprisingly well.
It has effective automation.
It aids in online booking.
It has timecard management.
It is completely customizable.
StudioCloud is great for freelancers, artists, and anyone running a one-man business. You can manage a wide range of essential project tasks here effectively and efficiently.
As one of the best task management tools, it shines in particular because of its personnel and project management features.
Price: Free starter version, $10/month for each add-on, $30/month for PartnerBoost, and $60/month for EmployeeBoost.
Don't Fail to Read: 15 Productive Tools for Remote Workers in 2022
#6. Wrike
Wrike is notable for its visual representation of workflows. It makes it incredibly simple to create custom workflows.
Aside from customized workflows, you can also create interactive Gantt charts to visually represent your project's schedule.
It provides the following:
A drag-and-drop interface that only makes the creation easier.
The dashboard, too, takes a simple but effective interactive approach. You can easily pin your to-do list to the dashboard and categorize it as 'New,' 'In Progress,' or 'Completed.'
You can customize the dashboard.
Wrike stands out for its 'Report Wizard,' which allows you to create and share reports with team members.
You can also edit in real-time
Interactive reports are one of the selling features of this tool for task management.
Collaboration within a team.
You can use custom Gantt charts to track task schedules.
It easily integrates a variety of business-related tools and applications.
Good work management software will provide users with a fully customizable experience. Wrike does precisely that. It distinguishes itself as one of the best tools for task management, allowing users to create and share editable reports that update in real-time.
Price: There is a free plan available, and a professional plan for $9.80 per user per month. A business plan for $24.80 per user per month. An enterprise-grade custom plan is also available.
#7. Odoo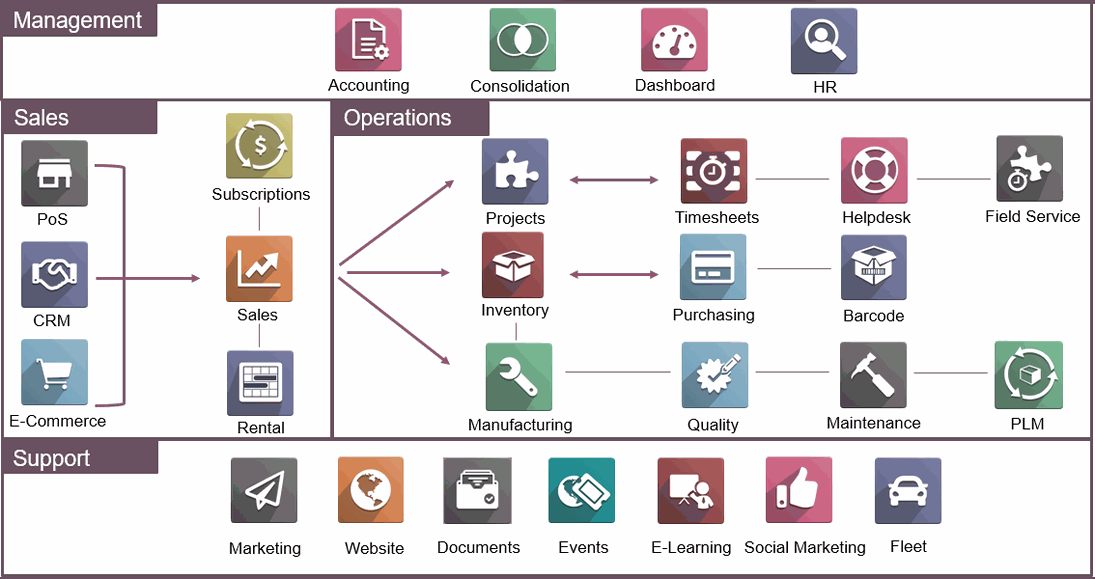 Odoo, like some of the best tools for task management, allows you to customize almost every aspect of your project.
You can set alerts, rename project stages, and even automate emails. The platform is also mobile-friendly, allowing you to work on projects while on the go.
With it, you can:
See your projects in a variety of interactive models.
Track the progress of your project. You can use a custom Gantt chart, the 'Kanban' view, or the 'Deadline Calendar' view.
Integrate with other Odoo business applications such as CRM, Sales, and PO tools making task management even more convenient.
You can have simple document management.
There is reasonable timekeeping.
Presence of an analysis of Pivot Tables
Have an organized completed task.
Odoo's fully customizable dashboard allows you to view, organize, and collaborate on your projects in real-time.
Its ability to integrate with other Odoo business apps that specialize in activities such as purchase order management, sales, CRM, and so on makes it one of the best tools for task management.
Price: Contact for a quote
#8. Trello
Trello uses visually appealing boards, cards, and lists to help you create and customize workflows.
The projects you manage on Trello boards or lists are different visually in a variety of ways.
For better time management, you can select the 'Timeline View,' the 'Table View,' or the 'Calendar View.'
It provides:
Statistics displayed on Trello's dashboard provide you with up-to-date information on your ongoing or completed projects.
Trello's Cards feature is ultimately what sets it apart from the competition.
Cards associated with your project are set in fragments with a single click to reveal key information such as checklists, attachments, conversations, due dates, and more.
Creation of personalized buttons.
Automation comes already built.
Plan out team assignments.
Compatible with popular office tools.
Trello is both functional and visually appealing. It stands out due to the Cards, Boards, and List view, which allows you to manage, track, and share all aspects of your task. The platform is highly customizable and includes automation.
Price: A free plan is available, as well as a Standard $5 per user per month. Premium is $10 per user per month, and Enterprise is $17.50 per user per month.
#9. Airtable
Airtable offers a plethora of templates, each catering to a specific project need or requirement.
For example, if you are managing a video production project, Airtable has a pre-set template that will assist you in managing all critical components for such a project.
You can:
Use the grid, kanban, calendar, and gallery views to visually represent the content of your project.
You can create tasks, assign them, track their status, chat with your project team members, and get real-time responses from them.
Your dashboard is also fully customizable. Allowing you to quickly add attachments, checkboxes, long-text comments, and more.
Configure your content view in four different ways.
Repetitive tasks are also automatic.
Make your notifications.
Airtable is a simple, intuitive tool that can easily boost the productivity of your workforce. It is one of the best tools for task management. It has remarkable automation driving all critical elements of work management.
Price: There is a free plan available, plus a $10 per seat/month Plus plan, and a $20 per seat/month Pro plan.
#10. NetSuite
NetSuite is the name behind several business-related solutions. It's CRM software is especially well-liked.
NetSuite is to make this list with a work management suite that includes all core business elements such as finance, CRM, ERP, and eCommerce.
From all indication NetSuite can:
Increase sales by facilitating commission management, forecasting, and upselling.
It also provides users with a comprehensive view of their customers.
Real-time visibility into financial and operational performance is one of the features.
Order fulfillment.
Inventory control.
Dashboard customization and visual analytics
NetSuite is best for large corporations with a global user base. From a single visually intuitive and customizable dashboard, the tool can manage several key aspects of your business.
This includes order processing, supply chain management, warehousing, accounting, and more.
Price: Contact them.
Also See: 15 Free Team Collaboration Tools in 2022 | Realtime Access
FAQs
The market today is rife with great to decent work management tools, but only a few are worthy of the title of best work management software. ClickUp is the best tool for task management so far.
A project management office (PMO) or work management software assists managers or business owners in managing the day-to-day aspects of their tasks or projects. These responsibilities could include finance, human resources, billing, procurement, relationship management, and so on.
Initiation. Planning. Execution. Monitoring. Closing
Collecting information about project progress and producing reports as needed.
Yes, Google has launched an exclusive productivity-oriented app called Google Tasks. The app allows users to create, view, and edit tasks. The app is a standard Task Manager that we recommend only for personal task management.
Conclusion
Every organization requires a method of communicating and tracking projects. Project management tools assist project managers in keeping their teams organized, on time, and budget throughout the project lifecycle.
See also: 14 Free Business Growth Tools for 2022 | Skyrocket your business
References
Recommendation