Finding the perfect lighting for your dorm room is essential to create a cozy and functional space. Whether you need bright lights for studying or a soothing ambiance for winding down, selecting the right dorm room lights can significantly enhance your reading and sleeping experiences.
This article lists the 10 best dorm room lights that balance functionality and comfort perfectly.
Table of contents
What Are Dorm Room Lights?
Dorm room lights are the lighting fixtures or accessories used in college or university dormitory rooms. These lights are typically smaller in size and designed to provide adequate illumination for studying, reading, or creating a cozy atmosphere in the limited space of a dorm room.
There are various types of dorm room lights available, including:
Desk lamps: These are compact and adjustable lamps that sit on a desk or study table. They often have flexible necks or adjustable arms to direct the light where needed.
Floor lamps: These are freestanding lamps that provide general ambient lighting. Floor lamps are taller and can illuminate a larger area than desk lamps.
String lights: String lights are popular for dorm rooms as they create a warm and decorative ambiance. They consist of a string with multiple small bulbs and can be hung on walls, ceilings, or draped around furniture.
Clip-on lights: These lights feature a clip or clamp mechanism that can be attached to the edge of a desk, headboard, or other furniture. Clip-on lights are versatile and provide focused lighting for specific tasks.
Wall sconces: Wall-mounted light fixtures, known as sconces, can be installed on the walls of a dorm room. They add a stylish touch while providing localized lighting.
LED strip lights are flexible strips with integrated LED lights that can be easily installed along the edges of shelves, desks, or other surfaces. LED strip lights come in various colors and can be controlled to create different lighting effects.
Dorm room lights are not only functional but also contribute to the overall aesthetic and atmosphere of the space. They allow students to customize their living environment and create a cozy, well-lit area for studying, relaxation, and socializing.
Benefits Of Dorm Room Lights
Dorm room lights serve multiple purposes and offer several benefits. Here are some advantages of having appropriate lighting in a dorm room:
1. Improved visibility
Proper lighting enhances visibility and helps you see clearly in your living space. It allows you to perform various activities such as studying, reading, or working on assignments without straining your eyes.
2. Increased productivity
Good lighting promotes a productive environment. When your dorm room is well-lit, it can boost your concentration and focus, making it easier to complete tasks and study effectively.
3. Mood enhancement
Lighting has a significant impact on our moods and emotions. By selecting the right type of lighting, such as warm or cool colors, you can create a welcoming and cozy atmosphere or an energizing and vibrant environment, depending on your preferences.
Related Post: 10 Best Dorm Room Movers in 2023 | Prices
4. Customization and personalization
Dorm room lights offer a great opportunity for personalization and adding a unique touch to your living space. You can choose from various lighting fixtures, string lights, or lamps to reflect your style and create a comfortable and inviting ambiance.
5. Relaxation and stress relief
Soft and dimmed lighting can help create a calming and relaxing atmosphere, which is beneficial when winding down after a busy day. You can use lamps or mood lighting to create a soothing environment and promote relaxation.
6. Decorative element
Lighting fixtures can be decorative items themselves. They come in various designs, shapes, and colors, adding visual interest and style to your dorm room. String and fairy lights are popular for creating an enchanting and whimsical atmosphere.
READ ALSO: Dorm Room Seating Arrangement for College Students
What To Consider When Buying Dorm Room Lighting
Several factors must be considered when buying dorm room lighting to ensure you choose the right lighting options. Here are some important considerations:
​1. Type
Your choice of dorm room lighting will depend on the mood you want to create. Lighting options come in many different forms, such as color-changing LED strips, flexible string lights to illuminate around a window or mirror, table lamps, floor lamps, galaxy projector lights, lava lamps, and motion-activated lights so you can see where you're going while your roommate is sleeping.
​2. Illumination​
Once you've moved into your dorm room, you'll know how much lighting you want to add. If the overhead lighting is too murky, you can get a floor lamp that should provide enough light to illuminate the entire room. A floor lamp is also a good option instead of the overhead lighting if it's too bright. A table, lava, or string lights can add ambient lighting.
SEE ALSO: 10 Best Fans for Dorm Rooms in College | 2023
​3. Electrical Outlets
Unless your lighting is battery-powered, an electrical outlet must be nearby. If you've run out of outlets or if there isn't one in reach of where you want to place your lighting device, consider getting an outlet multiplier to add more plugs to an outlet or an extension cord.
4. Energy Efficiency
Opt for energy-efficient lighting to reduce electricity consumption and save on utility bills. LED lights are a popular choice as they are energy-efficient, long-lasting, and available in various styles.
5. Portability and Flexibility
Consider the portability and flexibility of the lighting fixtures. Since dorm life often involves moving and rearranging furniture, lights that are easy to move and adjust will be more convenient.
6. Safety
Ensure that the lighting fixtures you choose meet safety standards and have proper insulation and protection against overheating.
READ ALSO: Where Can I Send My Troubled Child For Free | Top 10 Places
7. Style and Aesthetic
Consider the lighting fixtures' style and aesthetic. Choose lights that match your taste and complement the overall decor of your dorm room.
How To Install Dorm Room Lights
Installing dorm room lights can vary depending on your lighting type and any specific guidelines or restrictions provided by your college or university.
Here is a general guide for installing different types of dorm room lights:
Desk Lamps and Clip-on Lights

These lights are typically the easiest to install as they can be placed on your desk or clipped onto furniture.
Find a suitable location, plug in the lamp, and position it in a way that provides optimal lighting for your needs.
Ensure the cord is safely routed and does not pose a tripping hazard.

Floor Lamps

Floor lamps are freestanding and require minimal installation.
Choose a location where the lamp won't be easily knocked over or obstruct pathways.
Assemble the lamp according to the manufacturer's instructions, and plug it into a nearby electrical outlet.

String Lights

String lights can be hung on walls, draped across furniture, or suspended from the ceiling to create a decorative effect.
Use adhesive, removable wall hooks, or other appropriate hanging hardware to secure the string lights.
Ensure that the lights are not placed near flammable materials and that the cords are not a safety hazard.

Wall Sconces

Installing wall sconces may require more effort, and you should check with your college or university if they allow permanent installations.
Follow the manufacturer's instructions for mounting the sconces on the wall if permitted.
Consider using wall-friendly hooks or temporary adhesive strips that won't damage the wall when removing the sconces.

LED Strip Lights

LED strip lights are versatile and can be adhered to various surfaces, such as desks, shelves, or walls.
Clean the surface where you want to install the strip lights to ensure good adhesion.
Peel off the backing of the strip lights and carefully press them onto the surface.
Connect the power adapter to an electrical outlet.
Always prioritize safety when installing dorm room lights. Here are some general safety tips:
Follow the manufacturer's instructions and guidelines for installation.
Do not overload electrical outlets or use extension cords that can lead to overheating.
Avoid placing lights near flammable materials or obstructing exits.
If in doubt or your college or university has specific rules, consult with the dormitory management or residence advisors for guidance on installation guidelines and restrictions.
Remember to be mindful of any rules and regulations your college or university sets regarding dorm room lighting installations to ensure compliance and avoid potential issues.
10 Best Dorm Room Lights For Reading And Sleeping
While personal preferences may vary, here are our ten best dorm room lights that are often recommended for reading and sleeping purposes:
Marrado Bedside Lamp
Wyze Floor Lamp
BlissBulb Laser LightBulb
Philips Hue Iris
Solfres Headboard Reading Light
Govee Aura Smart Table Lamp
Pendant lights
Moko LED Desk Lamp
Gymax 65″ Sphere LED Floor Lamp
Aukey Table Lamp
1. Marrado Bedside Lamp
This Marrado lamp is designed to sit by a bedside and provide … whatever kind of light you need. The LED light from this little smart lamp is activated via touch, allowing you to adjust the brightness and the color to whatever you prefer.
Turn to your phone, and you can use Bluetooth to play music from the lamp. The sound isn't that great, but it's good for ambient music while you're busy doing other things (or falling asleep). The lamp also runs on an internal battery, making it portable for up to five hours (Marrado suggests taking it outside for an evening date on the grass, which isn't the worst idea).
The Marrado Bedside Lamp is inexpensive and has a lifetime warranty, making it a great choice for dorm life.
2. Wyze Floor Lamp
This Wyze floor lamp is meant to give targeted illumination for detailed work, from examining the small print to working on creative projects. It is a focused and flexible light that extends nearly 6 feet. It includes Wyze's PARB bulb, a parabolic aluminized reflector with an 800-lumen maximum brightness and a daylight-like color temperature.
The floor light has a Bluetooth remote and scheduling capabilities through the Wyze app, although it is somewhat limited compared to other Wyze smart devices. For the initial preorders, lower prices were offered, but as Wyze prepares for the general release, the price is likely to rise. Despite being around $50, it's still appropriate for dorm rooms.
You may want to see 50 Best Defense Games Unblocked for College & High School Students | 2023
3. BlissBulb Laser LightBulb
The next best thing to paint your dorm room walls is probably adding colorful lighting. Scientific research has linked red, blue, and green lights to your mood and emotions. For instance, it's challenging to concentrate on studying when you're worried, and red light may have relaxing effects.
Replace your standard bulbs with the BlissLights BlissBulb to fill your room with thousands of sparkling red, green, or blue stars for vibrant dorm room lighting. While studying for your finals, the hue and twinkle of the stars will keep you at ease.
4. Philips Hue Iris
There are many other types of smart lights in the Philips Hue series, but the Iris is special: It's a desk light with LEDs that produces 570 lumens, which you can adjust to any hue you desire, and it has a straightforward, dorm-friendly design that will look great in your room. Pick any rainbow color to match your present job, play, or general attitude. We appreciate that the design promotes a gentle, complete glow instead of overly bright or diffused.
It is one of the best dorm room lights, and you may control it without additional hubs or bridges. Although it functions best with other Philips Hue smart lights, it has enough glow to serve as an accent light or spotlight.
READ ALSO: 50 Best Games Unblocked Google Sites In 2023
5. Solfres Headboard Reading Light
If you want the best light for your dorm that doesn't look like a clip-on light, Solfres Headboard Reading Light is the one to get. It was made specifically for use with upholstered headboards too thick for other lamps to latch onto.
This brass-colored gooseneck light comes with a separable back that extends down your wall and is held in place by the weight of your headboard. Additionally, its half-moon base is flat with your wall. This lamp's cord-mounted on/off switch and dimmer control makes it simple to adjust for late-night reading in bed.
READ ALSO: 50 Best Arcade Games Unblocked for College & High School Students | 2023
6. Govee Aura Smart Table Lamp
While this may not e the perfect reading light for a dorm, its beauty, and elegance are a major catch.
Compared to the Philips Hue Iris, the Govee Aura Smart Table Lamp offers more sophisticated detailed smartphone settings for adjusting brightness and light gradient. If you're unsure what will look the best, you can choose from various themes. Animations that resemble the rising sun, swaying clouds, glittering stars, etc., are also included in the 350-lumen lamp.
Although the Aura isn't quite as effective at standard desktop illumination when it's time to work or study, it is perfect for establishing the mood. Nevertheless, if you want a light you can fiddle with; this is a great option.
7. Pendant lights
You can hang a single pendant light instead of a whole string of lights if you prefer the "globe" appearance but don't want to violate your school's previously specified ceiling light regulations. Pendants offer a quick and easy solution to achieve the finished dorm room appearance without overwhelming you or your guests. Additionally, you can select the bulb type that best suits your needs, whether regular, antique, or twister.
SEE ALSO: Dumb Ways To Die Unblocked For College Students In 2023
8. Moko LED Desk Lamp
If you're seeking something highly technological but also more practical. This LED desk lamp is seriously recommended. It has many special features created for the busy student desk, and it is changeable if you want to change the color temperature or brightness level to how you prefer to study.
Although the Moko LED Desk Lamp has an additional USB port for charging your phone, you could prefer wireless charging and appreciate this comparable product from Ytech. A three-minute delay before shutdown is available, which is helpful if you're leaving but still want it to stay on for a little while.
Numerous rotation options also help you obtain exactly the angle you like. Memory capabilities also let you remember your brightness and temperature settings. Using the lamp and sleep mode also provides intriguing vibrating feedback, letting you know that the touch controls are functional.
Are you a game lover? Check out Kizi Unblocked Games for College Students in 2023
9. Gymax 65″ Sphere LED Floor Lamp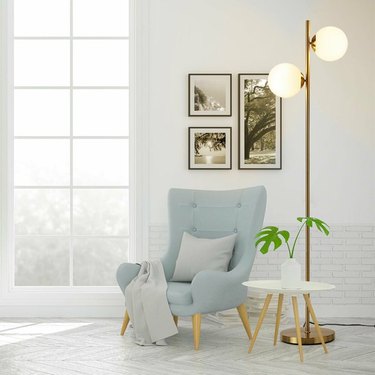 Floor lamps provide necessary additional lighting to a room. This floor lamp is great because it has two LED light sources and a convenient foot switch. It's easy to assemble and stands 65 inches tall. The lamp has a brass finish and adds modern flair to any space. The lampshades are durable frosted glass, providing warm white light for studying without being too harsh. The sturdy, weighted base is 11 inches in diameter, so it's unlikely to tip over.
10. Aukey Table Lamp
Lastly on our list of best dorm room lights is the Aukey Table Light. The Aukey Table Lamp has three brightness levels, a basic but stylish design, and convenient small touch controls. For various effects, you can alternate between white light and the color of your choice. Otherwise, this light keeps things straightforward while still fulfilling various demands. It's an excellent alternative if you prefer quick touch controls and fewer options than utilizing another app for your lamp.
Can I Use LED Strip Lights In My Dorm Room?
LED strip lights are generally a good choice for dorm rooms. They are versatile, easy to install, and come in various colors and lengths. However, it's important to check the rules and regulations of your dormitory regarding the use of LED strip lights, as some institutions may have restrictions on their use.
FAQS On Dorm Room Lights
What types of lights are suitable for a dorm room?
Several types of lights are suitable for a dorm room. Some popular options include desk lamps, floor lamps, string lights, and LED strip lights. Before purchasing, it's important to check the dormitory's lighting rules and regulations.
Are string lights safe to use in a dorm room?
String lights can be used in a dorm room, but it's important to prioritize safety.
Are there any restrictions on the use of lights in dorm rooms?
Each dormitory may have its rules and regulations regarding the use of lights. Some common restrictions include limitations on wattage, restrictions on using certain types of lights (e.g., candles or halogen lamps), and requirements to unplug lights when leaving the room. Always check with your dormitory's guidelines to ensure compliance.
Can I use smart lights in my dorm room?
Smart lights in dorm rooms may be subject to specific rules and regulations. Some dormitories may allow the use of smart lights, while others may have restrictions on Wi-Fi-enabled devices.
Conclusion
From adjustable desk lamps to soothing string lights and smart lighting systems, numerous options are available to suit your preferences and needs. Choose lighting fixtures that promote functionality, relaxation, and a cozy atmosphere, allowing you to create a comfortable space that enhances your study sessions and restful nights.
References
blisslights.com – 14 Dorm Lighting Ideas To Glow Up Your Space
cocoweb.com – How to Correctly Illuminate Your Dorm Room
ehow.com – 13 Dorm Room Lighting Ideas That Add Instant Ambiance
We Also Recommend