Want to learn how to write an executive assistant resume?
Executive assistants keep offices functioning efficiently and collaborate with leaders from a variety of businesses.
Maintaining files and updating data, making travel arrangements, providing customer service, performing research, assisting with project management, and handling communications are just a few of the duties included on an Executive Assistant resume sample.
Organizational skills, computer literacy, attention to detail, meeting deadlines, and communication ability are required of those applying for this position.
Although formal education is not required, executive assistant resume examples sometimes include a Bachelor's Degree in a relevant profession.
Table of contents
Check Out: How to List Skills Correctly on Your Resume
How to Construct an Executive Assistant Resume
The first step is to choose a format for your executive assistant resume. Certain details must stand out to employers, and choosing the appropriate resume format can aid you in emphasizing this vital information.
The "reverse-chronological" approach is now the most popular resume format. This is the greatest option for a resume for an executive assistant.
There are a variety of resume formats to choose from…
1. Functional Resume – Rather than professional experience, skills are the focus of this resume type. If you don't have much experience, are transferring to a new field, or have gaps in your job history, it's a smart alternative.
2. Combination Resume – A combination resume is a cross between a "functional" and a "reverse-chronological" resume. It emphasizes both abilities and job experience. The combo resume is the best option if you have a lot of work experience or are seeking to move industries.
Now that you've decided on a resume format, it's time to work on the layout.
The following are the basic layout guidelines to follow:
All sides should have one-inch margins.
Choose a font that stands out. Just don't go overboard. Ubuntu, Roboto, and other Linux distributions are excellent. Comic Sans is a wrong font.
Font Size – For basic text, 11-12pt is ideal, and for headers, 14-16pt is ideal.
Line Spacing: Use a line spacing of 1.0 or 1.15.
Resume Length – Ideally, your resume should be no more than one page long
Read Also: How To Write A Resume For Actors That Boosts Their Chances + Free Templates
What Should an Executive Assistant Resume Contain?
The following are the main sections of an Executive Assistant resume:
Contact Information
Summary of your resume
Work History
Education
Skills
If you want to make your CV stand out even more, add these optional sections:
Organizations
Languages
Hobbies & Interests
1. Contact Information:
Your contact information, which should contain your name, address, phone number, and email address, should always appear at the top of your resume, regardless of the format you use.
Did you realize that some employers use the contact information area to screen candidates?
They may overlook you if you live in a different part of the country to avoid incurring relocation charges, or they may generate an unfavorable impression of you if your contact information is improper.
Many hiring managers now utilize this information to search for you on prominent social networking sites to see what has been said about you.
You must include the following in your contact information:
Name
Use the title of Executive Assistant.
Double-check and triple-check your phone number. If you make a single mistake, you have few chances of being contacted by an employer.
Use a professional email address (firstname.lastname@gmail.com) and open a new Gmail account, particularly for job searches if you don't already have one.
(Optional) Location – This isn't required. However, it may be requested as part of the company's selection process.
2. Summary of your Resume:
Your summary should emphasize your professional qualities, highlighting one or two skills, strengths, and accomplishments most relevant to the job opening.
Summarize your accomplishments in a few brief statements that characterize yourself.
For instance, 'detail-oriented executive assistant with five years of experience working with top execs.' In a single glance, a recruiter needs to know you're qualified for the job.
As a result, you must develop a practical resume summary or objective if you want your resume to get read. The resume summary and objective are under the contact information section at the top of your resume.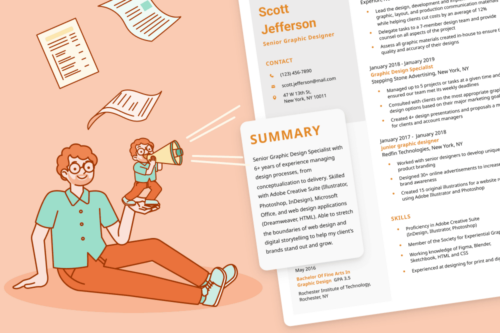 On the other hand, the resume summary and objective are not the same things, and you should never use both. The primary distinction between the two sections is that in the first, a resume summary is a two- to four-sentence description of your professional accomplishments and experiences.
It's your chance to make a powerful statement informing recruiters immediately that they should keep reading. A resume objective, on the other hand, is a 2-4 sentence summary of your professional goals and ambitions.
People who are more established in their careers or at least have some direct experience working in the type of role being sought should use a resume summary, while those new to a field should use a resume objective (student or graduate).
3. Work History:
Rather than describing essential responsibilities, your executive resume should emphasize how you contributed to earlier accomplishments (e.g., "Developed a call-recording system that saved executives up to 9 hours per week, equal to $21000 at current pay").
Companies want to know if you've previously worked in similar jobs or companies. Here's how to put your work experience part together:
Name of the position
Dates
Name of the Organization
Responsibilities and Accomplishments
A resume writing method proven to work is emphasizing your accomplishments.
The more precise you can be about the results you delivered for a former employer, the easier it will be for someone reading your resume to see the value you can bring to a company.
What if you've Never Worked Before?
This is a common question among students and new grads. It's a difficulty that can be applied to any position, not just executive assistants.
You must work with what you have; chances are you have held at least one summer job or internship. List these positions, but only include tasks or accomplishments directly related to the executive assistant position.
Make a list of related school projects, courses, and voluntary work that prove you'd be a competent executive assistant if you don't have any work experience.
1. Education:
The "Education" part is the next section on any executive assistant resume. Executive assistant certifications are not required. However, many recruiters prefer to hire qualified EAs.
Two well-known credentials are Certified Administrative Professional and Certified Professional Secretary.
Other qualifications suitable for executive assistants include a Bachelor of Arts and an Associate of Arts in Business Administration and Management.
There are no genuine tricks in this game. Simply list your academic accomplishments in reverse chronological order. This is how it should appear:
Major & Type of Degree
Name of the University
Years of Study
GPA, Honors, Courses, and any relevant projects or experiences are all important factors to consider.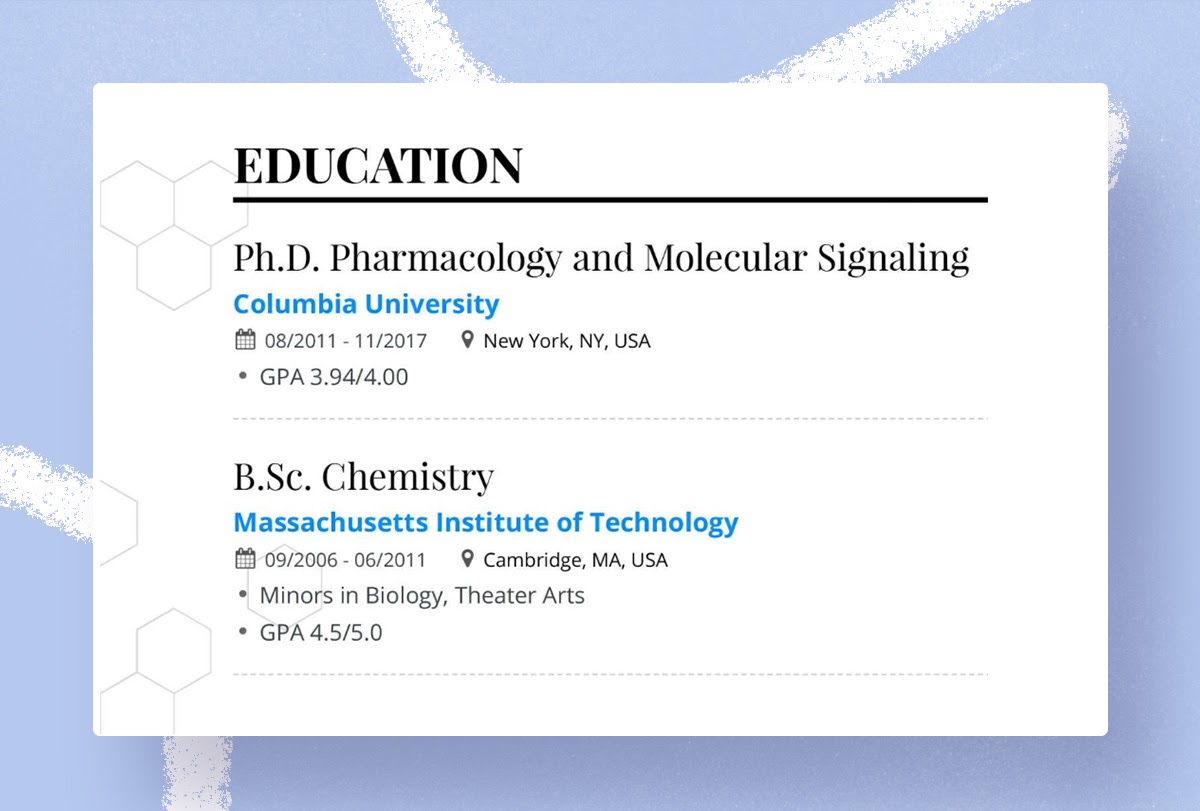 Here are some common education-related resume questions and their answers:
What if I haven't completed my college or university education or have dropped out?
You should still state your educational background. Simply include the years of study. Put "Present" as the finish date if you're still studying. For instance, consider the period from 2017 until the present.
Do I have to include my high school diploma?
Only if you haven't finished your secondary schooling, you must have completed high school with a college diploma or a university degree.
On my resume, which comes first: education or experience?
This should come first if you have any relevant work experience. If not, education takes precedence.
2. Skills:
Every employer has a set of talents that they seek in potential employees. Typically, these are listed in the job description. And they instinctively pay attention to what they're reading when they see them included on a CV.
In addition to administrative ability, an executive assistant should have strategic skills. Resourcefulness, efficiency in high-pressure situations, and technical finesse are all important qualities to include on your resume.
Other important qualities include creative thinking, discretion, flawless organizational ability, multitasking, outstanding networking skills, rapid decision-making, and problem-detecting and problem-solving abilities.
Executive Assistant Hard Skills include:
Microsoft products include Word, Excel, Outlook, PowerPoint, and SharePoint.
Database Administration
Management of the calendar
Researching on the internet
Knowledge of the Business
Executive Assistant Soft Skills include:
Communication is essential (written and verbal)
Problem-solving and prioritization
Planning and organization
The capacity to afford attention to even the littlest things.
Etiquette on the Phone
Confidentiality
Emotional Stability
Commitment
Collaboration and delegation
Management and education
Flexibility and ease
You can contemplate these resume add-ons once you've finished the main sections of your resume and modified them to perfection.
6. Organisation/ Volunteer:
Depending on your career and personal interests, you may be (or have been) engaged with many groups outside of your full-time job.
Any boards you serve on, or volunteer work with local community organizations are examples. And, because your work with these organizations may reinforce your skillset, including them on your resume is a good idea.
There's no need to get too technical. Simply state the organization, your position, and one significant action that applies to an executive assistant position.
7. Language: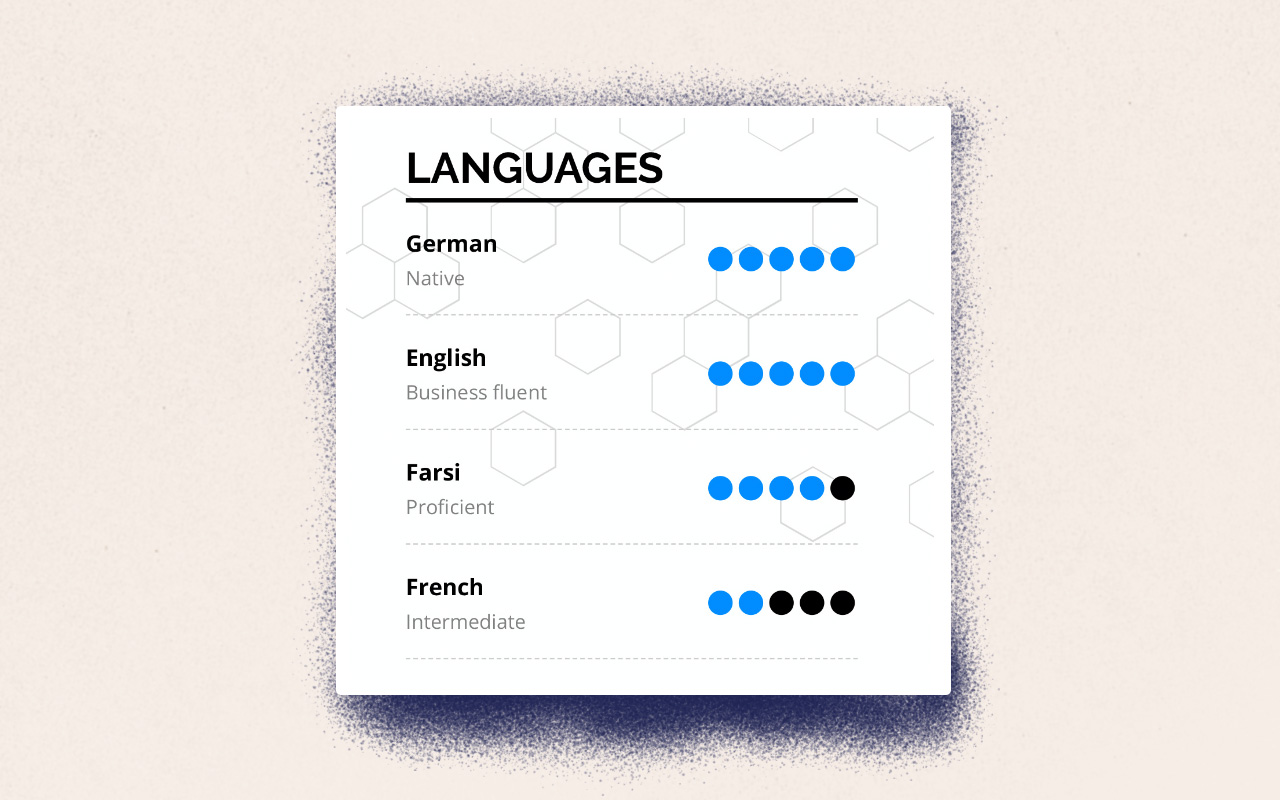 An executive assistant who speaks various languages is extremely helpful to an executive and his or her organization in today's world of worldwide business.
Please include a language section if you know any foreign languages and have additional space on your resume.
You never know when you might need an email written in Russian, French, Finnish, or other languages.
Make a list of the languages according to their level of proficiency:
Basic
Intermediate
Proficient
Fluent
Native
8. Hobbies & Interests:
An executive's relationship with his or her assistant is precious. Harmony is important, and these two coworkers frequently form a special bond of shared hobbies or interests.
To offer a feeling of your personality, it's a good idea to include some personal interests on your resume.
Remember that some hobbies may not appear to be the most professional. It's better to confess your love of comic books after you've been hired.
Do's and Don'ts of Writing an Executive Assistant Resume
DOs
1. Do keep track of your accomplishments:
Adding numbers to your accomplishments can help the recruiter better understand your abilities.
"In a fast-paced firm, I worked for three top executives and accomplished all assistant functions," for example, or "I produced travel cost reports and oversaw domestic and foreign trips plans, decreasing time lost due to travel issues by 30%."
Respond to questions before they are asked, and give the recruiter an idea of how you approach work.
2. Be certain that your resume is customized to the job requirements:
Although most administrative roles fulfill similar responsibilities, each business may have its own needs.
Determine the skill sets and responsibilities required for the position you're applying for, and emphasize them in your resume.
Your goal should be to match the job description to your qualifications and experience.
3. Include soft skills in your resume:
For any executive assistant, soft skills are a must-have. Provide examples of how you used your soft talents to benefit your organization to draw attention to your soft abilities.
Use examples to show your abilities as a great communicator rather than simply stating them.
DON'Ts
1. Don't merely copy or shove keywords into your content:
Using keywords from the position description in your CV is a brilliant idea, but overdoing it isn't.
Hiring managers are professionals who read hundreds of resumes daily, and they'll be able to tell if you're duplicating and pasting keywords.
Find a few various approaches to bring up your relevant career skills. In your job history section, link keywords to accomplishments to show you have the necessary skills.
2. Remember to proofread your résumé:
An executive assistant is counted on to correct the details, so you can imagine the consequences of even a single error.
Spend extra time ensuring your resume is error-free since a clean and clear resume makes for easier reading.
3. Don't exaggerate facts:
Because one of the most important qualities of an executive assistant is trust, make sure nothing on your resume is false. To avoid any misrepresenting of facts, thoroughly review your document.
Do not exaggerate your previous job titles or experience. Don't make a point of highlighting skills you don't have. Keep in mind that employers are looking for honest people.
FAQs
How should you write your resume when taking the next step in your profession?
You must improve your abilities through cross-training or appropriate courses to advance your job. Consider a career as a management analyst, training and development professional, or administrative services manager. Degrees or certifications in instructional design, human resources, Certified Management Consultant, additional training in record keeping, cost estimation, or even an MBA will give your resume more depth.
What would training and certification examples be appropriate for this resume?
The following are some examples of such training:

Project Management Fundamentals
Assistants' Key Strengths and Characteristics
Assistants' Professional Development
What talents should you highlight for this particular job?
The following are some of the most crucial abilities to include in your resume:

Qualities of leadership
Organizing events
Capabilities in project management
Technical expertise (Word Press, social media, relevant software, etc.)
Qualities of time management
Ability to analyze and solve problems, as well as critical thinking skills
Outstanding client service
Which is the most effective resume format?
Using the chronological resume structure for a more senior position like this is ideal. This emphasizes your work experience and achievements and allows you to highlight your best abilities and strengths. To create a bigger impression on recruiters, emphasize organizational abilities like organizing expenditure records and quantify your accomplishments in the job history section. Don't forget to include any voluntary or extracurricular work that demonstrates your ability to organize and plan.
What are the top three executive assistant skills?
Adaptability, people skills, and organization are the top three skills of an executive assistant.
Conclusion
Because the work of an executive assistant is so broad, it's critical to highlight your skills in the resume skills section. It is preferable to be specific rather than unclear.
Instead of merely mentioning "Scheduling," describe the precise scheduling technology in this CV. There's about a 50-50 split in the executive assistant world: around half of all job, ads require a college degree, while the other half don't (especially with experience).
Make it abundantly apparent to the hiring business what your highest degree of schooling is. If you don't have more than ten years of experience, try to keep your resume to one page.
References
We Also Recommend