When planning a career in quality management, employers often look for Six Sigma qualifications. so you need to know what Six Sigma Training is and how to get Sigma Training.
Six Sigma aims to improve quality by finding errors, determining their cause, and improving processes to increase the repeatability and accuracy of process results.
In this writing, we shall expose you to information about What is Six Sigma Training and How to get Sigma Training.
What is Six Sigma?
It's a collection of approaches and tools for improving processes. Bill Smith, an American engineer who worked at Motorola at the time, was the first to introduce it in 1986.
A six sigma process is one in which 99.99966% of all opportunities to generate a feature of a part are expected to be defect-free statistically. Six Sigma is a concept that refers to the statistical modeling of manufacturing processes.
A sigma rating representing the yield or percentage of defect-free goods produced by a manufacturing process can be used to describe its maturity—specifically, the fraction of defect-free outcomes corresponds to how many standard deviations of a normal distribution.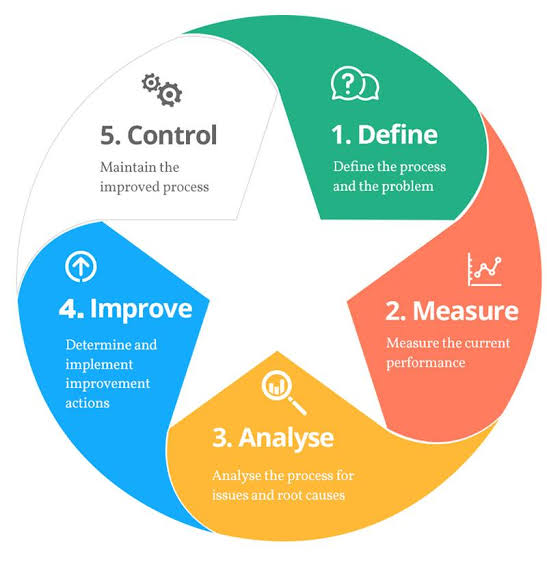 Six Sigma tactics aim to enhance production quality by identifying and eliminating faults, as well as reducing variability in manufacturing and business processes.
It accomplishes this by employing empirical and statistical quality management techniques, as well as enlisting Six Sigma experts.
Each Six Sigma project follows a unique methodology and has a set of value objectives, such as lowering pollution or improving customer happiness.
What is six sigma training?
Six Sigma accreditation attests to a person's mastery of a well-known method for professional skill development. Six Sigma training certifications are awarded in levels based on a belt categorization system similar to that used in karate.
Six Sigma training focuses on the creation of management processes that consistently produce almost defect-free results in manufacturing or any other company activity. To achieve this goal, it employs a variety of statistical and data analytic technologies.
Importance / Benefits of Six Sigma Training
No one likes change, but if you choose Six Sigma, you'll find that it affects every aspect of your company––in the greatest possible way.
1. Making well-informed decisions:
The Six Sigma approach is based on statistics, and if you don't have reliable measurements and data on what's going on in your processes, you're relying on guesswork and intuition.
You can use data to make objective conclusions and come up with the greatest answer or concept.
Six Sigma strives to provide quantitative data to support your performance or production efforts so that you are better prepared to meet them.
2. Improve your team's communication and collaboration:
Six Sigma is intended to be a company-wide initiative that encourages everyone to see issues as opportunities and the truth as the most essential aim. As a result, employees will be less scared to express their concerns, and other teams and departments will be seen as collaborators rather than competitors in terms of performance.
3. Increased customer satisfaction and quality:
Six Sigma is all about decreasing defects and variations in customer experience, whether it's for something concrete like a box of cookies or something intangible like web software, as previously said.
You'll be able to make the required modifications to improve your clients' experience once you start monitoring and quantifying your operations.
4. Lower costs:
Missed deadlines, lost customer loyalty, design changes, managerial changes, engineering changes, and so on are all examples of expenses caused by poor quality and inefficiencies in the process.
They mount up, whether owing to poor planning or the need to correct mistakes as they arise. With established teams of experts, a rigorous evaluation of processes, and a tight devotion to data, Six Sigma takes a brutal approach to cut them out.
5. Improved time management and productivity:
Your entire organization will be more efficient with the better team structure, project planning, data gathering and analysis, and business strategy, and you will be able to spend more time on the things that matter if you aren't spending time addressing problems that could have been prevented or reduced.
Is getting a six sigma training essential?
It is crucial because it promotes compliance, higher performance, and, of course, the reduction of errors and waste.
For employees, this might imply a higher wage, more employment prospects, stronger leadership skills, and a transferable set of talents that can be transferred from one position to the next.
Is six sigma training worth it?
Certainly! Six Sigma provides a leadership development role; people from many fields enroll in this course and then return to their respective fields once qualified.
This certification improves their logical reasoning, management, and decision-making abilities; however, it is important to remember that certification and skill are two separate things.
Attending classes with a dummy does not make you a pro; learning new abilities necessitates attention. Six Sigma is a collection of plans of action and tools for improving company processes, and it was created to increase profitability and customer satisfaction.
When a professional advanced certification, he has access to a plethora of benefits, including designation advancement, pay raises, polished skills, hands-on experience in current industrial projects, and real-life experiences from industry experts.
All of these benefits set an individual apart from the competition.
Six Sigma improves the effectiveness of all corporate activities and focuses on the elimination of errors within processes by identifying and eliminating inefficient procedures that waste time and effort.

Six Sigma personnel understand how to use arithmetical quality controls to assess method adroitness and identify areas for development, giving the Six Sigma methodology and model a competitive advantage.

An organization that invests properly in Six Sigma can undoubtedly become a center of quality excellence. The adoption of Six Sigma results in upholding the reality to specification; businesses cannot afford to mark a much-unattached stipulation and they cannot mark away from the big declaration point, as laid forth in the Six Sigma model.

These procedures are also backed up by skilled Six Sigma personnel.
How long does it take to become certified in six sigma?
Six Sigma is a course that is offered either as a self-paced course or an online program, and the time to complete each course varies depending on the time given to you, for example, white belt training lasts roughly 4 hours, and participants have 30 days to finish the course at their leisure.
The training is offered 7 days a week, 24 hours a day. Expect the Yellow belt to take 3 to 8 weeks, the Green belt 2 to 3 months, and the Black belt 6 to 8 months.
Master Black certification needs a Black belt as well as a black belt training and on-the-job experience, making completion time difficult to ascertain.
How much does six sigma training cost?
There are 18 certifications offered by the American Society for Quality (ASQ). Candidates pursuing ASQ certifications can save money by becoming a member, which costs $29 to $159 per year and includes the Yellow Belt, Green Belt, Black Belt, and Master Black Belt credentials.
ASQ Yellow Belt certification costs $244 for members, $394 for non-members, and $184 for retakes.
ASQ Green Belt certification costs $438 for members, $299 for non-members, and $239 for retakes.
ASQ Black Belt certification costs $538 for members, $388 for non-members, and $338 for retakes.
ASQ Master Black Belt certification costs $2,229 for members, $2,074 for non-members and $2,229 / $2,074 for retakes.
Can I learn six sigma training on my own
There is no set curriculum for Six Sigma as many institutions offer programs both online and on-campus, while many organizations provide programs in-house.
What is the Concept of six sigma?
Six Sigma focuses on improving cycle times while also lowering manufacturing faults to no more than 3.4 occurrences per million units or events.
Is it a Project Manager?
Six Sigma is a business or an organization methodology aimed at improving operations, reducing waste and errors, as well as improving customer satisfaction across an organization or business.
Six Sigma, which is based on data and statistical analysis, is a method for reducing errors and increasing value in any business process, from production to management.
It's more than just a manufacturing quality improvement method; it's also a project management methodology.
THE SIX SIGMA TOLLS
The problem-solving tools used to support Six Sigma and other process improvement activities are referred to as Six Sigma tools. To optimize processes, the Six Sigma expert uses both qualitative and quantitative methodologies.
Although the tools themselves are not unique, how they are used and incorporated into a system is. The following are some of the most often used statistical and graphical tools:
1. DMAIC:
The Define, measure, analyze, improve, and control process is a data-driven quality technique for improving processes.
It's an important feature of a Six Sigma project, but it can also be utilized as a stand-alone quality improvement approach or as an aspect of other process improvement projects, such as lean.
2. DMADV:
This method is best for planning a new process, such as when developing a new product or increasing customer interactions.
Define: Identify the client's or customer's requirements.
Measure: Analyze data to determine client needs, response to a product or service, and the capabilities of the product or service.
Analyze: Review data and use it to develop new goals or designs to fulfill the needs of customers or clients.
Design: Based on your findings, create a product, service, or process that better addresses client demands.
Verify: Put the design to the test before delivering it to the client or creating a plan to track its performance and efficacy in meeting customer needs.
3. 5S:
The Five S's of lean is an approach for reducing waste and increasing productivity by creating a workplace that is clean, uncluttered, safe, and well organized.
Any work area that benefits from visual control and lean production can benefit from the 5S philosophy. It is intended to aid in the creation of a positive work environment, both physically and mentally.
4. Seven Wastes;
The seven wastes; overproduction ahead of demand, workers, waiting for the next process, unnecessary material transport, over-processing of parts due to poor tool and product design, material or equipment, Inventory levels above the bare minimum, unneeded movement by personnel throughout the activity, and the production of waste are all examples of seven waste.
5. Value stream mapping:
Value stream mapping (VSM) is a two-stage pencil-and-paper tool. To begin, trace a product's production path from start to finish, drawing a visual depiction of each process in the material and information flows.
Second, sketch out a future state map of how value should be distributed. The future state map is the most essential
6. Flow:
Flow refers to the systematic fulfillment of tasks along the value stream, guaranteeing that a product travels without delays, scrap, or backflows from design to launch, order to delivery, and raw products to finished materials in the hands of the consumers.
7. Visual Workplace:
Devices meant to graphically transmit information about organizational processes to make human and machine performance safer, more exact, repeatable, and dependable describe a visual workplace.
8. Voice of the Customer:
The exploration and discovery of customer needs is the starting point for quality function deployment (QFD). The initial stage is to record the client's voice (VOC), followed by the creation of a voice of the customer table (VOCT).
Sales and technical trip reports, warranty claims, user support forums or assistance lines, and social media are all common sources.
Will it increase salaries?
With the year 2022 approaching, Six Sigma is more important than ever! As a result, it's projected that the average annual median pay will continue to climb. A Yellow Belt earns around $68,000 per year, while a Green Belt earns around $72,000.
A Black Belt can expect a salary of just under $90,000 on average, while a Master Black Belt can expect a salary of $119,000 on average. However, job descriptions with salaries of $135,000 to $150,000, and sometimes more, are common.
TYPES OF SIX SIGMA TRAINING
The belt that comes with Six Sigma certification is specific to the job that an employee holds within a company.
They are acquired through both hands-on experience and classroom training. Individuals with these qualifications are qualified to play specific roles in completing projects and supporting quality management techniques, they are;
1. White Belt:
If a professional has not completed a formal certification program or extensive training, they are classified as Six Sigma White Belts.
A review of important Lean Sis Sigma procedures and vocabulary in a single session explains how employees at all levels collaborate to bring about effective, trustworthy solutions.
White Belts use this as a foundation to participate in quality management and waste reduction programs as well as problem-solving assignments. After completing the entry-level overview, a white belt is awarded.
2. Yellow Belt:
A Yellow Belt has gone beyond fundamentals and also has more exposure to Six Sigma principles.
Yellow Belts might just have to spend a day or two in training to achieve the necessary skills to be assigned to a project as fully contributing members of the team.
They support managers in higher levels and guide limited-scope projects. A yellow belt is given to someone who helps a project on a practical level.
3. Green Belt:
Professionals must complete a full course that introduces them to Six Sigma methods for developing and improving goods, services, and processes to get a Lean Six Sigma Green Belt certification.
They learn how to use frameworks like DMAIC, which stands for Define, Measure, Analyze, Improve, and Control.
Individuals in roles such as project management, health care administration, or financial management benefit from Green Belt training because it provides them with an understanding of performance metrics and tools, Control charts and Failure Modes and Effects Analysis are two examples (FMEA).
Professionals who have received certification are equipped to take command of projects and develop links between LSS concepts and the organization's goals. They can use leadership tools to solve problems, find waste reduction opportunities, and extract useful data from data.
A green belt is given to someone who has learned the Six Sigma concepts and put them into practice under the supervision of a black belt.
4. Black Belt:
After completing the Green Belt courses, leaders can pursue the Black Belt training to take their talents to the next level.
This advanced curriculum, which requires prior knowledge of LSS approaches, provides professionals with the skills they need to create, lead, and explain more difficult and expansive projects or organizational changes.
A Black Belt-level course teaches students how to lead a team of Green Belts, implement new initiatives, analyze statistics, apply Lean principles, and oversee projects.
Students develop the skills they need to make their businesses more productive and increase customer satisfaction by establishing a project charter, collecting data, and using Six Sigma tools in a real-world context during a Black Belt-level course.
A Lean Six Sigma Black Belt can manage team dynamics, carry out LSS projects, and track results. They lead quality improvement and Lean initiatives that have the potential to boost overall productivity. A black belt uses Six Sigma concepts to plan and execute projects.
5. Master Black Belt:
In LSS, a Master Black Belt is an experienced Black Belt who possesses great leadership and problem-solving abilities. The execution of Six Sigma initiatives across functions is managed by a master black belt.
6. Champion:
An LSS Champion is a senior executive in charge of the strategy and implementation of the LSS. Champions ensure that all initiatives to reduce waste and eliminate defects are aligned with a company's growth needs, based on the objectives set by executive leadership.
A champion is a senior executive who is in charge of Six Sigma implementation across all departments.
Where to get Six Sigma Training Online
1. American Society for Quality:
Due to its high global reputation, rigorous exam prep and training, focus on subject knowledge, and certification registry, the American Society for Quality (ASQ) is the best overall Six Sigma, Certification provider.
A handbook, study guide, question bank, and certification prepare included in the training materials; only the Yellow Belt certification prep is self-paced and available online.
Both Green and Black Belt, on the other hand, provide self-paced online, classroom, and live virtual certification preparation; the amount of time it takes to study for the exam is decided by how rapidly you move through the materials. It will, however, take two to six weeks.
Six Sigma Yellow, Green, and Black Belts are available, each with its own set of charges and experience requirements. Yellow Belt requires no prior experience and costs $394.
Green Belt certification costs $438 and requires three years of on-the-job experience. The Black Belt requires three years of on-the-job expertise and one finished project with a signed affidavit; it costs $538, and ASQ members save $100 on exams.
2. International Six Sigma Institute:
The International Six Sigma Institute (ISSI) provides affordable lifelong access to course materials and future upgrades, as well as Six Sigma certifications starting at $49 for certain Belts and a money-back guarantee. Six Sigma certifications are available in the following categories:
($69) Green Belt
($99) Black Belt
($149) Master Black Belt
($149) Champion
($49) Yellow Belt
Each program includes lifetime access to the online education site as well as future updates, as well as live monthly Q&A sessions, and after paying for the online program, you have one year to take the certification exam; if you pass, there are no recertification requirements or expenses.
For any of the Belts, there are no project or affidavit requirements, and you do not need work experience to test. The majority of people need one to four days to thoroughly prepare for the exam, however, some people can digest the content in just a few hours and pass.
Each test consists of 50 questions and takes 60 minutes to complete. To pass your exam, you'll need a score of 60%. You get ten attempts to complete the exam, and if you don't pass, the International Six Sigma Institute will refund your money.
3. Lean Six Sigma Institute:
Students have six months to finish the self-paced training at the Lean Six Sigma Institute (LSSI), and they can save over 50% on self-paced materials compared to instructor-led training.
The Lean Champion Belt can be completed in as little as 10 hours of self-paced training or 15 hours of instructor-led training.
Expect around 68 hours of self-paced study or 160 hours of instructor-led instruction for the most advanced program, Lean Master Black Belt. It should take you about nine weeks to complete self-paced training.
These Belts are available from LSSI at the following prices:
Lean Yellow ($599 for self-paced, $1,299 for instructor-led)
Lean Green ($999 for self-paced, $2,399 for instructor-led)
Black Lean ($1,499 for self-paced, $3,499 for instructor-led)
Black Lean Master ($1,997 for self-paced, $4,599 for instructor-led)
Lean Champion ($299 for self-paced, $999 for instructor-led)
You can get a discount if you have a certification at a lower Belt level, in addition to savings for self-led lessons. If you already have your Lean Yellow Belt, for example, the self-paced Green Belt costs $599 instead of $999.
Six months of Minitab Workspace, video demonstrations, downloadable information, and your exam are all included in the course price. If you aren't pleased with the course material, you have two days from the date of purchase to request a refund, and two chances to pass the exam are included in the course price.
You must re-purchase the course if you fail both times. You must score 80% on your exam to obtain your certificate, and then you must submit a Lean Six Sigma project demonstrating Lean practices to receive Lean International Certification for any of the Belts.
4. Villanova University:
Online courses at Villanova University include simulated projects and complex animations that prepare you for real-world applications.
Each lesson necessitates a different amount of time, for example, the Lean Six Sigma Master Black Belt course is 12 weeks long, whereas the Lean Six Sigma Black Belt course is 16 weeks long, and the subsequent courses are eight weeks long.
You must have completed the previous tier certificate before enrolling in the higher Belt classes. To take the Lean Six Sigma Black Belt course, for example, you must first complete the Six Sigma Green Belt course.
Your Belt from other institutions may count towards this prerequisite with University clearance.
The following are the costs for Lean Six Sigma courses:
Green Belt in Six Sigma ($2,495)
Black Belt in Lean Six Sigma ($4,095)
Master Black Belt in Lean Six Sigma ($3,495)
The exam price will be included in the course price.
Active-duty military personnel, National Guardsmen and Reservists, veterans, wives, and dependents can save 15% on each course. Your company may pay the cost of your course, and group discounts of five or more students are available.
Live online weekly courses, videos, online learning tools, and simulated tasks are all included in the course materials. After completing the course and the required class project, you will earn a certificate and be eligible to take the Villanova certification exam.
5. GreyCampus:
GreyCampus is an IASSC-accredited training provider, and thanks to its thorough coursework and extra boot camps, the majority of students pass their certification examinations.
Professional Development Units for project management certifications are also available. You'll also be able to take simulated examinations and get exam analytics so you can understand exactly what you need to improve on to pass your actual Lean Six Sigma exam.
The following are some of the training and certification courses available, as well as their costs:
Green Belt in Lean Six Sigma ($270, $880 with Bootcamp)
Black Belt in Lean Six Sigma ($360, $1,210 with Bootcamp)
Yellow Belt Lean Six Sigma Training Course (exam optional, $180)
Green and Black Belt Lean Six Sigma Combo ($590, $1,770 with Bootcamp)
Yellow Belt in Six Sigma ($180)
Green Belt in Six Sigma ($270)
Black Belt in Six Sigma ($360)
Apart from Bootcamps, the coursework is self-paced and takes about 110 hours. Bootcamps are live four-day or five-day online classes. If it's included in your package, you can attend as many Bootcamps as you like within six months of registering for the course.
The Lean Six Sigma courses have no requirements, however, the Six Sigma Green Belt course requires three years of work experience, and the Six Sigma Black Belt course requires the Green Belt or two years of work experience and the completion of process improvement projects.
Exams are proctored but taken from home via a website, and you must complete them within one year of enrolling in the course. However, you may only have access to the content for six months for some courses, so make sure you finish the coursework and exam before then.
Six Sigma Training | FAQ
Where should I begin with Six Sigma?
The Yellow Belt is the greatest place to begin because it provides a basic introduction to Lean Six Sigma for people who are new to the field.
Which Six Sigma level is the highest?
Master Black Belt in Six Sigma – A Master Black Belt is the pinnacle of the Lean Six Sigma achievement pyramid. They have a lot of experience and are experts in their respective industries.
How do you distinguish between Lean Six Sigma and Six Sigma?
The key distinction between Lean and Six Sigma is that Lean is less concerned with production and often influences all aspects of a company. It combines these two approaches to create a powerful toolkit for waste reduction.
What are the six sigma fundamental principles?
The Lean Six Sigma Principles are divided into five categories.
Work for the benefit of the customer.
Identify and concentrate on your problem.
Eliminate inconsistencies and bottlenecks.
Be clear in your communication and train your team members.
Be adaptable and quick to respond.
Is Six Sigma still relevant in today's world?
Six Sigma is a statistical process improvement methodology that tries to eliminate process variability. Six Sigma is still a viable choice for process improvement, even with today's complicated procedures and technological advancements.
Conclusion
Earning your Six Sigma certification distinguishes you from your peers and can earn you a promotion at work. If you're unemployed, it can also help you find work because it looks great on your resume.
Most certifications take less than six months to accomplish, and if your company doesn't already have a certification path in place, they may even pay for it.
While there are various quality alternatives to pick from, the American Society for Quality is the ideal place to start for your Six Sigma certification needs because of its commitment to quality and focus on implementation rather than just passing your test.
However, which one you choose is determined by your objectives, budget, and amount of time you have to complete the course.
References