Affiliate marketing is one passive way to make money online. It saves you the stress of meeting customers and dealing with specific customer service issues.
Many top brands employ this marketing strategy, and Walmart is not left out. Walmart Affiliate Program allows you to promote their products to your audience and earn for every sale you make.
Surfing through the internet, you're bound to find other affiliate programs. However, you need to study the pros and cons of each to know which best suits you.
Hence, this Walmart Affiliate Review is written clearly to let you gain insight into the Walmart Affiliate program, its rates, and simple hacks to make money from your Walmart Affiliate Link.
The table of contents below highlights the order in which questions about the Walmart Affiliate program are duly answered.
What is Walmart.com?
Walmart is Amazon's biggest competitor in North America. It has enormous resources and reaches – so it's everywhere.
With one store in Rogers, Arkansas in 1962, Sam Walton's business model grew to become one of the biggest stores today.
By 1980, Walmat.com had 276 stores across North America with thousands of employees. After 12 years, several stores grew to 1, 928 stores and 371, 000 associates.
In 2015, Walmart grew to 11, 000 stores in 27 countries, and 2.3 million associates. In a nutshell, Walmart is a behemoth of offline retail which started with a simple business model – the lowest prices anytime, anywhere.
What is Walmart Affiliate Program?
Just like any other affiliate program, Walmart Affiliate Program allows you to earn a commission for every sale made through your link.
Walmart dedicates a link to this affiliate program on the Walmart website. For every purchase made by traffic you send to Walmart.com, you earn a commission.
Basically, Walmart Affiliate Program is for online sales, and is not available for walk-ins in any Walmart stores available in North America.
Read Also
How Does Walmart Affiliate Program Work?
If you wish to become an affiliate marketer for Walmart, you need to sign up. Walmart runs through your application details to determine if you're qualified for what you seek.
The checklist which serves as criteria for site approval include
If your application gets approved, you will gain access to the backend system. Here, you will find all your affiliate links to aid you to promote products on your website.
Walmart Affiliate program commission structure shows that the overhead cost of most of their products is quite huge.
Affiliate marketers earn 1% -4% commission as Walmart affiliate rates on all products except contact lenses and business and personal checks.
Walmart affiliate program pays at least some commission across all their popular categories. Other affiliate marketers can post text links to anything they want if they are cool with earning a 1% commission rate.
Walmart affiliate program doesn't pay affiliate marketers when they refer new customers to products and services like:
Tires
Sam's Club
Walmart Internet Service
Gift Cards
Financial services
Travel
Pharmacy
Generally, Walmart affiliate program offers a 3-day cookie which is worse than target but better than Amazon. It also offers an SDK tool with JavaScript and HTML that allows users to add a Buy Now button.
What Products can I Promote as a Walmart Affiliate?
Walmart Affiliates can promote a wide range of products in hundreds of niches. Their most popular categories include – movies, music, and books; home improvement; clothing, shoes, and jewellery; baby and toddler items; sports and fitness equipment; etc.
The table below summarizes Walmart commission rate for each product: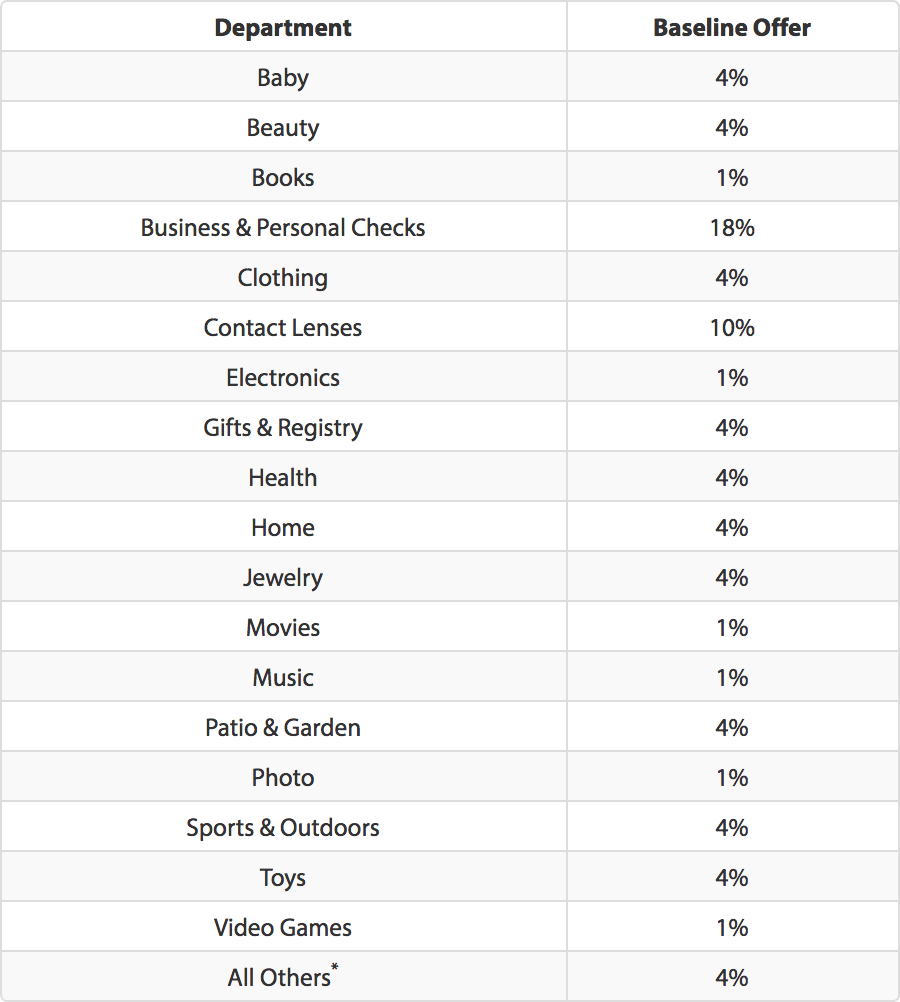 How Much Money Can I Make as a Walmart Affiliate?
It is clear that Walmart Affiliate Program offers low commission rates. However, there is still no limit to how much you can earn as a Walmart affiliate.
Depending on your consistency, effort, and marketing strategy you can make more sales in a day. For instance, if your affiliate link generates tons of sales for a product worth $100, you earn 4% x number of sales on just one product.
Basically, if you sell 10 of these items in a day, you earn $16 a day for just promoting one item.
Pat Flynn a blogger earned about $2 million in a year through affiliate marketing. So, with the Walmart Affiliate program, there is no limitation to how much you can earn.
Since Walmart affiliate rates are low, a simple trick to earn more is to target expensive products so your 4% could amount to something big.
What Tools can I use to Make More money with Walmart?
Walmart Affiliate program offers a variety of tools to its affiliate to aid them drive more customers to their website.
To make more sales on Walmart and earn more money, use the following Walmart Tools below:
#1. Walmart SDK
A call to action research shows converts to more sales. With this tool, Walmart affiliates can embed product rights into their contents with a buy now button.
In this "buy now button is your affiliate link which redirects a customer to where he/she can make a purchase.
Basically, this makes the buying process easier and has a high tendency to convert to more sales. And, the more sales you make, the more money you earn.
#2. Walmart Chrome Extension
This Walmart tool helps Walmart affiliates discover best-selling products easier. Marketing best-selling products have high tendencies of converting high sales.
#3. The Walmart WordPress Plugin
Walmart WordPress plugin allows you to easily add links to your content. With this plugin, you can find products you wish to promote based on the keywords you type in.
How to Promote the Walmart Affiliate Program
Once you become a Walmart Affiliate, you should find multiple ways to promote the Walmart Affiliate program.
The more you promote this affiliate program, the more sales you make daily. To earn a decent commission each month, use the following plugs to promote the Walmart Affiliate Program:
#1. Review Walmart Products on your Blog
Reviewing a product solves the first problem of a customer and convinces a user to buy a product.
As a blogger, a decent keyword research review can easily rank in search engines. Tell potential buyers the pros and cons of a product, its durability and efficacy and watch them click the Buy Now button.
#2. Email Marketing
Becoming a Walmart Affiliate is equivalent to becoming a sales rep. And, employing the email marketing strategy will convert to more sales.
Simply search for a Walmart product that will suit your audience, promote it through an email. If you've a review already written about it, you can link people from your email to your review.
#3. Create a Strong Social Media Presence
Share a few links to your product review on social media space. If you have a strong social media presence, it means your product would reach more people. And, the more people your post reaches out to, the more sales you are likely to make.
If your social media app does not allow affiliate links, you should simply link to your review.
Walmart Affiliate Program Reviews
Currently, Walmart is the number 1 US retailer and they experience no resistance from buyers to purchase.
So, its affiliate program is quite helpful both for beginners, bloggers and experts. Basically, Affiliate can select from a range of products and earn assigned commission rates.
Walmart Affiliate Program seems to be a close alternative to Amazon and its likes; however, it is important you consider the pros and cons below before deciding to sign up:
| Walmart Affiliate Program- Pros | Walmart Affiliate Program- Cons |
| --- | --- |
| Massive brand recognition | Poor affiliate commission rates |
| Offers professionally designed creatives for affiliates to use | Find and promote products that are not available in Walmart local stores |
| Offer marketing tools like SDK which is a nice touch | Affiliate tools are outdated and defunct |
| Allows affiliates get the latest information on products | Conversion rates lag well behind many of their competitors |
| Affiliates can promote any of the 4+ million Walmart products | Walmart affiliate program seems an afterthought than an integral part of their online business |
| Affiliates receives data feeds for top selling and exclusive products | |
Conclusion
Walmart Affiliate program reviews posit that Walmart affiliate is a better alternative for affiliates looking for second fiddle.
Although its commission rates are less than its main rival Amazon affiliate program – there is still room to earn enough from Walmart Affiliate Program.
Carefully read through this piece on Walmart Affiliate Reviews, to get a clearer picture of how you can make money from Walmart, what tools can help and a series of products you can promote.
References
Recommendations