The types of tools you choose for your woodwork can make a difference. Whether the tools are for general-purpose use, for experienced DIYers, for fine cabinet makers, or beginners, your tools are very important.
There is no one-size-fits-all for the best woodworking tools and that's why this article has one of each type of woodworking tool. These are tools you would most likely need.
Starting with perennial favorites like saws, drills, planers, and sanders, we constructed a collection of some of the best woodworking tools currently available that will suit most people, mostly.
Let's get started.
Why do you Need the Best Woodworking Tools in 2022?
When getting the best woodworking tools, you know the reason you need them. For instance, you would have a level of precision from hand tools.
Fine carving and detailed work, such as cabinetry, musical instrument building, and decorative work, causes minute control over a tool, which is sometimes easier with hand tools.
Hand tools are also always useful. You don't need any power, fuel, or air pressure to use the tool, and you can use it whenever you want. Hand tools are easier and lighter to transport than power tools because they are smaller and more compact.
Power tools have an obvious advantage when it comes to speed, but they also have an advantage in terms of scale. Cutting a massive tree trunk with a handsaw is a time-consuming and dangerous process.
A chain saw provides a logger with the control and power he requires completing his work. Power tools are more efficient as well. A powered saw with the right blade cuts right through nails, which a regular saw would struggle with.
Some power tools can also perform tasks that hand tools simply cannot. There is no equivalent hand tool method for jack hammering. It is also impossible to drive screws or nails into concrete with hand tools. However, driving concrete anchors with the right power tool could be the key.
In all, you must know that the best woodworking tools essentially make your work neater, easier, and of course, faster.
Also, check out: Best Tools For Gardening In 2022 | Best Tools
What to Consider When Choosing the Best Woodworking Tools?
When shopping for woodworking tools, you must consider many factors. This includes-
A budget
Workshop space
Compatibility with other tools, and
Safety features.
Quality and durability are also two of the most important key features to look for.
Understanding the typical uses for various types of woodworking tools can also make deciding which tool will add the most value to a tool user's shop easier.
Don't Fail to Read; 10 Best Tools for Grilling in 2022 | Best Tools
Types of Woodworking Tools
The range of tools available ranges from traditional hand joinery tools to the most advanced woodworking power tools. Below is an overview of each type of tool, the functionality of the tool category, and the key features to look for. While some basic woodworking tools did not make our list of top picks, this is not because they are unimportant.
Saws
Saws are among the most important woodworking tools. Their significance is mostly due to the enormous selection, which ranges from a small gent's saw for cutting decorative joints to massive table saws that can rip through large sheets of material and boards in seconds.
Sanding and Planing
After the wood has been sawn, it must often need planing to the desired size and then sanded to a smooth finish. Hand planing is a test of a craftsperson's ability, and it can be extremely rewarding. Doing it well takes time.
Power planers and thickness planers work much faster. Powered hand planers are a motorized version of hand planers used on the workpiece.
Thickness planers, as the name implies, quickly reduce a board's thickness. Power planers are for to truing up the side (face) and the edge of aboard. Combined planers are also available. However, they are large tools for professional workshops.
Tools for Assembly
Woodworking assembly tools are simple but essential. Some of the most common types of assembly tools found in a woodworking shop are-
Hammers. You can find a hammer in almost every home toolset. The hammer used to put panel pins into plywood must be a lighter tool with a smaller head than the one used to knock in 6-inch nails.
Nailers. Another thing to think about is power nailers. While finish nailers can are for woodworking, they are more commonly used in remodeling or trade carpentry.
Drills. Drill drivers are another essential woodworking tool that many DIY tool kits have. Screws have more holding power than nails and provide a neater, more precise fix. Pillar drills, or freestanding drills, are an excellent addition to high-productivity shops, both amateur and professional.
Clamps. Most experienced woodworkers believe that one can never have too many clamps. They are essential when gluing material together. Because of their low cost, a variety of sizes are available.
Jointers. Those constructing workbenches, tabletops, or similar projects are interested in biscuit jointers, which provide a quick and accurate way to join multiple boards.
Tools for Measuring
Measuring tools for woodworkers range from simple steel tape to high-precision Vernier calipers. The latter of which is a more specialized tool.
Tape measure or ruler: Tape measures are fine for general carpentry, but the end tends to come loose over time, resulting in some accuracy loss. Steel rules are a long-lasting option that many people prefer.
A try square is necessary for marking out 90-degree angles, and these also include a graduated scale.
A combination square made up of a steel rule and a sliding block with surfaces is usually 45- and 90-degree angles. For checking level, a spirit level bubble is usually included in a combination square.
Sliding bevel: A sliding bevel does not have measurement markings, but it is a useful tool that can be set at any angle. It is then laid against the workpiece to transfer cut lines or drilling markings.
Other Resources
Keeping the woodshop clean is not everyone's favorite task, but it has ramifications on multiple levels. A clean workshop is safer, and tools and equipment last longer. Furthermore, sawdust can contaminate a job's finish. Shop vacs are frequently a tough and cost-effective solution. Some can remove not only sawdust but also nails, screws, and other debris.
Equipment for Safety
Most woodworking tools include important safety features. If a tool can cut, sand, or drill wood, it has the potential to cause serious injury to hands and fingers. Sawdust can irritate the eyes, nose, and mouth. When working with some exotic hardwoods, toxic dust forms. This can severely irritate the respiratory system.
Eye protection, such as safety glasses or goggles, should be on at all times. At the very least, you should wear a lightweight dust mask. Some machinery is extremely loud, and the Occupational Health and Safety Administration (OHSA) recommends ear protection for noise levels exceeding 85 decibels. While not legally required in-home woodshops, ear protection not only protects hearing but also helps reduce fatigue.
You can also check out: How to Become a Gunsmith In 2022 | Full Guide Paid
List of 10 Best Woodworking Tools
In selecting our top picks, we went beyond the necessities, which are frequently found in DIY tool kits. While there are less expensive woodworking tools available, and we frequently include budget picks in other top-picks lists, we are focusing on higher-quality tools that we expect should last for many years.
Although their initial cost is higher, the fact that they frequently outperform and outlast their competitors means they represent excellent value.
The following tools made specifically for woodworkers are listed here. They range from ones for beginners to full-time professionals.
DEWALT Sliding Compound Miter Saw, 12-Inch
SKIL 6 Amp Corded Jig Saw
SKIL 15 Amp 10 Inch Table Saw
DEWALT 20V Max Cordless Drill / Driver Kit
Bosch 1617EVSPK Wood Router Tool Combo Kit
Makita 18-Volt LXT Lithium-Ion Random Orbit Sander
REXBETI 10pc Premium Wood Chisel Set
Delta 8-in Grinder Model
SHOP FOX W1727 1 HP Dust Collector
The Moisture Meter for Wood

#1. DEWALT Sliding Compound Miter Saw, 12-Inch
Compound miter saws are for cutting vertical angles, horizontal bevels, or combinations of the two. The DeWalt sliding compound miter saw can also slide forward, providing a 634-inch depth of cut at the fence or width of up to 2 inches by 14 inches.
When not in use, this woodworking tool has a sliding action that you can disable. The saw bevels to 48 degrees on both the left and right sides.
At 56 pounds, the DeWalt isn't light, but it's still portable. The included general-purpose blade is adequate, but it cuts fairly coarsely. The dust collecting bag would be more useful if it were larger. Where possible, installing a shop vac or extractor would be a better idea.
Product Specifications
Power: 15 amps, corded
14-inch maximum cut width
56pound weight
Pros
High build quality and longevity
Outstanding performance and capabilities
Cons
Not very user-friendly
You can improve the supplied blade.
The capacity of a dust bag has a limit.
#2. SKIL 6 Amp Corded Jig Saw
One of the best woodworking tools is the SKIL 6 Amp corded jigsaw. With the ability to crosscut boards and cut complex shapes in plywood or MDF, the SKIL 6-amp jigsaw is extremely versatile. It can handle wood, plastic, aluminum, and even steel sheet by changing the blade. Although both are widely available, blades use a U-shape fitting rather than the more common T-shape.
To suit different materials, you can adjust it to a four-position orbital cutting action.
Typically, jigsaws require an Allen wrench to accomplish this, but the Skil has a simple, fast-acting lever.
This woodworking tool has four-speed settings, which you can adjust to suit the material you cut. This makes maintaining constant speed easier, though inexperienced users may prefer a variable trigger for a slow start to the cut.
Product Specifications
Power: 6 amps, corded
Up to 3,200 strokes per minute (ppm)
Weight: 4.9 lbs.
Pros
Tool-free blade replacement
Bevel shoe mechanism with quick-set shoe mechanism
The cut line is lit by a work light.
Cons
It employs less common U-shank blades.
The trigger is not completely variable.
#3. SKIL 15 Amp 10 Inch Table Saw
A table saw maybe a better choice than a miter saw for those who need to cut a lot of sheet material or boards. While the latter can take up a lot of space and be quite expensive, the compact SKIL table saw is a good compromise between size and performance, as well as being very affordable.
The 10-inch blade has a depth of cut of 312 inches at 90 degrees, which is enough for 44-dimensional lumber. When beveling at 45 degrees, the depth is 212 inches.
The maximum ripping width is 2512 inches to the right and 14 inches to the left of the blade. The fence's rack-and-pinion adjustment is smooth and precise.
For angled cuts, include a miter gauge. The SKIL table saw also has integral folding legs, which allow it to be on a benchtop if workshop space is not much. As one of the best woodworking tools, it is fairly portable.
Product Specifications
Power: 15 amps, corded
Capacity for cutting: up to 44-dimensional lumber
Weight: 51.2 pounds
Pros
Ripping capacity of 2512 inches
Fence that is precise and stable
Folds for easy storage and transportation
Cons
Small table size
Legs can be a little picky.
#4. DEWALT 20V Max Cordless Drill / Driver Kit
There are many excellent drill drivers available, but the DeWalt 20V Max cordless is difficult to beat as a complete package. It is hands-down one of the best woodworking tools.
The 12-inch keyless chuck reflects its toughness. There are two-speed settings to give you more control over drilling or driving tasks. There is also a 16-position clutch for precise torque adjustment.
The DeWalt drill/driver weighs only 312 pounds and is ideal for use in tight quarters. A LED work light illuminates dark corners. It has a brush motor rather than a brushless motor, but it has proven reliability and helps keep costs low.
The only minor drawback is that the included 1.5-amp-hour (Ah) battery limits runtime. Many users will want to buy a spare.
Product Specifications
Power: 20 volts, cordless
12-inch diameter chuck
3.64-pound weight
Pros
Dependable and high-performance drill driver
There are two-speed ranges.
Included are a drill, a battery, a charger, and a sturdy bag.
Cons
The included battery has a capacity of only 1.5 Ah.
Brush motors are less efficient than brushless motors.
#5. Bosch 1617EVSPK Wood Router Tool Combo Kit
One of the most important considerations when selecting a router as a woodworking tool is whether to go with a fixed base or a plunge model. Bosch solved the problem by including both in a high-quality, reasonably priced kit. The inclusion of 14-inch and 12-inch collets increases versatility, allowing for the use of a wide variety of router bits.
The router employs some clever electronics, as many would expect from Bosch. The Soft Start feature reduces the router's tendency to twist sharply at first, making control easier.
Due to its "constant response circuitry," the motor delivers increased power if it begins to bog down.
You can fix the on-off switch on either side for left- or right-handed users, which is a small but thoughtful addition.
Product Specifications
Power: 12 amps, corded
8,000 to 25,000 revolutions per minute
7.7-pound weight (with fixed base)
Pros
Powerful 214-horsepower engine
Change from a fixed to a plunge base with ease.
Precision micro-height adjustment
Cons
Height adjustment is difficult.
An edge guide is optional.
#6. Makita 18-Volt LXT Lithium-Ion Random Orbit Sander
The Makita cordless random orbital sander's freedom of movement can be useful, especially when working over large areas.
A one-touch speed control switches between 7,000, 9,500, and 11,000 oscillations per minute. This allows the Makita sander to transition from rapid material removal to fine finishing. This is easily one of the best woodworking tools.
The Makita has a class-leading 5-Ah battery unit that can power the tool for up to an hour at low speed and a half hour at maximum speed. Recharging is quick, taking only 45 minutes.
The ergonomic handgrip provides good control over horizontal surfaces, but if sanding vertically, you may require a second hand to maximize control.
Product Specifications
Power: 18 volts, cordless
Oscillations per minute: 7,000, 9,500, and 11,000 (opm)
3.6-pound weight
Pros
Lightweight and comfortable to hold
Charges quickly
Cons
5-Ah high capacity battery
Vertical control is difficult to achieve.
Expensive
Even power tool-only woodworkers can benefit from a good set of general-purpose wood chisels. They are extremely useful for cleaning up after machining or fitting joints and hinges.
The REXBETI set includes six chisels ranging in size from 14 to 112 inches, providing solutions for a variety of tasks.
The blades, constructed from chrome vanadium steel, holds an excellent edge. Sharpening chisels are often thought to be a skill that requires time and patience to master.
This set includes a precise honing guide and stone, making the job quick and easy. If you are a woodworker, this is one of the best woodworking tools and is a must-have.
Product Specifications
Hand or mallet power
Chrome vanadium steel is the material.
5.8-pound weight
Pros
A variety of chisels are in the set.
Blades made of chrome vanadium steel
Ergonomic grips
Cons
Arrival time is not always precise.
Wooden handles are usually preferred purists.
#8. Delta 8-in Grinder Model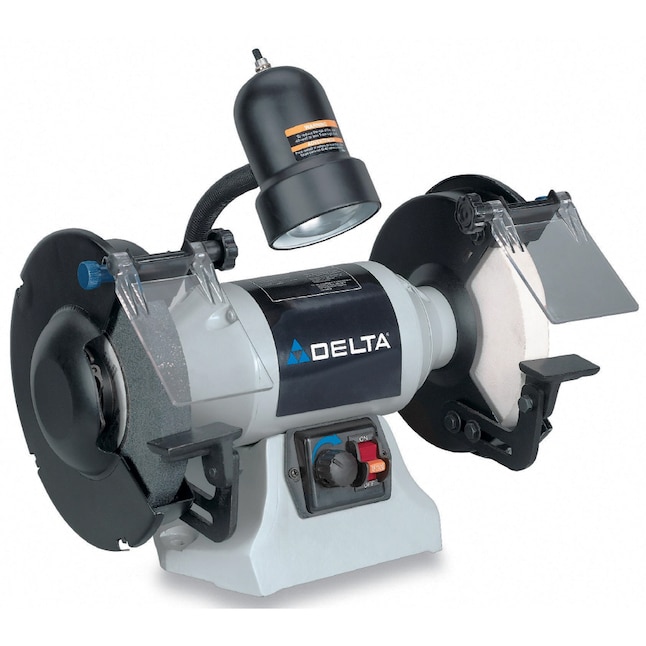 The Delta 8-inch bench grinder is one of those tools that woodworkers wonder if they need, then wonder how they ever got along without. Bench grinders are useful not only for sharpening chisels and blades for hand planes and other tools, but they can also be for the polishing station by changing one of the wheels.
Variable speed, controlled by a dial on the front, makes it simple to adapt to different tasks. The wheels supplied are 36 grit and 60 grit, which are suitable for general grinding and sharpening tasks.
Guides on bench grinders can be disappointing, but these have good adjustability, allowing precise angles to be set for sharpening.
Product Specifications
Power: 5 amps, corded
2,000 to 3,400 revolutions per minute
44-pound weight
Pros
Variable-speed motor that is powerful and dependable
Guides provide excellent adjustment.
Cons
The wheels provided are of average quality and wear quickly.
You need a finer wheel for high-quality chisels.
#9. SHOP FOX W1727 1 HP Dust Collector
Sawdust is harmful to the respiratory system, ruins finishes, and can cause a fire. It may even explode if there is static in the air.
A shop vac is one method for keeping the woodshop clean, but a dedicated dust collector, such as the Shop Fox, is far superior.
The suction of up to 800 cfm is provided by the powerful motor and 9-inch impeller blade (cubic feet per minute). Sawdust drawn into an upper bag, filters out particles as small as 2.5 microns (as fine as the protection offered by N95 face masks).
The waste is then collected and disposed of in the lower bag. They put the Shop Fox dust collector to a single machine, used as a central unit for a small workshop, and easily moved around as needed thanks to the wheeled base.
Product Specifications
Power: 9 amps, corded
54 inches tall
55-pound weight
Pros
800 cfm suction power
You can filter particles down to 2.5 microns.
2.1 cubic feet of waste capacity
Cons
Casters are of poor quality.
Lower bag fitting is difficult.
#10. The Moisture Meter
A good wood moisture meter is essential for the long-term success of any woodworking project. Lumber mills attempt to dry their lumber batches by the intended end product destination.
That is, wood harvested in the wet Northeast but shipped to the arid Southwest will are dry more than wood harvested in the Northeast for use by woodworkers.
The moisture content levels of the woods you use for your area of the country determine the success of your woodworking project. This ranges from wood flooring to kitchen cabinets to fine furniture.
Pros
Long-lasting
Essential for dry wood
You can use it on fine furniture
Pins that penetrate the wood surface
Settings that account for different species of wood
Cons
Needs inlay glue joints to stay intact
The gravity of the wood must should be put into the moisture meter
Verification of moisture takes time

Frequently Asked Questions
What tools will I require for my woodworking projects?
It all depends on the project, though many are done with fewer resources than you might think. A saw, a drill, and a screwdriver can accomplish a great deal. You can potentially make hundreds of different items with a half dozen well-chosen woodworking tools.
Do woodworking tools need to be maintained and cleaned regularly?
Absolutely. Cleaning and maintaining your tools prevents rust, prevents damage, makes woodworking tools and machinery more enjoyable to use, and extends their useful life. It is rarely difficult work, and it does not take long if done regularly.
When should I replace my woodworking tools?
It is usually time to replace the tools when they no longer perform as intended, or when fixing is difficult. They should also be replaced when their performance is affecting accuracy, speed, ease of use, or safety.
What tools aren't necessary for woodworking?
What isn't necessary is different for each woodworker. Some people will never use a router, whereas others will find it indispensable. Some people never use hand planes. Others consider using a hand plane to be a true test of a carpenter's skill. Focus first on the type of woodworking you want to do, and then create a toolset that meets your needs and budget. Anything else is optional unless it is necessary.
What is the most popular woodworking tool?
Research has shown that every woodworker makes use of a saw for their woodwork.
Conclusion
Many beginning woodworkers have a fear of the vast array of tools on the market. You can easily accumulate thousands of dollars' worth of expensive woodworking tools in your shop.
However, most tools for beginning woodworkers do not have to be elaborate or expensive.
Beginner woodworking tools should begin with the fundamentals so that you can develop the sense of simplicity that is at the heart of great work.
References
Recommendation