Have you ever heard about professionals who help parents to take care of their babies with nurturing touch? These professionals are known as CIMI, and they have certified bodies that specialize in acting as a parent to a child with soft touches. Perhaps you're fond of babies and love touching them, and you might consider having CIMI certification.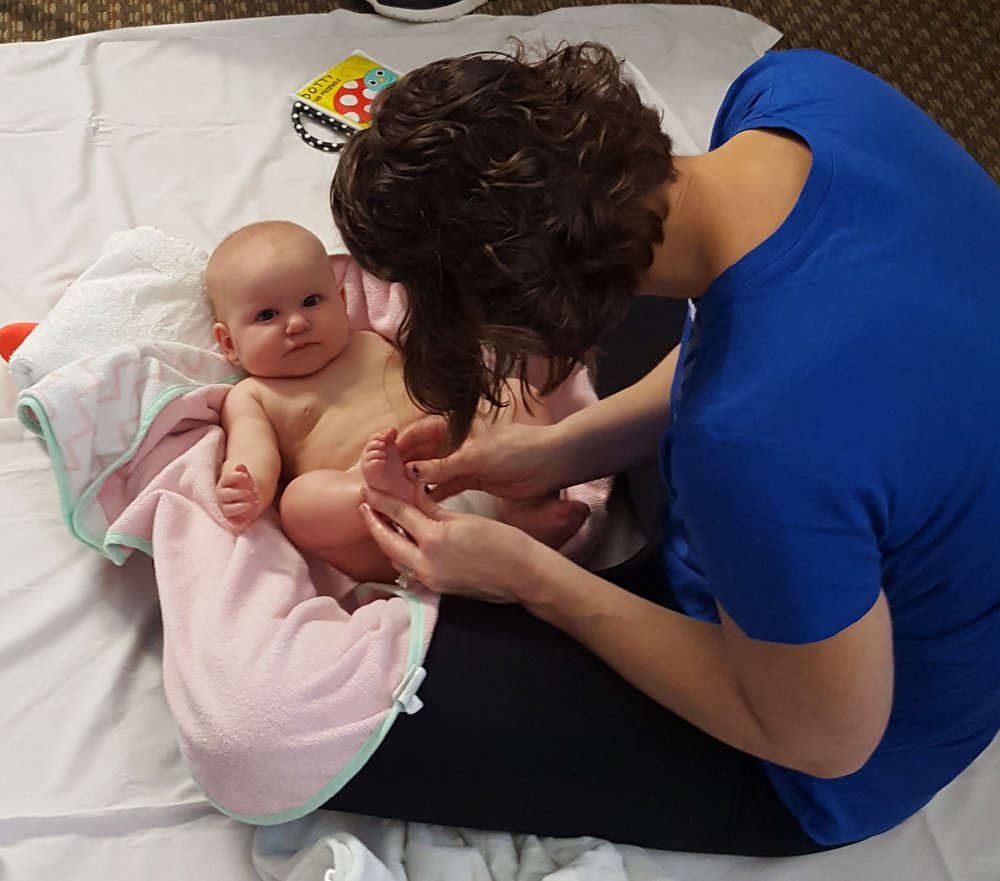 CIMI certification means Certified Instructor of Infant Massage. But beyond this, there is more to know about CIMI. According to this certification agency, every newborn deserves respect, tenderness, love, and a listening heart. As a result, parents are trained to interact with their newborns and comprehend their feelings to meet them.
Infant massage is a form of communication between parents and their children that supports these ideals. Usually, infant massage should be done either by the child's mother, father, grandmother, or grandfather, but trained professionals can do it well and better. If you desire to earn a certification in infant massage as a parent, it's excellent, but you need to get the correct information to get started.
However, this article will give you an eye-opening exposition about all you need to know about CIMI( Certified Instructor of Infant Massage), how to become one, and the benefits attached.
Meanwhile, the table of content below shows the topics we will discuss in the CIMI Infant Massage Certification online.
What Is CIMI Certification?
CIMI certification is a unique course that teaches and guides massage for infants, older children, children with specific needs, and touch treatment for premature infants. This training is open to anyone interested to learn even from scratch. This certificate has no prerequisites as instruction starts at the very beginning so that anyone can participate.
This certification is specially designed for anyone passionate and ready to learn about infants.
Nurses, Early Intervention Specialists, Occupational and Physical Therapists, Massage Therapists, Developmental Specialists, Home-based Visitors, Parent Educators, Child Life Specialists, Social Workers, and other licensed professionals can earn CIMI certifications.
For all parents, this is the knowledge that will benefit infants emotionally and help them develop the right emotional and psychological traits.
The International Association of Infant Massage (IAIM) uses the term CIMI in Sweden to refer to people who have completed the 4-day training and practicum requirements. Furthermore, CIMI is widely accepted in more than 50 countries.
About Infant Massage Therapy
Infant massage is the process of stroking and caressing an infant's muscles in a particularly suited way for them, despite the availability of professionally trained and qualified infant massage therapists.
Therefore, it is always preferable that the mother, father, grandmother, or guardian massage the baby.
Hence, your kid will feel nurtured and loved with each soft touch, deepening the link between you two. In addition, massages will make your baby feel calmer, which may help them sleep better.
Finally, according to certain studies, baby massage may even encourage healthy growth, although further research is needed. Aside from this, there are many benefits attached to infant massage therapy that your baby will benefit from.
Imagine how much a full-body massage can help your baby if just holding her is so relaxing. Studies have shown that massage for an infant can help her sleep better, minimize crying and fussiness, and relieve frequent wail-inducers like diarrhea and stomach pain.
Read: 17 Best Free Online Breastfeeding Classes | 2021 List
Benefits of infant massage therapy
Infant massage therapy increases contact between you and your child as a parent.
It also helps your child relax and release tensions from daily stressors.
Touching your child has a good effect on stress hormones in babies.
It fosters social, emotional, and cognitive growth.
It reduces irritation and sobbing.
Massage helps to relieve gas, colic, and gastrointestinal problems in babies.
It promotes sleep while regulating behavioral states.
It is equally important to note that giving a child a good massage might need to get the proper knowledge that will help you become better. However, attending infant massage classes or earning infant massage certifications might be helpful.
In the process of learning to massage your baby, you will be exposed to simple practices, and you will get connected to your baby more.
Also, you will learn when, how, and where to touch your child because feeling a child without the proper knowledge might affect a child.
According to research, If you massage your infant too soon after a meal, they may vomit. Wait at least 45 minutes after feeding before doing so. Pay attention to your baby's mood as well.
How much does a baby massage cost?
Baby massage therapists operate in a variety of situations all around the world. As a result, their sources of income are diverse. Some of them work full-time, part-time, as a pastime, and others as volunteers in the field of baby massage.
A lot of Infant Massage Instructors and Paediatric Massage Consultants operate in their small businesses so that they can determine their fees for infant massage sessions and individual sessions.
Baby massage teachers reported charging between $29 and $60 per person for participation at a 1-hour baby massage class and between $120 and $180 per hour for individual sessions.
Instructors reported varying class sizes, with some preferring to work with small groups of 4-6 students and others teaching groups of up to 20.
According to the study results, some infant massage instructors earn up to $1200 for an hour baby massage class, while instructors who charge a lower fee with smaller groups earn $116.
The amount earned in a year varies depending on the number of sessions a therapist had throughout the course of the year. Those who practice baby massage as a pastime may only have the opportunity to teach once in a while. Whereas those who make a living off baby massage teach a lot more, sometimes teaching up to five classes per week and accepting private sessions or home service.
On average, teaching thus frequently with substantial class sizes amounts to an income of over $6000 per week, while at the lowest level, it equates to a gain of over $580 weekly.
How much does a CIMI certification cost?
Having Infant Massage Certification(CIMI) is great, especially for parents, guardians, and those passionate about babies.
Moreover, being certified will allow you also to train others. But to determine the cost might be unanimous because the price varies with location.
However, Infant Massage USA Trainers are self-employed individuals who are responsible for all training costs and payment methods in the US. The CEIM training will cost you at least $695.
Books and reading materials, in-person or virtual Livestream training, home assignment evaluation and certification, and a one-year membership with Infant Massage USA are all included in the cost.
The 4-day training session costs between $581 – $891 (+ VAT if applicable) in the United Kingdom, depending on the region. It may be essential to contact the Course Coordinator for exact prices.
Read: Best Free Parenting Classes Online in 2021 | Free & Paid
How Long Does It Take To Get a CImI Certification?
It's easy to earn an Infant massage certification. All you need to do is to locate the address of where you have one in your country or community.
Generally, It is a four-day program. The CIMI Trainer determines the hours based on the requirements of the community. If an interpreter is required, however, the course may be extended by one day.
How do I become a baby massager?
You can become a baby massage either by attending the 4-days training session or by attending a diploma class in baby massage.
Having explained the 4 days training, we will give a full explanation on how you can earn a diploma in baby massage and become a professional.
The Infant Massage Diploma Course will give you the competencies and understanding you'll need to safely conduct baby massage, as well as a thorough grasp of its health and wellness advantages, including increased physiological, cognitive, emotional, and social development.
You will learn up to 11 modules of topics during the course, which you must properly study in order to pass the assessments.
Nonetheless, working from home, the Baby Massage Diploma Course would take you up to 150 hours to finish. There is no set time restriction for finishing this course; you can study it whenever you choose, at your pace.
How to Get a CIMI Certification
Before you can get an Infant Massage Certification, there are important bridges that you're expected to cross easily. There is no particular prerequisite to becoming certified. The International Association of Infant Massage (IAIM) has a procedure for getting certified.
All you need to do is to follow the procedures laid down below.
Attend the four-day instructor training.
Complete the required reading and the assignment satisfactorily.
Complete a hands-on practicum by teaching at least 5 families for 60-90minutes on how to massage their newborns over the course of a five-week course or five private consultation sessions.
Submit the certification package for review to the trainer.
Everyone at CIMI is a professional who learns how to give presentations regarding infant massage in a variety of settings.
However, upon completion of your training, you will be certified as an IAIM Certified Infant Massage Instructor, CIMI. The International Association of Infant Massage will recognize your accreditation globally.
Read: Easy Step Guide To Get A Diploma In Early Childhood In 2021- Best Schools, Cost, Salary, Career
Top 10 Infant Massage Therapy CIMI Certification
These are the CIMI infant massage therapist certification.
1. Infant Massage Basics
This course is about learning specific massage techniques that focus on the key parts of the body: hands/arms, legs/feet, belly, back, and face, as well as specific massage demonstrations to cure colic and gas in babies and toddlers.
You will understand which oils are safe to use and how to combine essential oils with them.
When newborns are massaged, there is a greater closeness between parents/caregivers and their children.
2. Cranial Sacral Therapy and Infant Massage
The goal of this certification is to make it easier for newborns to breastfeed and to calm down irritable babies. You'll be able to check an infant for muscular and joint disorders that could cause nursing difficulties.
Another benefit of this course is that you will know how to use infant massage techniques to help the baby breastfeed more effectively.
You'll discover baby cranial-sacral techniques to relieve stress and calm a restless baby.
3. Baby Massage For Relaxation
This is a fantastic approach to practice communicating with and connecting with your child.
This is a 5-week course that teaches you how to massage newborns from the time they are born until they are ready for school.
You will also be able to form a stable bond with your child. Baby massage for relaxation is a great course for parents.
4. Baby Massage as a Gift of Love by Laura Lacey
The main purpose of this training is to learn head-to-toe massages for relaxation, playfulness, and comfort care while having fun and bonding with your baby.
You'll learn how to massage each and every aspect of your body, as well as how to use massage to relax and soothe your infant.
5. Babies' Reflexology
To be healthy and happy, it's crucial to bond with children through gentle foot reflexology massage.
This training will benefit any parent or caregiver who wants to better support their children.
Also, the workshop encourages parents and caregivers to use reflexology on their babies and school-aged children to keep them happy and healthy while also strengthening the connection between parent and child.
Read: 15 Best Child Birth Classes Online for Beginners in 2021 | Free & Paid
6. How to Do an Effective Acupressure Massage for a Baby by Clementng
This course helps parents with a step-by-step approach to massage a baby with a poor appetite and stomachache. You will also learn techniques to enhance immunity.
You will also learn how to make your baby sleep in 5 minutes. The overall goal of this is to strengthen the bond between parent and child.
7. The solution to Gassy or Colicky Baby and Baby Crying From Poor Digestion By Khyati Desai-Seltzer
This certification teaches you how to quickly relieve gas/colic and improve your baby's digestion.
You'll also learn how to massage with simple strokes, how to help your baby sleep better and for longer periods of time, and how to bond with your infant.
8. The Beauty of Infant Massage by Barbara Caushi
This is a four-week online course designed to help you gain a thorough understanding of how to interact with your infant through massage and expository subjects.
You'll learn how to massage your infant step by step to strengthen your bond.
8. Healthy Baby Sleep – The Gentle Nap to Sleep Transition by Johanna Mandelmond
 Johanna believes that to avoid the need for rigorous sleep training, later on, children should develop good sleep patterns from the start. 
In less than 2hours, you will learn actionable methods for your baby's sleep, as well as get to know and understand your youngster.
Read: Top iGaming Courses on Udemy
9. Shantala – Baby Massage Course by Lizandra Deister
Parents, grandparents, nurses, carers, healers, and guardians are all eligible for this certification. It details the history and context of Shantala massage, contraindications, environment preparation, and, of course, the technique itself.
You will learn how to massage a newborn using an ancient technique.
FAQs on Infant Massage Certification CIMI Online
Here are the top 5 Infant Massage Certifications that can offer you the best:
How to perform Effective TCM Baby & Child Massage
Baby Massage as a Gift of Love by Laura Lacey
Gassy or Colicky Baby? Baby Crying from Poor Digestion?
Baby Massage for Relaxation, Relief, and Bonding
CIMI means Certified Instructor of Infant Massage
Infant massage therapists massage an infant's muscles in a way that is tailored to their needs.
The following are the simple steps to being certified:
Attend a four-day professional instructor training course with an IAIM-certified trainer from across the world.
After the course, take an open exam within 4-6 months.
After conducting 60-90 minute lessons to a minimum of five families, submit parent assessment forms.
Anyone who is 18 or over the age of 18 who wishes to teach parents how to massage their newborns is welcome to attend the training session.
Massages can assist relieve muscle tension, developing pains, and teething discomfort in preterm newborns, as well as boost growth.
The cost of certification depends on your location but can range between $500 – $900.
In Conclusion
Parents' and caregivers' moods are improved when they massage their children. Parents who massage their newborns get greater enjoyment out of playing with them and feel closer to them.
The advantages of massaging babies, on the other hand, are numerous if parents or adults, in general, can obtain a CIMI certification.
Nonetheless, with all of the given tips for obtaining CIMI certification, it should now be straightforward to choose the certification that will help you bond with your baby.
References:
Recommendation