We try to keep all our ideas, feelings, and thoughts right in our brains without penning down any on paper. Most times, we get worked out and overwhelmed by trying to remember all. This can come with a lot of stress!
Yes, you have plans, dreams, hope, goals, sad moments, and failures. All piled up in your head. The question is- How are you going to joggle around them all? How will you remember them? How are you organizing them?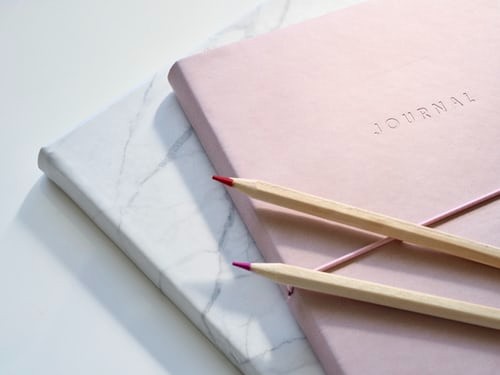 Answering these questions is where we can't fail to mention Journal. Journal is one excellent technique to keep your thoughts organized and clear. In short, journaling is a great practice for anybody and it's a good method to remain healthy by expressing yourself in a personal location.
This article explains everything you need to know about journals, how to write a journal entry, and the 10 best simple steps to create interesting journal writing.
Carefully read!
What is a Journal?
A Journal is more like a personal place where you can express and express your thoughts, feelings of joy and rage, desperation, enthusiasm and depression, love and sadness in a notebook in a personal way.
In accounting terms, a journal is where you register journal entries before they are placed on the ledger accounts. A journal is a record of all operations documented by a corporation. Having said that, let's look at what you can write in a journal.
Do your think you can write anything you want in a journal? Let's find out!

What you can Write in a Journal?
Basically, a journal is one write-up that can transform anyone's life with the ideas and insights contained in it and it can at the same time if seen as a useless piece of trash depending on the content.
That is why it's expedient you know what you put in your journal. In few minutes, I will give you a list of few things that you should write in your journal.
Your goals and objectives: This has to do with what you intend to achieve in years to come and what you are presently doing to achieve that.
Day-to-day Job: This has to do with your daily log. What you do every day, where you went to, who you met, what you ate on daily basis.
You can write about things you are grateful for. They can be your family, work, or loved ones.
Problem-solving matters: You can write on your present challenges and strategic measures you intend to take to solve them.
Write about your stressful Moment. This can be called journaling for stress. You can take about the most stressful moment of your life.
The best thing that happened to you each day. Before going to bed each day, you can write down the single best thing that happened to you today.
These and more are some of the things you can write about in your journal.
Read: 10 Best Schools for Creative Writing in the World | 2022
What are the Examples of journals?
There are different kinds of journals you can write. Some of them include:
This has to do with your plans to travel. Do you plan a journey soon? With this journal, you can register or take about where you want to travel to or where you have traveled to, what you saw, who you met, and what the feelings you felt at every step of the trip.
This has to do with writing online line a day for the next five years. This can take a lot of time because sometimes you might not feel like writing.
A bible journal is one that holds your thoughts and reflections after a religion class and feelings that concern life.
Like a constant, thorough "to-do" list, the school newspaper can work. Use it to log tasks or write about theories and portions of the curriculum that you are confused about.
Whether it is learning a new recipe or creating a song that you do any form of assignment, maintaining regular notes is the most successful technique of doing it.
Diet journal. Keep track of chronic diseases such as diabetes, dietary habits, and physical symptoms.
Journal of Therapy.
Special meetings might be done in solitude or in conjunction with therapeutic writing.
This is where you journal your dreams. So, would you like to know dreams and their meanings? Just write them down! Write them down!
Negative things are simple to feel bombarded. Stay positive with a gratitude diary.
Family Review. Family Review. This form of journal can be produced and distributed to all members of the family
A self-reflective journal helps you to create your life with intention.
Write a personalized experience of your pregnancy journey.
How do you start a journal entry?
Before I take you through how to start a journal entry, let me give you a gleaming light of what journal entry entails.
Journal entries are separate written pieces that make up your personal diary. They might be as brief as the name for 500-1000 words. With the thought, ranting, introspection, and feeling, you can freely express each entry.
Now let's move to how to start!
First, you must note that starting a journal entry especially for the first time can be difficult. See, I'm not trying to scare you, rather I need you to have a full understanding of what you are going to face. Another thing you must note is that you can give your journal entry any form you want no matter the kind of journal you want to write.
Having said that, let me give you some hacks on how to make a good and great journal entry.
Follow me!
1. Take it to be a Letter
Assume that you're writing someone a letter. You won't send the letter, so you can say anything you want. Perhaps in this letter, you are writing things you were too afraid to speak in real life. It might be written to one or a number of individuals. This is a healthy method to get things out of your chest and tell what you really feel. This helps people cope with stress as well.
2. Write down your memory
Identify a memory, although it does not have to be, that you deem important. You can think about it just frequently. Describe this memory and its significance for you. How do you feel about it? Do you love it? Are you? Who's been participating? For yourself, paint an image.
3. Make a List
This is actually one of the easiest ways of making journal entries. Think about composing an overview of what you aim to achieve over the next year.
You can even write in your newspaper a list of items you want to write about. This may be like your write brainstorming.
4. Use a picture
You have to include a photo and say what it means for you if you are stuck on what you are to write. It can be a picture of a particular time, a particular person, a special animal, or a place. Use this picture for inspiration.
Also read: What Can You Do with a Journalism degree? Career & Salaries
5. Writing a Dialog
You can talk to someone else imaginarily about it. Or a fictional discussion can be written between others. This is a creative exercise that might help you to prepare for a future debate or to reflect on something that has already been done.
6. Write a flash
Put on the clock for five minutes and write about everything as quickly as you can. It's all about thinking on your feet and concentrating on the work at hand. Let any ideas unleash on your mind's forefront.
7. Write about a personality
It may be an alien or a person you care for. Sit down and write about him. Whether it's reality or fiction doesn't matter. You can let your imagination go about and make a story of what you think this individual doesn't like likes. Just let your imagination fill the holes and make your mind a character.
8. Try writing a lyric.
Think about an important individual and write how he or she feels. Think of a place and how it feels. In the basic things of life try and find emotion
How do you start writing a journal?
You merely have to be ready to write to start a Journal. You don't have to write properly, only you have to desire to. Actually, you don't even have to determine what to write, simply allow your words to flow.
To start, set the timetable to write in your diary when you are playing. You want the writing to become a custom, therefore make a schedule.
Pick a time, any day of the week, so you don't forget that you would like to write and create a relevant calendar memory.
With that, journaling becomes a natural and regular part of your plan when you schedule it at the same time. Once your mind is made up and you have a timetable, get a physical journal or sign up on a journal writing platform. Doing this will make your journal writing easier and more organized.
Then have a reflection moment. You might not have anything in mind to write about. Just close your eyes, and think of something good you will feel comfortable writing about. In this process, you can ask yourself some personal questions.
Once you're done with that, start writing. Ensure your time yourself. The time should be dependent on how much you want to jot down. Doing this will help to keep you focused and not take you away. It's tempting to feel that every detail has to be written down, and that helps to prevent.
Finally, before you wrap it up, just go back and read it. After you have evaluated what you wrote, add a few sentences to your words at the end of the script. In one or two sentences, if you can, sum up your thoughts. This is an excellent technique to focus on issues.
10 Tips for Writing a Journal
Here are some guidelines to start writing your journal correctly and consistently.
1. Fix an agenda
Like I said early, it is an important initial step to define a timetable. Decide how many times and establish the timetable you want to write. Whether once a day, or once a week, choose a time to write and do not skip it.
2. Maintain privacy
A diary is personal and should be a place where you feel comfortable and honestly expressed. You can make your journal safe, secure and share it only with whomever you want to share to.
3. Think of it.
Any journal entry will take advantage of some reflecting moments before you start writing. Go to a quiet spot and focus on your breath for a few minutes before you start writing. This is an excellent practice to relax your mind and clear your head.
4. Brainstorm
In any journal writing, you must brainstorm. In fact, if you want to talk about something specific in your journal, write brainstorm thoughts. This is the ideal area to flow your creative energies. See this page for a list of all the journal types.
5. Date your registration
Every journal entry should be kept dated, so you know when it was written. At some point, you will want to read back over your diary and see when the items you are writing have been added. It will also be nice to observe how you felt at various periods in your life.
Read: 10 Best Writing Internship Programs For College Students in 2022
6. Title your registration
Try to title your entries, if possible. It helps you navigate your journal and concentrate your texts. Before you start writing, though, you don't have to title anything. After you've written, a terrific method to think of a title is, but it has to be remembered.
7. Write
Don't feel that you have to take any shape or structure when writing. Just do what is obvious. Follow your thinking train and observe what type of writing follows.
8. Enter fast
Don't let the block of the writer get in your way. Just continue to write what you want. It's always difficult to stop and start again. It's not gotta be meaningful. Don't think about the words you put on the paper too much. Later on, you can make sense of it.
9. Write frankly
Your newspaper is only for your eyes. You don't want to lie to yourself. Be real with your opinions, thoughts, and feelings. Be as frank as you could.
10. Enjoy
It is a pleasant experience to write a diary. Have fun and take joy with your writing. It should not be a chore to write in your journal. You should look forward to doing something, thus it should be an enjoyable workout.
Having understood what a journal means, its examples, how to start a journal entry, and best tips for an interesting journal, it's time to kick start.
Wait a bit!
Before that, I think a clear format on how to arrange your journal writing will help make your journal an outstanding one.
That being said, let's take a look at the format of writing a journal.
Is There a Format of Writing a Journal?
In journal writing, there are styles or formats that must be followed. They count the following:
The title indicates the journal topic while a subtitle clarifies the title.
A well-written abstract is necessary, together with a title that catches the attention of the readers and identifies the theme or purpose of the piece. This is the abstract to examine first the reading value of your article. Readers and other scholars.
Most journals request you to select five or seven keywords for search engines. The words used by students, researchers and other readers to search the Internet using Google, similar resources, websites of the library or the journal's own website.
In order to produce your paper, you should give a short recognition of any financial, academic, or other support you got.
This is different from writing a normal essay. Here you have planned what you want to write. In your writing, ensure is well organized, concise, and properly constructed.
In Conclusion
Conclusively, with these tips and the format listed above, you can write an engaging and interesting journal. It's time to start!
Reference
Recommendation