Customer service jobs can be extremely stressful. You can be the hero one moment, miraculously addressing a challenging client issue, and the next moment, you're dealing with a hard person who is unhappy about something you have no power over.
To succeed in customer service, you need a unique set of skills. And, as the adage goes, if you've got it, you should put it on your resume!
Continue reading to find out how to write a stunning customer service resume.
Check Out: How To Write A Resume: Step-By-Step Guide
Tips for Creating an Effective Customer Service Resume
Use consistent formatting throughout the document and clear language to describe each job in the bullet points.
You are not required to list all of the responsibilities held by each position. Instead, provide the most key information and group similar activities together. If you're new to resume writing, be sure to brush up on how to write resume job descriptions.
Use a resume example, but don't copy it word for word:
Your resume should be a unique document highlighting your work history and skills. Use the examples, however, to get a feel of the language to use and the most important information to be included.
Read Also: How To Write A Resume: Step-By-Step Guide
What Should Your Customer Service Resume Contain?
Include the right information:
Your contact information, education, and experience are the most important elements to include in your resume. Another option is to include a skills section highlighting your customer service abilities in your resume.
If desired, include the following optional sections:
A resume objective or a resume profile are examples of these. Use the objective or profile to describe the role you're looking for and the skills and experience you'd bring to the job.
Emphasize your experience:
Include any previous customer service positions you've held in your resume.
Use the following keywords:
You may want to include customer service keywords throughout your resume and highlight strong soft skills.
To ensure that your resume accurately reflects your ability to do this job, compare your qualifications to the job description.
See Also: How to List Skills Correctly on Your Resume
How to Make Your Resume Stand Out
Your Experience Should Be Highlighted:
If you don't have any prior customer service experience, consider how your previous jobs have prepared you for this position.
Soft skills, customer service skills, and any qualifications listed in the job description should all be highlighted.
Create a unique resume for each job:
Your resume should highlight the qualities that make you a strong candidate for this position.
Read Also: How To List References On A Resume + Free Samples
Guide on how to write a compelling customer service resume
Here's a sample customer service resume before we get into the details:
Sample 1
Check out this sample of resume:
Sample 2
Check out this sample of resume:
Sample 3
Customer Service Resume Formats
Instead of hunting for your most notable accomplishments, choosing the right resume format allows the recruiter to see them right away.
"Reverse-chronological" is the most common customer service resume format, and it is recommended to customer service applicants.
This resume format requires you to list your working experience in reverse chronological order, starting with your most recent position and working your way backward.
The two resume formats listed below are also acceptable:
Functional Resume:
This resume format is recommended if you naturally can assist customers but lack hands-on experience.
A functional resume focuses on skills, making it ideal for those with little or no experience or gaps in their work history.
Combination Resume:
Have you ever worked in the field of customer service? If that's the case, this is the format to utilize.
The format integrates "Functional" and "Reverse-Chronological" elements.
The following are the main sections of a customer service resume:
Contact Information
Summary
Work Experience
Education
Skills
You can also include the following optional sections to make a lasting impression:
Certificates & Awards
Languages
Hobbies & Interests
1. Contact Information:
You should take the same care with your contact section as you do with your customers. Failure to do so may result in misspellings and incorrect numbers, rendering the recruiter unable to offer you an interview! Your resume's contact information section must include the following:
Name in full
Professional Title – Make sure it's relevant to the position you're applying for, such as "Customer Service Assistant."
Phone Numbers – Double-check each one.
Keep your email address professional, that is; (firstname.lastname@gmail.com).
Location (City+Country)
Relevant social media sites are optional.
Example:
Laurel Merkel – Customer Service Assistant.
101-658-6195. Merkelaurel@gmail.com
2. Resume Summary / Objective:
Organizations are constantly looking for customer service agents, which only adds to the competition. With this in mind, it's no surprise that recruiters only give each resume a few seconds.
As a customer service representative Candidate, you know how important it is to make a good first impression.
Resume summaries and objectives are similar in that they are short paragraphs that introduce your skills and experiences.
What is the distinction between a summary and an objective, though?
A resume summary is a two- to four-sentence summary of your most significant work experiences and accomplishments.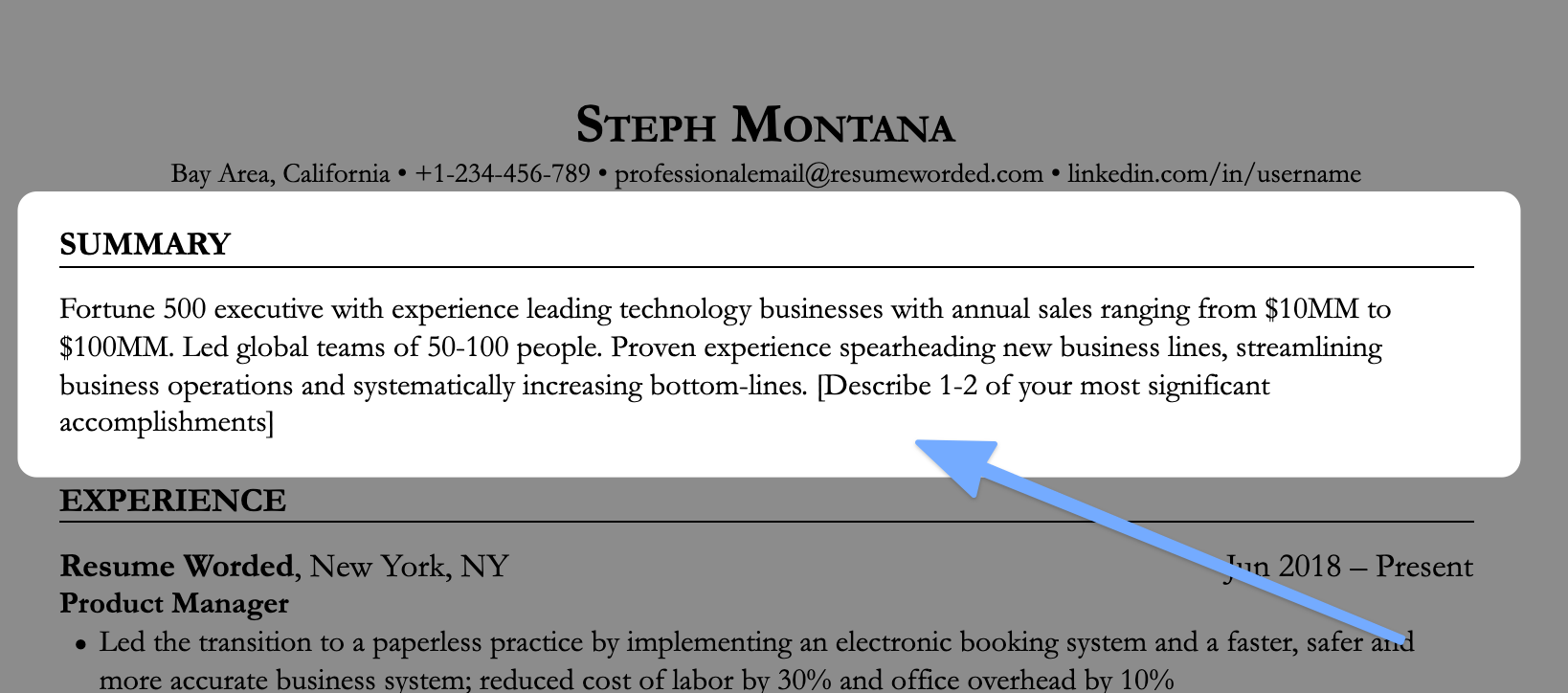 Example
Customer service representative with seven years of retail experience answering a variety of customer questions. At XYZ Convenience, career highlights included being named "Employee of the Month" 24 out of 36 months and receiving 97 percent positive customer survey results. I'm looking for a position at TGM Tech where I can use my customer service skills to achieve and maintain the highest level of customer service.
A resume objective is a two- to a four-sentence summary of your goals and objectives.
Example
A passionate and hardworking student pursuing a BA in Hotel Management from the University of Texas at Austin. Serving customers in a college bar was a relevant experience. I'm excited to start as a new customer service representative at TGM Tech and use my interpersonal skills to provide the best possible service.
3. Work Experience: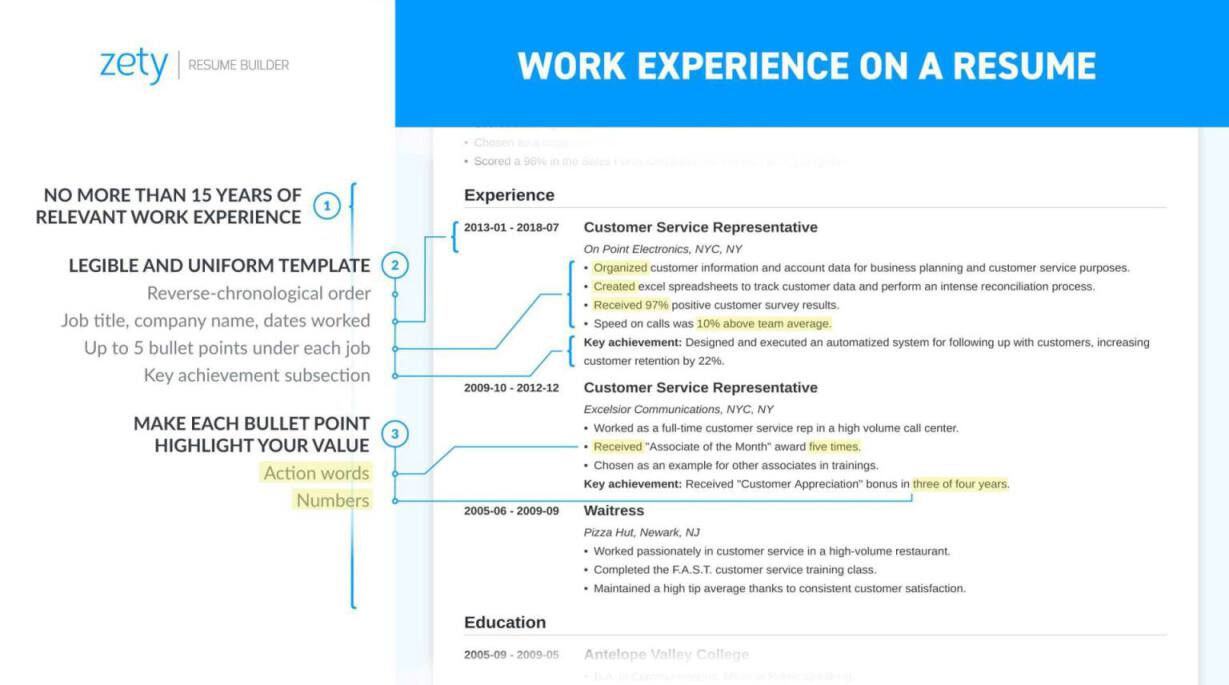 You must demonstrate that you possess the necessary qualifications, and the easiest way to do so is through your work experience section. The best way to structure the work experience section for customer service representatives is as follows:
Name of the position
Name of the Organization
Dates
Responsibilities and Accomplishments
Example:
Customer Service Agent
TGM Convenience Store
07/09/2019 – 09/06/2021
For 10+ hour shifts, I worked at the customer information desk.
Welcome to over 1000 customers during the grand opening of the store
Six months in a row, I was named "Employee of the Month" for engaging with customers personally yet professionally.
The important thing to remember here is to emphasize your value to your previous employer. Companies will compete for your skills as a result of your actions.
What if you have no prior work experience?
All you need are the fundamental job skills and a desire to learn, which you can demonstrate through relevant work experience or school projects.
For example, if you've ever worked as a call attendant, you can discuss any relevant skills and experiences.
You were cordial, dealt with customer concerns, and operated a POS/computer, just like a customer service representative. It's also critical to make your resume stand out from the competition, and one of the easiest ways to do so is to use action verbs like;
Formulated
Clarified
Solved
Proved
Determined
Initiated
Identified
4. Education: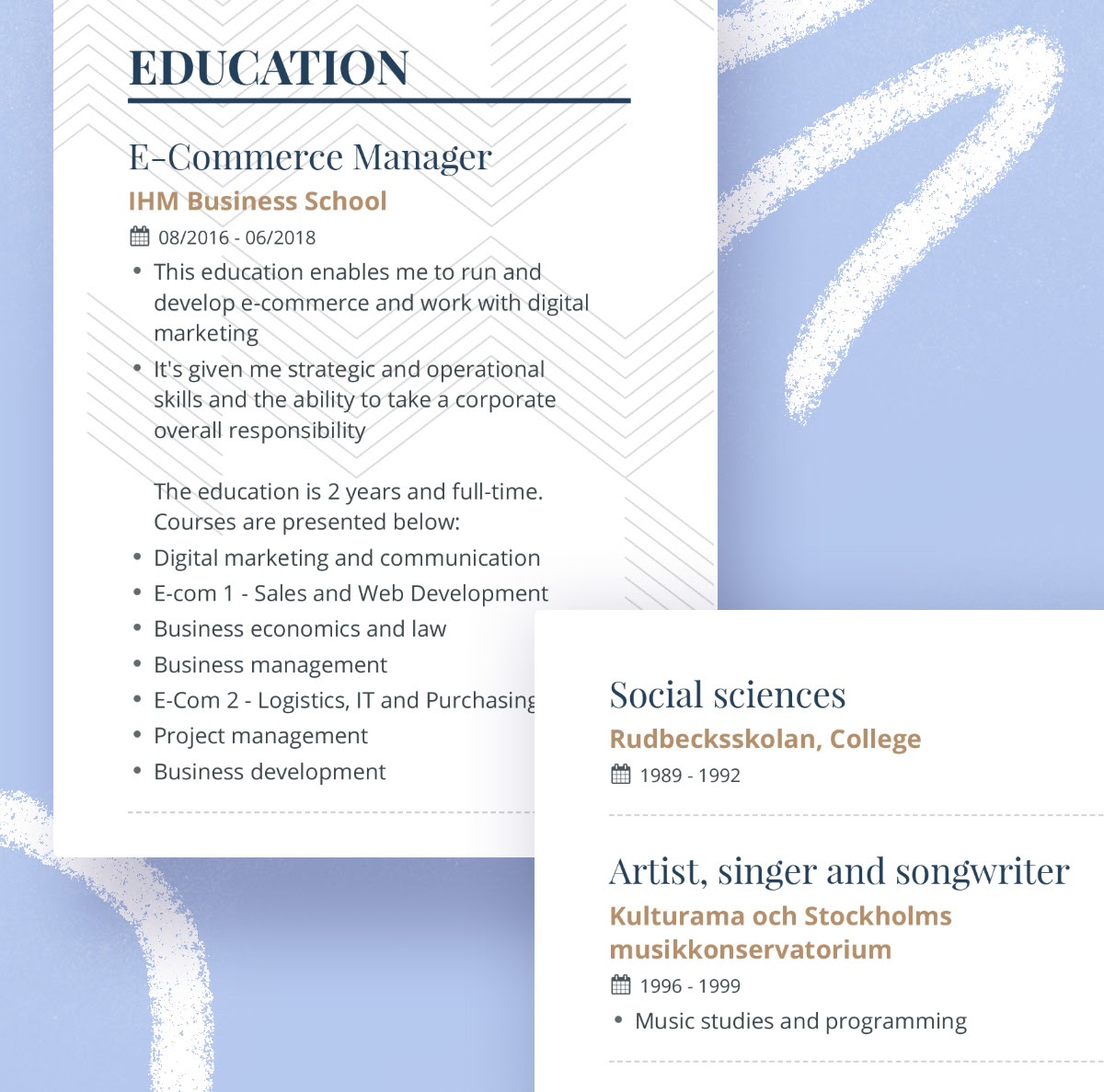 After you've shown off your experiences, you should go over your education so far. There's no trick to this section; simply fill in the blanks with your educational history in the following format:
Major & Type of Degree
Name of the University or School
Years of Study
GPA, Honors, Courses, and any other information you want to include
Example:
High School Diploma
Lynbrook High School – California
Year of Graduation – 2014
Do you have any concerns about your education section? The following responses may be of assistance to you:
What if I haven't completed my current course of study?
No problem; simply state your current level of education.
Is it necessary to include my high school diploma?
It is advised that you only include your highest level of education. If you have a high school diploma, include it.
Which do I prioritize: my education or my work experience?
Depending on the job you're applying for, your experience may take precedence in some cases, while in others, it may be the other way around.
5. Skills:
The recruiter wants to know if you can easily multitask while on the phone or operating POS systems. You can't list every skill you have if you want to keep your resume to one page.
It all boils down to reading the job description to determine what the company is looking for in a new customer service representative. Here are a few best skills for a customer service resume:
Customer service professionals should have the following hard skills:
Cashier
Accuracy
Input of data
Computer Proficiency
Bilingual
Mathematical Knowledge
Sales
Product Expertise
Typing
POS (Point of Sale) Systems
Customer Service Professionals' Soft Skills:
Multitasking
Friendly and approachable
Customer support
Result-oriented
Longevity (long hours)
Dispute resolution
Leadership
Empathetic
Proper Organization of time
Building relationship
Being a team member
Listening skills
Including the following sections in your resume could determine whether you are interviewed for the customer service representative position;
6. Certificates & Awards
Make room for this section if you have something to be proud of, whether it's an award or a certification.
Here are a few examples:
TGM Convenience Employee of the Year 2013
Coursera Certificate in Digital Marketing Fundamentals
7. Languages
Whether or not the job requires it, being able to communicate in multiple languages is an impressive accomplishment– and no one can deny that! Rank the languages according to their level of proficiency:
Basic
Intermediate
Proficient
Fluent
Native
8. Hobbies & Interests
Your hobbies allow the prospective employer to see past your credentials and learn a little about who you are in real life.
DOs and DON'Ts when writing a Customer Service Resume
DOs
DO place a premium on the following abilities:
Customer service success depends on being dependable, efficient, and productive as part of a team; highlight these qualities in your resume, and include examples from your working experience demonstrating how you've used your skills to create a positive contribution.
DO send your resume in the following format:
The job and your level of experience determine the format of your resume. If you're a first-time job seeker looking for an entry-level position, a functional resume will highlight your abilities. If you're applying for a management position, use a chronological format to highlight your previous work experience. Use a functional resume to tease out relevant work details and skills if you're changing careers but have a lot of relevant experience and skills.
DO make a point of mentioning any certifications or special training:
Displaying customer service certifications can give you an advantage over the competition and show recruiters you're serious about your career path. These credentials can be highlighted in your education or "Certifications and Training" section.
DON'Ts
Remember not to submit a generic resume:
Regarding resumes, one size does not fit all; tailor your resume to each employer you contact. Examine the job descriptions to determine what the hiring manager is looking for. If the job requires knowledge of specific software and is part of your skillset, mention it in your resume. If the position requires excellent organizational skills, use examples from your work history to demonstrate your competency in this area.
Remember to include related technical knowledge:
The first thing that comes to mind when we think of customer service is interacting with other people. However, you must be proficient in software that tracks cases and problems to excel at the job. Include any database, scheduling, or other administrative software skills you have.
Do not be afraid to include important experiences:
Mention any extracurricular activities or volunteer work related to customer service, even if your work history appears lacking. Volunteering at a check-in table at a fundraising event, for example, demonstrates that you are well-organized and capable of providing prompt, helpful service.
FAQs
What are the top five skills that recruiters seek?
Problem-solving and critical thinking
Collaboration and teamwork.
Professionalism and a strong work ethic are two qualities that stand out.
Communication skills, both verbal and written.
Leadership
What should I include in my resume as additional skills?
Computer abilities.
Experience as a leader.
Communication abilities
Knowledge of how to run a business.
People abilities
What is the best way to make customer service sound appealing on a resume?
Concentrate on your accomplishments.
Examples should be included.
Cliché Words Must Be Removed.
Include customer testimonials.
What is the job description for a customer service representative?
Customer service representatives assist customers with complaints and queries, provide product and service information, accept orders, and process returns. They are sometimes seen as having a sales role because they assist customers in understanding the product and answering questions about their reservations.
How do you make a resume for a customer service position stand out?
Keep it brief.
Include a summary.
Consider the use of keywords.
Conclusion
Using relevant keywords, engaging bullet points, and measurable metrics to bring your experience to life will make you stand out and land the customer service interview.
References
We Also Recommend