Getting hiring managers impressed goes a lot beyond the ambiguity of your resume. Because there are lots of CVs to be seen, hiring managers to settle for a summary of the resumes most times. In this update, we shall highlight and discuss how to write a professional resume summary and resume summary examples. A resume summary is usually the first place many employers go to especially when there are lots of applications to attend to.
If you are looking at how to write a resume for a job with no experience, this update is equally for you. We got a good number of clues on making a professional resume sample from industry experts.
What Is A Professional Resume Summary
The resume summary is a quick summary of your skills and achievements that gives the hiring Manager a quick overview of what you can do and who you are without going through the remaining section of the resume.
A professional resume summary is usually short and precise. Does not contain and ambiguity and delivers the message like a short elevator pitch.
Why Do You Need A Professional Resume Summary
Like we said earlier, there are so many applications before hiring managers and recruiters. Even when they deploy the use of ATS ( Application Tracking System ) there is still quite a mammoth of resumes to go through. Therefore, most times they don't even give some a good number of resumes over 10 seconds or 20 seconds of their time.
Situations like this are where you need to write a professional resume summary. This way you take advantage of the very short time by putting a quick overview of your skills and experience before the recruiter. Making it short and tailored to the job advertised. Ensuring you flood the summary with keywords directed to the job to avoid having it thrown off easily.
When Do You Need A Professional Resume Summary?
Every applicant can actually get a resume summary. But, it is mostly used by professionals and applicants with little or no level of experience. They use it to highlight interesting facts that present them as the most eligible for the positions. They use the resume summary to give a convincing short description that presents them in good light before the recruiter.
Experts advise that while using a professional resume summary, applicants should always pay key attention to using only relevant keywords in describing skills and experience. A well-crafted professional resume summary might just be what you need to land that dream job.
SEE ALSO: How To Write a Finance Resume + Samples and Full Guide
When to use a resume summary section
Resume summaries are best for job seekers especially those with many years of work experience in the same field as they help organize and focus years of relevant job experience.
Resume summary statements are not always recommended for job seekers with little experience or visible gaps in their resumes.
If you don't have up to 10 years of experience in a particular field, it might serve your resume best to skip the summary statement and adopt the extra space to expand your work experience. A resume summary section can take up space that could be used in the body of your resume, hence, it's not advised for everyone.
Professional Resume Summary Vs Resume Objectives
Before we proceed on how to write a professional resume summary, let us make some clarifications on resume summary and resume objectives. Though a good number of times, both summary and objectives are located on the top of the resume, they actually go their separate ways in differences.
A resume objective shows your job interest to the employer. It highlights your skills and experiences while telling the recruiter what interests you in a job. A resume summary, on the other hand, highlights what you are bringing to the table which is usually tailored to the job applied for.
E.g of a resume objective,
'To obtain a job as a financial consultant in a reputable financial institution'
READ ALSO: Time Management Skills: Overview and Examples
How To Write A Resume For A Job With No Experience
If you are just starting off with little or no experience, It can be quite hard to capture the recruiter with a resume. This is because a good number of keywords, in summary, are channeled to skill sets and experiences. Nonetheless, we always advise such applicants to relieve experiences and skills gotten from Internships, seminars, workshops, mentorship programs, e.t.c. and put it all in the summary.
This way you can gain the confidence of the recruiter even with little or no experience. These tips have been the guide of many that know how to write a resume for a job with no experience. Many young graduates have landed really good-paying jobs by highlighting and placing emphasis on the experiences gained through internships, volunteer works, e.t.c.
How To Write A Professional Resume Summary + Examples
Contrary to what you think, a professional resume summary might just be easy to draft. Provided you outlined all that is needed to arrive at it. With the help of our research associates, we have listed 5 steps that help in a professional resume summary.
Direct your summary to the job advertised.
The professional title comes first.
Input at least 3 impressive parts of your resume.
Ensure you quantify each achievement.
Make a quick overview of what you are bringing to the table.
Direct your summary to the job advertised
There is a limited time, hence no time to start being objective. Channel and tailor everything about your summary and keywords to reflect how important you are for the recruiter. Let it reflect the employer's need and how your skill and experience can be of immense help.
Professional Title
Don't be carried away with how important you are for the job and forget your professional title. Ensure you place it before the recruiter mostly at the beginning. E.g, Certified Cyber Security expert with over 5 years of experience working with CISCO. Professional title is one of the short catchy captions that reflect a vast idea of your relevance to the job advertised.
READ ALSO: How To Get Entry Level IT Jobs With No Experience
Input Impressive Parts of your resume
Any punchline that can capture attention is it an award or an enviable position held in the past should not miss in your summary. E.g Maintained 100% customer retention when I was the Regional Marketing Manager of AIG. Don't miss it for anything. Before an employer invites you for an interview he must have been impressed by your application or resume. Putting out some impressive achievements and positions remains one of the ways of doing such.
Quantify each achievement
You capture more attention when you place numbers on your achievement. A good number of times, we just mention achievements without the quantifiable numbers. Numbers in the form of percentages, time, or numerics give the hiring manager an insight into how far you have come and also give credence to your claims. E.g Helped establish 8 more different branches while working as NASO Marketing Manager in 2007.
A good number of resume summary examples experts illustrate, have numbers backing any claim made there.
SEE ALSO: 15 Smart Ways on How to Deal With a Difficult Boss in 2022
Overview of what you are bringing
In making an overview of what you are bringing, let what the employer wants, guide you. Here whatever it is that makes you special or that distinguishes as well as what you can do must be tailored to what the employer wants. Don't run wide here without making what they want a top priority. In fact, writing a skills summary for a resume is geared towards the demand of the job.
Knowing how to write a professional resume summary will not be hard if you adhere to all we listed above. Your summary should be seen right after your contact details. Having it there will probably make the recruiter create more time to go through the remaining content of the resume. Like we said earlier, keep it short and straight to the point. A professional resume summary should not exceed more than a 100-word count or should even be lesser.
How to put Keywords in Resume Summary Statement
The importance of Keywords cannot be over-emphasized especially when an ATS is involved. An ATS (Application Tracking Software) is programmed to only recognize resumes with the keywords relevant to the job advertised. E.g, If an employer is advertising for the position of Bookkeeper and your resume fails to have keywords like Mastery of Excel spreadsheet, Sound use of the computer, strong accounting skills, e.t.c it might not be recognized by the ATS.
Ensure you run as wild as you can with keywords when given the opportunity. Below are some examples of keywords.
Budget Evaluation
Accrual Basis Accounting
Project Management
Content Marketing
Sales Leadership
Financial Planning
Demographic Research
Legal Consulting
Human Resources
Professional Resume Summary Examples
Below are some professionally written resume summaries. A closer look will give you a glimpse of where and how to situate and write a professional resume summary.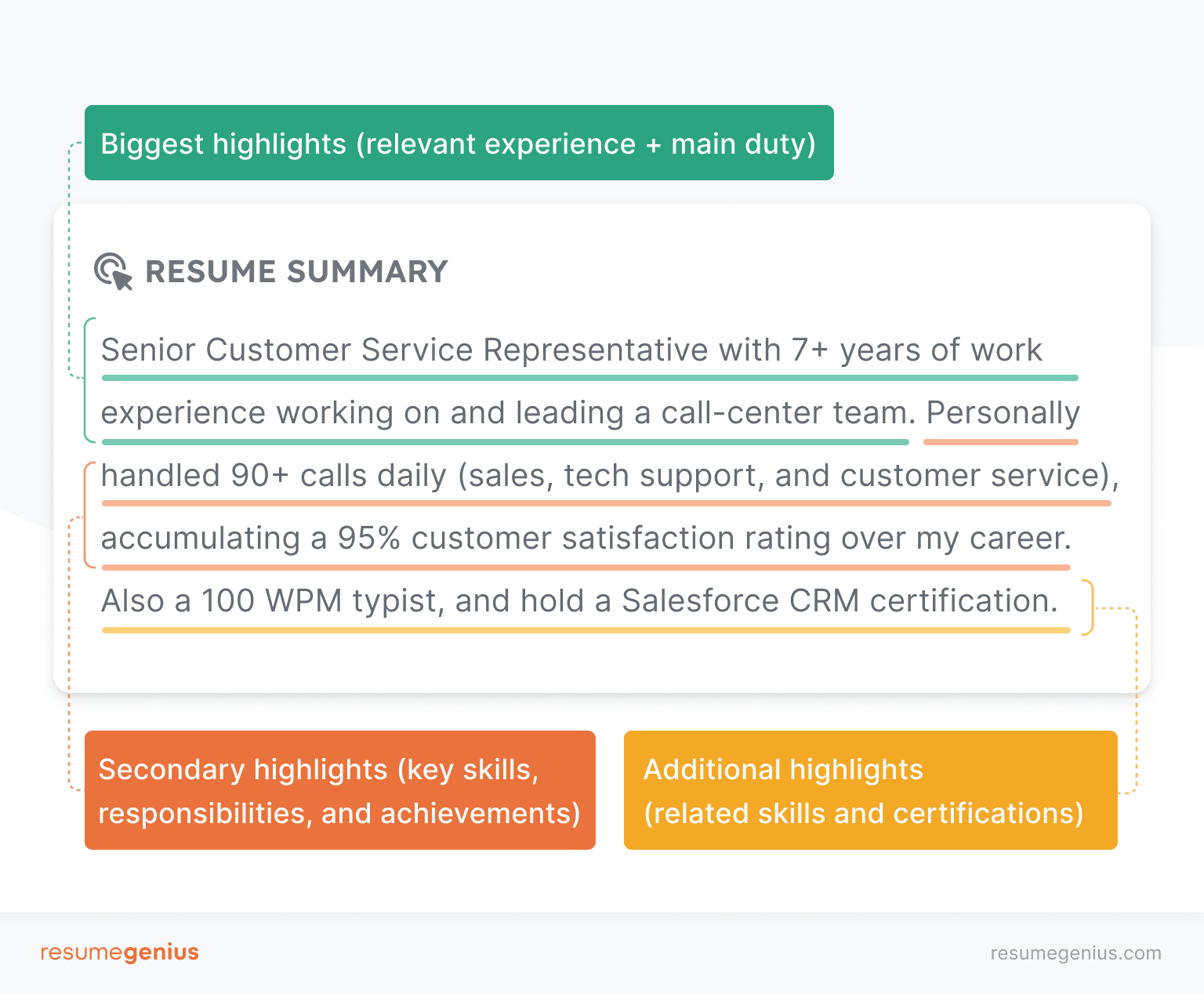 Widely Experienced and result-driven Advertising Manager with international experience and skills in Digital Display, Programmatic, VOD, and Social media strategy. From 2014-2018, my and influence efforts increased the company's active customer base by more than 18%.
Industry expert in General Management (P&L) with over 15 years of experience working for top technology companies in core areas like networking, security, and wireless infrastructure space.
Senior Account Executive with wide experience in helping businesses clean and enrich their data with sales intelligence tools in Marketo, Salesforce, Pardot, and Eloqua. Managing big data efficiently, I have assisted over 100 clients to reduce IT infrastructure overhead by up to 50%.
In Conclusion
A resume remains the first point of impression you create. Therefore, it is very important you make a good impression of yourself. Whether you are making an executive statement or general summary ensure it is tailored towards the need of the job. Don't forget to input the most relevant keywords.
FAQs On How To Write A Professional Resume Summary
How do you write a summary about yourself?
Introduce yourself, make a short relay of relevant skills and experience not forgetting qualifications and certifications.
Is a summary necessary on a resume?
Though it depends on certain factors, a resume summary is still one of the easiest and fastest ways to capture the attention of the recruiter.
What is a good headline or summary for a resume?
Keep it brief and straight to the point. Make sure it has all the necessary keywords and is tailored towards the need of the job advertised.
What is a catchy resume headline?
A catchy headline highlights your experience and skills while also revealing brief introductory details about you.
References
We Also Recommend