There are stages in our lives and career that we need to go through a time of self-reflection; where we highlight our Strengths, Weaknesses, Opportunities, and Threats (SWOT).
This period would help us better understand what we need to keep doing, improve on, embark on, and get rid of. Hence, the benefits of a personal SWOT analysis.
SWOT analysis is a useful technique that helps you achieve all of that. Business gurus Edmund P. Learned, Kenneth Andrews, C. Roland Christensen, and William D. in the 1960s created the analysis. They wrote about it in their book "Business Policy, Text, and Cases."
The beauty of SWOT analysis is that it helps you discover things you may not have spotted in the long run, not just in your personal life but also in your career. The SWOT analysis format is quite simple and can be done without external assistance. 
Here is a guide as you keep reading.
Now, let's take a closer look at a SWOT analysis.
What is Personal SWOT Analysis?
A personal SWOT analysis is an analytical framework that you can use to assess your performance at a particular moment and improve yourself. 
Strengths or areas where you excel in and have an advantage over your peers or colleagues.
Weaknesses or specific parts of your life that leave you at a disadvantage and might probably need improvement.
Opportunities or chances that you can make use of to attain goals.
Threats or events/ hazards that would prevent you from achieving your goals or even using your strengths.
Self-analysis is perhaps one of the most complicated things a person can embark on. However, it plays a very significant role in personal progress. The personal skills of SWOT analysis will help you learn more about yourself.
Carrying out a personal SWOT analysis is an important step toward finding life and career direction. Before you begin a SWOT analysis process, ensure that you are ready to provide honest answers to yourself.
It's quite easy to scrutinize companies, jobs, employers, and colleagues, but honesty suddenly doesn't become the best policy when it comes to criticizing ourselves. We tend to be blind to our faults, so this process requires some serious soul-searching. 
What does the analysis entail? | Benefits Of A Personal SWOT Analysis
The analysis entails identifying the pros and cons of your life. The outcome of the analysis depends solely on how you react to your finishings.
For example, let's assume you don't particularly like that you have more weaknesses than strengths. The key thing is to turn that situation around by identifying ways to improve on that.
However, one could have an adverse reaction and decide to be rid of the entire process altogether.
That, therefore, nullifies the reason for embarking on the process. The key thing with the SWOT analysis or any self-reflection is that you have to keep a positive mindset at all times, regardless of the outcome.
How to do a SWOT Analysis
#1 – Start with your "Strengths"
Your strengths add a little of pep to your proverbial step. Listing these out gives a bit of a confidence boost to help you carry out the rest of the analysis efficiently.
Once you have highlighted the areas you excel in, it gives you a clear head on how to go about improving yourself. Here are some questions you can ask while documenting your strengths.
What professional qualifications or certifications make you stand out?
What minor skills do you have that set you apart?
What projects or campaigns have you headed and completed successfully?
What personal resources do you have access to?
What do people say is your strength? (feel free to ask your boss or colleagues)
What personal connections do you have that others do not?
What do you stand for that other do not?
It is important to note how pertinent "standing out" is to SWOT analysis. Having a degree in computer science is good, but having different certifications in coding and programming is an added notch on your belt.
#2 – List out your "Weaknesses"
Identifying your weaknesses is a great way to see what areas you need to improve in. Having weaknesses is not a disadvantage.
However, what you decide to do with your weaknesses could either put you at a disadvantage or bring you out as a better person. The questions below can help you identify your weaknesses:
Do you have any bad habits that could hold you back?
Do you lack the skills needed to "level up" in life"?
Are you confident in your educational and professional achievements?
What have others pointed out as weaknesses?
How much of a team player are you? Do you have excellent communication skills?
Note: This particular aspect of the SWOT analysis will need you to have an external point of view. This is especially because we turn a blind eye to our faults.
#3 – Identify your "Opportunities"
"Nothing is more expensive than a missed Opportunity" –H. Jackson Brown
Sometimes, we miss opportunities not because we don't get them, but because we've become complacent with our present state. Opportunities come in different forms, so here are a few things to keep an eye out for:
Are there any advancements in your field that suit you perfectly?
Is there a new project you can be a part of?
Are there people in your "circle" that can help you achieve your goals?
Look at your strengths then analyze if they open up any opportunities for you.
#4 – Be aware of your "Threats"
What obstacles do you currently face at work?
Is there any changing technology threatening your position?
Could any of your weaknesses lead to threats?
You can find different Templates to aid your SWOT analysis. Below, we have an example of a personal SWOT analysis:
In case you would like to get started right away, we have attached a blank template for you to make use of: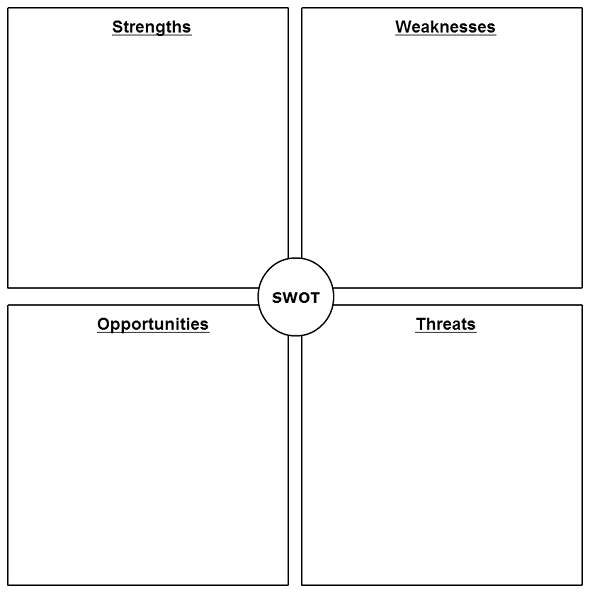 10 Benefits Of A Personal SWOT Analysis
Helps to develop strategies to attain your goals
You can be better than your friends and colleagues
Shows where you currently stand on the path to success
Measures your scope of reaching desired goals
Boosts your career, life, and personality
Helps to understand better who you are as a person 
Maximizes your strengths and diminishes your weaknesses
Explores and also enhances your soft skills and hard skills
It helps you understand your preferences and personality traits
Focuses on your attitudes, abilities, skills, capabilities, and capacities.
When to do a SWOT Analysis
Ideally, because a SWOT analysis is a tool that encourages self-assessment and self-reflection, it can be done at any point. However, there are a few times when it may be necessary.
Before a career switch- This will help you assess the skills needed to secure the opportunity before you. It will also assist you in ridding yourself of your "weaknesses", thus, allowing you to start afresh. That way, you would enter the new workplace with a new and pleasant attitude.
During interview prep- It will help you highlight your strengths so you can focus on them more during the interview.
When you're applying for a promotion- The threats section of the SWOT is especially useful during this time. You can assess yourself against other candidates and also point out the obstacles that stand in your way of getting the position.
A personal SWOT analysis is quite essential, especially with the rise of technology working against us. We need to stay on top of our game to bring out the best versions of ourselves, whether in our personal lives or Career-wise.
Remember, the SWOT analysis does not work against you but for you. The trick to it is to have an open mindset and do not be afraid, to be honest with yourself.
It is essential to note that while our strengths can be as plain as day to us, our weaknesses might not be the same. Ask questions from your friends or colleagues. 
Related Articles