We live in a time where everyone loves to have access to things on the go. From banking to music to television or even food. Every day, new software is being created to make these things happen. That's why we have apps that enable us to watch our favorite shows on our devices. In this article, we'll list the best web series of all time for our satisfaction.
Gone are those days of missing out on our TV shows cause of work or school. Platforms like Netflix, Hulu, Disney+, and others have made it possible to watch our shows without a TV. These awesome platforms provided opportunities for people to showcase their art in form of web series.
A web series just like television series contains a number of episodes that tell a story or provide information. The primary distinction between a web series and a TV series is the financial investment required to launch and sustain each.
Why Do Film-Makers opt For Web Series Instead of TV Series?
A web series otherwise known as a web show is a series of scripted or non-scripted online videos, generally in episodic form, released on the Internet. Web series have fewer constraints, unlike TV series.
Since web series are made available online, instead of being aired at a single preset time to specific regions, they enable producers to reach a potentially global audience who can access the shows 24 hours a day and seven days a week, at the time of their choosing.
The rising affordability of tablets and smartphones and the rising ownership rates of these devices in industrialized nations gave rise and prominence to web series.
Network and broadcasting guidelines govern TV shows. These rules limit when and where a show can air. Some TV shows are not available to watch online. You can, however, watch your favorite web series at any time. And, if you're a series creator, you can upload your videos whenever you want.
A web episode can also be any length because it does not have to fit into a network's broadcasting time slot (30 minutes or an hour, for example). Many are between 3 and 15 minutes long.
In case you're a bit new to the world of web series, we've compiled a list of the best web series to watch in 2022.
SEE ALSO: Is Sling TV Legit Or Scam | What You Must Know Before Signup
Best Web Series To Watch In 2022
#1. MONEY HEIST
Money Heist, also known as La Casa de Papel, depending on whether you like to say Spanish or Espanol is one of the best series of all time. You will have the same feelings about this online series as millions of others. That is awesome.
You'll fall in love with all of the show's characters. During a heist, they gradually change their behavior and evolve. The show is about a group of thieves who decided to increase the speed of the printing presses in order to make billions for the royal bank. However, in order to gain leverage and keep the cops at bay, they planned to kidnap the daughter of a powerful individual.
Ratings – 8.4/10
#2. DARK
Dark is one of the best web series to watch in English. The first German original Netflix web series has been a huge success. This web series will delve into many science fiction jargons, ranging from complex characters to quantum physics. If you enjoy time travel, this could be your next binge.
The tangled web series has been divided into three seasons. If you start watching this on a weekend morning, you might be able to finish it in one sitting.
But, keeping the complexity in mind, you may want to take your time to soak in the great writing. In any case, this will be an entertaining web series to watch.
Ratings – 8.8/10
#3. BLACK MIRROR
Netflix's Black Mirror is another science fiction show. This raises the stakes of human concerns about the future to new heights. The Sapiens by Yuval Noah Harari is a book written by Yuval Noah Harari that stated that while the show is fantasy, it contains many characteristics of the future.
He focuses in particular on the Chinese and how they use massive surveillance on their citizens. If you wish to take a glance into humanity's bleak future. Then you must add the show to your list of things to watch. Black Mirror is one of Netflix's top English-language online programs.
Ratings – 8.8/10
#4. BOJACK HORSEMAN
BoJack Horseman is a web animation series of dark comedy. Not for the little ones, definitely. The story follows a humanoid horse, which was a well-known actor in the 1990s.
The show in which he was three children's adoptive father. The show was a great hit at that time. But it was canceled suddenly. Bojack is going through a midlife crisis 18 years later. And he wants to return his dignity. Hollywood, however, changed considerably in those 18 years. To return he needs to get accustomed to twitting, social media, and anything to come.
Ratings – 8.7/10
#5. HOUSE OF CARDS
House of Cards was one of Netflix's first big bets. And it later turned out to be a very profitable venture. The show quickly rose to become the best English-language web series to watch. The plot of the show revolves around Frank Underwood, a Democrat secretary of state. He seeks vengeance on those who betrayed him when he sought to rise to power. With his wife, he takes it upon himself to do everything his own way in order to obtain what he believed to be his own. However, the path to becoming powerful is not easy and is fraught with perilous decisions.
Ratings – 8.7/10
#6. THE UMBRELLA ACADEMY
Superhero team-ups are plentiful, but the TV adaptation of Gerard Way's award-winning comic series feels entirely unique and, as a result, completely refreshing. The show tells the story of seven children who were all born on the same day to mothers who had no idea they were pregnant. They are adopted by a mysterious billionaire and trained to use their supernatural abilities to fight evil in the world, but as they grow older, their dysfunctional upbringing catches up with them, and they find it difficult to live normal lives.
Ratings – 8/10
#7. DAREDEVIL
Daredevil exists so far outside of the Marvel Cinematic Universe that it is completely distinct. It is brilliantly shot, excellently choreographed, and superbly written. It is darker, more brutal, and grittier than the film franchise, but it contains enough light and humor to make the characters sympathetic. The series nails the comic's tone, the characters are complex, and it truly understands the grey area between hero and villain, as well as the fine line between the two when it comes to violence. The fight scenes are brutal, and there is no better Matt Murdock than the one played by Charlie Cox.
Ratings – 8.6/10
#8. NARCOS
Netflix's Narcos follows the rise and fall of Colombian drug lord Pablo Escobar and the Medelln drug cartel. Brazilian filmmaker José Padilha (Elite Squad) combines Scarface and Goodfellas to follow Escobar's life by splicing together dramatized scenes and actual news footage.
The real story here, however, is not so much about the characters as it is about the Colombian drug trade and the spread of cocaine from South America into the United States in the 1980s. Escobar is used as a vehicle to demonstrate the futility of the American drug war and the toll it took on both Colombian criminals and US authorities.
Ratings – 8.9/10
#9. SEX EDUCATION
Following in the footsteps of Nick Kroll's Big Mouth, this British teem comedy is dedicated to exploring all of the cringe-worthy, taboo subjects associated with sex, albeit not in animated form. The series follows a mother-son duo navigating their way through those awkward "talks." Of course, the mother is a sex therapist named Dr. Jean Milburn, and her son Otis is the kid enduring her overbearing tendencies at home while doling out his own sex advice in an underground sex therapy ring among his friends.
Ratings – 8.3/10
#10. ON MY BLOCK
On the surface, On My Block, one of the best series to watch, appears to be just another teen drama about a group of funny, street-smart kids trying to figure out life. However, the show, which has been praised for its diverse cast and ability to touch on real issues such as immigration and the effects of gang violence, provides a fresh perspective while focusing on the lives of these four friends surviving on the rough streets of an inner Los Angeles neighborhood. The show may deal with larger themes, but the most enjoyable aspect of watching it is when the focus returns to the close-knit bond between four very different kids.
Ratings– 8.3/10
SEE ALSO: 15 Best Android Games With Controller Support In 2022
#11. 13 REASONS WHY
The premise of 13 Reasons Why is intriguing: a teenage girl named Hannah commits suicide and leaves behind a suicide note in the form of 13 tapes, each one directed at a specific individual who was at least partially responsible for her decision to commit suicide. The tapes are then distributed to the 13 people, who must deal with their feelings of guilt for their role in her death while also keeping their secrets hidden as the contents of the tape threaten to destroy relationships and cost the school millions in an ongoing lawsuit. The drama was criticized for its heavy subject matter during its first season, and the reason it sparked so much debate is that it is an honest and unflinching portrayal of the subject matter.
Ratings – 8.2/10
#12. YOU
Penn Badgley of Gossip Girl returns as a scumbag we can't help but swoon over in this Lifetime drama that has now been handed over to the streaming platform. Badgley plays Joe Goldberg, a seemingly nice guy who works at a city bookstore and is in love with a beautiful blonde named Beck (Elizabeth Lail). Unfortunately, the rom-com portion of this thriller ends there. Joe's "courting" entails stalking the object of his affections, breaking into her apartment, kidnapping her boyfriend, and spying on her most intimate moments. And that's just from the first episode. This show, if anything, demonstrates that the modern dating world can be a terrifying hellscape.
Ratings – 7.9/10
#13. LUPIN
In this gripping, deliciously entertaining mystery thriller about a man hell-bent on vengeance, Omar Sy stars. Sy portrays Assane Diop, a master thief out for vengeance after his father's wealthy employer accuses him of stealing a valuable diamond necklace. Because of the shame, Assane's father commits suicide, but the con-man decides to wreck havoc on his adversary's life, inspired by the exploits of master thief Arsène Lupin, a character created by Maurice Leblanc in the early 1900s. This is one of the best web series on netflix.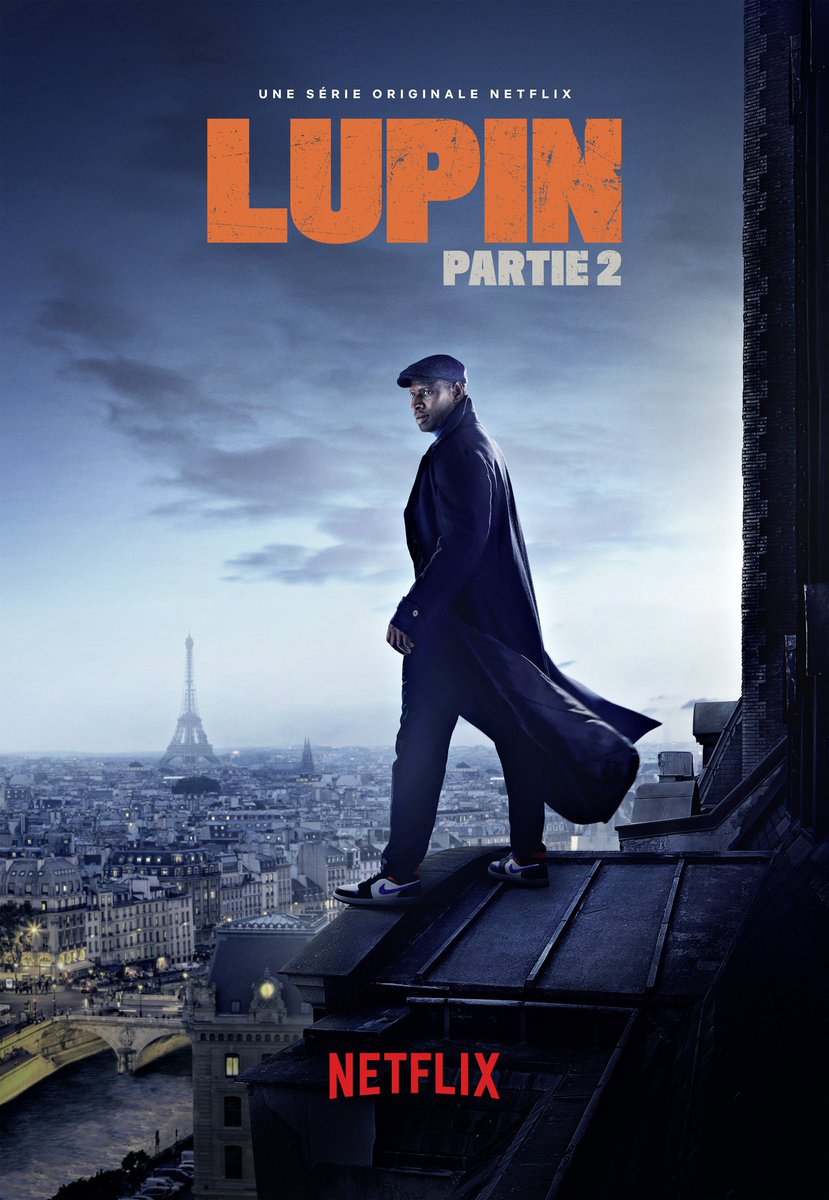 Ratings – 7.6/10
#14. F IS FOR FAMILY
The animated web series on Netflix from Bill Burr is set in 1973 and is based on his childhood experiences in Massachusetts. While it is not a particularly original family sitcom, it is deceptively smart, hilariously profane, and pays close attention to 1970s details. Anyone who shares Bill Burr's worldview — dark, unapologetically politically incorrect, and honest — will enjoy F is for Family. Despite its vulgarity and crude animation, the series contains a few poignant and heartbreaking turns. F is for Family perfectly captures what it was like to grow up in the early 1970s for people Burr's age.
Ratings – 8/10
#15. A SERIES OF UNFORTUNATE EVENTS
This show is based on a children's book series, but that doesn't mean adults can't enjoy it as well. Netflix's adaptation of Lemony Snicket's darkly humorous story about a trio of orphans trying to escape the machinations of their evil guardian, an eccentric villain named Count Olaf, hits all the right notes. Olaf, played by Neil Patrick Harris, is a mysterious man whose greed and lack of morality reach new heights with each episode, and his poor victims, the Baudelaire children, prove more capable of dealing with the evil genius than they let on.
Ratings – 7.9/10
WATCH A SERIES OF UNFORTUNATE EVENTS
#16. DEAR WHITE PEOPLE
Dear White People, one of Netflix's best and most underappreciated series, is a television adaptation that manages to outperform the film on which it is based.
It is a smart, insightful, thoughtful, and at times sharply funny examination of racial politics on a college campus, where it's more than just black people vs. white people; woke people vs. those who aren't woke; black people fighting the system vs. black people trying to work within the system; and light-skinned black people vs. darker-skinned black people. It's an enlightening, well-crafted television show that's as entertaining as it is informative.
Ratings – 6.9/10
#17. RUSSIAN DOLL
Natasha Lyonne plays a woman who is forced to relive the last day of her life over and over again in this Groundhog Day-from-hell remake. It's been done before, but this series stands out for its unique blend of dark humor and supernatural elements. Nadia, Lyonne's character, is trapped in a never-ending cycle of partying, dying, and waking up to do it all over again. Despite the bleak premise, Lyonne finds a silver lining, a universal message that basically reads, "The world is sh*t, let's help each other out if we can."
Ratings – 8/10
Conclusion
These are just a few hot web series for you to sink your teeth into. Guess you'd have to watch all of them figure out which one. Enjoy!!!
References
We Also Recommend