Ripple's capacity to reinvent the financial system in the future cannot be overstated. Already, XRP is posing a threat to SWIFT's dominance in cross-border money transfers.
While they found other cryptocurrencies on the blockchain technology platform, Ripple employs a distributed consensus ledger with a network of validating servers and crypto coins called XRP (sometimes referred to as Ripples).
Ripple is a digital currency that is based on the XRP Ledger. A decentralized mechanism governs the ledger, with over 150 validators located all over the world.
Transactions are quick and inexpensive because there is no single authority in charge. RippleNet and RippleX, the platform's flagship products, are supported by the XRP Ledger.
Read About: How To Buy Ripple Stock In 2023 | Step-By-Step Guide
What is Ripple?
Ripple is a corporation established in the United States. Ripple's goal is to make sending cross-border payments in the financial business, notably in the banking sector, more efficient.
It intends to achieve this by eliminating the intermediary, which will reduce costs and transaction times.
The xRapid payment service on the Ripple network employs the cryptocurrency XRP, which is based on the XRP ledger. On the Ripple network, XRP is utilized to facilitate transactions.
Although Ripple and XRP are frequently used interchangeably, Ripple is a payments platform, while XRP is a digital asset that runs independently of Ripple.
It merely serves as a link between various fiat currencies that are being transmitted across the Ripple network. It also serves as a liquidity source for the network.
Read Also: When Is The Right Time To Buy & Sell A Stock In 2023?
RippleNet offers three noteworthy products:
xRapid – provides liquidity on demand and ensures that XRPs held in escrow accounts can assist transactions like swaps and transfers.
Financial organizations can use xCurrent to make seamless cross-border payments. It also provides a communication channel for the same organizations to transmit messages and confirm transactions from beginning to end.
xVia – a basic payment interface that allows institutions to transmit payments, generate invoices, and track deliveries throughout the globe.
Check Also: 5 Best Online Stock Trading Platforms In 2023
Should I Make an Investment Right Now?
Banks will almost certainly continue to utilize SWIFT rather than RippleNet.
For starters, the US Securities and Exchange Commission has filed a complaint against Ripple, alleging that the company traded XRP as unregistered securities in December 2020.
As a result, holding XRP as an asset is a bit hazardous.
On the other hand, if a judge rules in Ripple's favor, they may reward patient XRP holders. While some exchanges have asked about relisting XRP, the coin's future remains uncertain until the dispute is resolved.
It is up to you to decide whether the risk/reward of buying or holding XRP is worthwhile. Many financial clients would prefer not to interact with a potentially regulatory-rogue organization until that situation is resolved.
Furthermore, financial institutions will continue to be drawn to services such as SWIFT and the Bank of International Settlements because of their prestige.
So, like the rest of the cryptocurrency stocks, XRP is an OK coin to purchase during the downturn.
Is Ripple a Reliable Cryptocurrency to Invest In?
XRP has returned a respectable 12,758.41% to investors from its introduction in 2012, turning a $10,000 investment into $1,265,841 in just nine years. That's impressive, but only in the context of the crypto realm.
For example, from its introduction in 2015, Ethereum has returned 85,719 percent, which is still quite low when compared to the annual earnings of some of the alternative cryptocurrencies.
How Do I Get Ripple in the US?
To learn how to buy XRP in the United States, follow the steps below.
Step 1: Create a User Account: Finding an online broker is the first step in buying Ripple for beginners. You may purchase Ripple from a variety of brokers, but eToro is the top-rated online broker for buying Ripple in the United States in 2023.
Step 2: Validate Your ID- Account Verification: Before buying any coins, crypto brokers need new customers to verify their trading accounts. Verification requires supplying photocopies of your ID and proof of address documents that match the information on your signup form.
Step 3: Deposit Funds: As soon as your verification is complete, you can deposit funds into your eToro wallet. In order to begin trading online with eToro in the United States, you must make a $200 deposit. For all currencies, eToro charges a 0.5 percent conversion fee.
Step 4: Purchase XRP: Now that you have funds in your active eToro account, you may purchase XRP. You can invest in the underlying value of XRP or trade it as a CFD. Easy-peasy. To get started, go to the eToro website and buy XRP in the United States today.
BEST PLACE TO BUY RIPPLE IN 2023
Purchasing XRP was relatively simple until it came under regulatory scrutiny in December 2020, when it was available for purchase on practically every exchange. The following are still locations where you may buy XRP:
1. etoro
2. Coinbase
3. CEX.io
4. Kucoin
5. Coinmama
6. Huobi Global
7. Bithumb
8. Bitstamp
9. FTX
10. Gate.io
11. Bitfinex
12. Poloniex
13. Kraken
14. Bittrex
15. OKEx
1. etoro: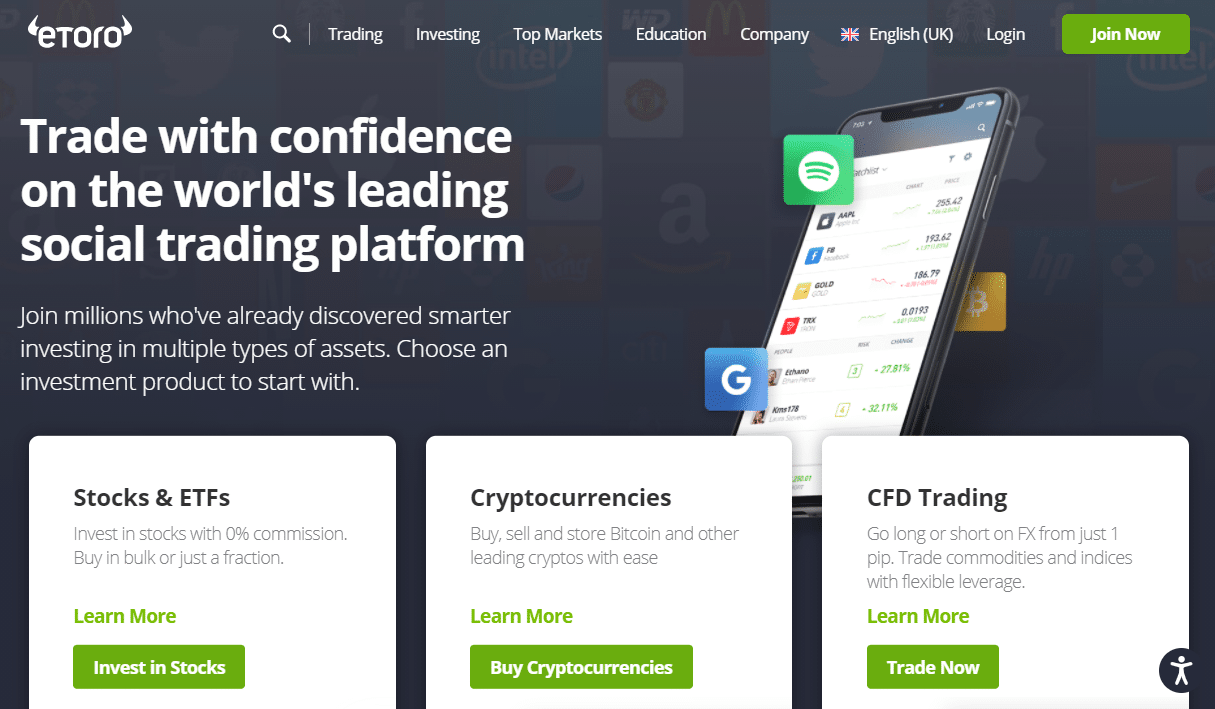 eToro is a U.S.-regulated broker with a slew of additional international licenses. For the safety of your funds, you should select a compliant broker. eToro is a global investment platform that serves over 18 million investors in over 140 countries.
The National Futures Association (NFA) and the Commodities Futures Trading Commission in the United States (CFTC) governs itThe company's main office and headquarters are located in Tel Aviv, Israel. It is governed by the National Futures Association (NFA) and the Commodities Futures Trading Commission in the United States (CFTC).
When buying XRP for the first time, it's best to go with a regulated broker. Strict regulation enhances a broker's trustworthiness and investors'.
That is why eToro is the most popular broker for investing in XRP in the United States in 2023.
This is a user-friendly broker for learning how to buy Ripple in the United States. In usability, this broker offers an innovative trading platform with unique features that make it simple for novice traders to begin their financial journey.
It boasts the best copy trading platform on the market, for example. If you're still not convinced, consider this: you can practically imitate the moves of successful traders before you learn how to trade properly.
You don't have to spend a dime to receive this. To help you advance your trading career, eToro now offers zero-commission XRP purchases in the United States. Getting started with eToro takes less than five minutes.
2. Coinbase:
Coinbase is a cryptocurrency exchange and broker established in the United States that offers over 2500 digital assets. Due to its long-standing reputation, it is one of the most trustworthy exchanges.
Anyone who has spent enough time in the crypto realm has heard of Coinbase, a leading crypto exchange platform in the United States. It has offered more than hundreds of cryptos, including XRP, since its launch in the United States in 2012. (XRP).
When learning how to buy XRP in the United States, beginners will appreciate Coinbase's user-friendly design. It's easy to use, and you don't need any prior experience with cryptocurrencies to buy Ripple with Coinbase in the United States now.
You can signup and acquire cryptocurrency in a matter of minutes. Coinbase does not allow you to buy XRP with your e-wallet, such as PayPal. PayPal is the sole way for investors to get their money out.
Instead, you can use U.S. bank transfers or debit and credit cards to fund your trading wallet.
You should be aware that any payment you make with a debit or credit card will incur a 3.99 % transaction fee from Coinbase.
When you buy or sell XRP, another 1.49 % commission will be added to your account. To benefit from cheaper costs, you may be required to convert to Coinbase pro.
When buying XRP for beginners in the United States, these are the primary obstacles you'll likely confront with this broker.
Read more: Can You Buy Gift Cards With A Credit Card? Find Out How
3. CEX.io:
CEX.io is one of the most widely used exchanges for buying and selling Ripple and other cryptocurrencies.
The website provides a multi-coin brokerage service as well as a trading platform for trading BTC, BCH, ETH, and XRP.
If you're a beginner, it's best to go with the brokerage option rather than the trading platform on the site.
You can purchase cryptocurrencies on CEX.io with a credit card, wire transfer, SEPA transfer (if you live in the EU), or ACH transfer (for US residents). The website offers two ways to buy cryptocurrency: a trading platform and a brokerage service.
CEX.io can deduct up to 7% of the amount of fiat money you pay for a service as a fee. For example, if you buy $1000 in Ripple, you will only receive $920.
This implies that the high exchange rate you see on CEX.io already includes the service cost, and there will be no further fees. Depending on your currency and payment method, withdrawal costs of up to 3% plus service charges of up to $25 may apply (credit cards are the most expensive option).
4. Kucoin:
KuCoin has established itself as a notable one-stop shop for all types of crypto operations, making it a well-known name in the crypto sector.
Since its launch in August 2017, the exchange has grown to include over 200 cryptocurrencies and over 400 markets, making it one of the most vibrant crypto hubs online.
For cryptocurrency investors, KuCoin is an ideal cryptocurrency exchange. It has a high level of liquidity, a large number of users, a diverse range of supported assets and services, and minimal trading costs.
Furthermore, it does not require all of its customers to undergo KYC checks, which is a useful feature for those concerned about their privacy.
Check this out: Money Management for Teens 101: How to Save Money as a Teenager in 2023
5. Coinmama:
Coinmama's brokerage service, which was the first to link with Apple Pay, allows you to buy XRP and other cryptocurrencies with your credit card, SWIFT or SEPA transfer.
The organization is concentrating on the client experience and customer care in order to make transactions as rapid as possible (user verification takes around 30 minutes).
This is a great place to start if you're new to Ripple. Advanced users can save money on transaction costs by using other trading platforms.
Coinmama is a cryptocurrency brokerage that offers XRP and other cryptocurrencies as a service. This means that instead of buying coins from other individuals on a trading platform, the corporation sells them to you directly.
In addition to Apple Pay, the company now accepts payments by bank transfer (SEPA and SWIFT) with no processing fees (SWIFT, SEPA, Fedwire, FasterPayments, and Sofort).
The currencies used are EUR, USD, GBP, AUD, CAD, and JPY. Because a 5% credit card processing fee is charged, Coinmama's pricing will be 10.9 % more than the market rate.
See these 20 Jobs That Can Make You A lot Of Money In 2023
6. Huobi Global:
Huobi Global is a cryptocurrency exchange with millions of users in more than 130 countries. They support over 190 cryptocurrency pairs and provide access to over 400 marketplaces.
Huobi prioritizes client protection and safety, as well as a reliable and secure platform, and has implemented special security protocols as a result.
Offline cold storage is used, as well as multi-layer verification processes and coordination with Goldman Sachs and industry experts.
Huobi charges 0.2 percent in trading fees, while withdrawal costs and minimums vary depending on the currency and account type (unverified, verified). Huobi accepts fiat currencies and has specific rules for withdrawing and depositing US dollars.
Additionally, it provides a VIP membership with a VIP pricing schedule. The lesser the fees become as the VIP membership level rises.
Unlike others, the level is determined by the amount of Huobi Tokens purchased before to trading. Huobi allows a variety of payment options, including bank account, Paypal, SWIFT, and PayNOW, among others.
7. Bithumb: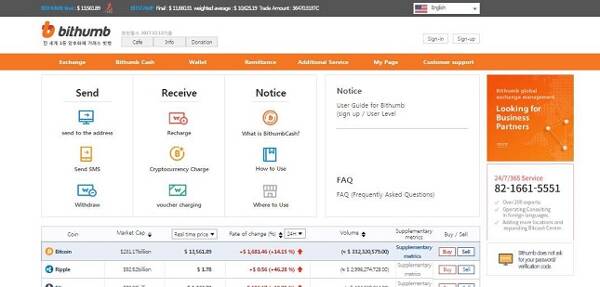 Bithumb is a cryptocurrency exchange run by a third party that allows you to buy, sell, and trade a variety of cryptocurrencies. It has grown to become one of the world's largest exchanges in terms of daily trade volume.
Every day, Bithumb trades more than $100 million, but it has gone as high as $2 billion, which is the amount of money that people trade in a 24-hour period.
The type of coin you choose to use to fund your account determines the deposit costs. Bithumb charges a basic trading fee of 0.15 percent of the entire amount you are buying or selling.
If you buy $1000 worth of Ripple, for example, you will pay 0.15 % of that amount, or $1.50.
See the 15 Top Best Stock Market Investing Books Of All Time
8.Bitstamp:
Bitstamp can be a decent alternative for individuals new to crypto who want to stick to the big currencies or even more popular altcoins, thanks to its simple fee structure and the ability to buy crypto using fiat currency directly from a bank account, credit card, or debit card.
Basically, bitstamp claims to store 98 percent of its digital assets in cold storage and to ensure all assets.
Unlike other cryptocurrency exchanges, Bitstamp charges a single flat fee percentage regardless of whether your order is a maker (creates liquidity on the exchange) or a taker (reduces liquidity), or whether you use the trading or immediate buy platforms to place your order.
In addition to these costs, based on how you use the platform, you may incur a few more charges. Any credit card or debit card purchases will include a 5% fee, which does not include any costs levied to you separately by your bank or credit card provider.
9. FTX:
FTX is a cryptocurrency derivatives exchange created by traders to provide a robust platform for professional trading businesses, intermediate traders, and newcomers.
On FTX, advanced features, an intuitive user interface, and a mobile trading app are all crucial.
FTX employs a number of bank-like security mechanisms to protect users' personal information and funds held on the crypto exchange.
Users must complete a registration process to create an account with FTX in order to set up a derivatives trading login. With merely email verification, users can begin trading on the crypto exchange and withdraw up to $2,000 USD per day.
Tier 2 and 3 account users who complete KYC can withdraw an unlimited quantity of bitcoin to a hardware wallet like the Ledger X or cash out fiat to a bank account via wire transfer.
Traders on the FTX platform can fund their accounts using a variety of deposit methods. Cryptocurrency, stablecoins, and fiat currency are examples of these.
Simplex, the fiat/crypto market leader, offers the possibility of purchasing crypto directly with a credit card via the FTX platform. The company was the first to use a standard bank card to open fiat onramps (e.g. VISA and Mastercard).
Alternatively, traders can transfer stable coins such as USD, USDC, TUSD, PAX, BUSD, and HUSD to the platform.
Check this out: How To Make Money As Real Estate Agent In 2023 | Full Guide
10. Gate.io:
More than 180 coins are supported by Gate.io. It also enables spot and margin trading, as well as a variety of platform features such as margin lend or borrow funds, period investment plans, investing in I.E.O.s through the Startup platform, perpetual swap contracts, and so on.
It supports a 0.20 % trading charge, which is significantly lower than the global average of 0.25 percent. Professionals will find it more important, while beginners will find it more difficult.
KYC is not required, although it is subject to a few restrictions. If users pay fees with gate.io tokens, they will receive a 25% discount (G.T.). The future market fees, which are -0.025 % and 0.075 %, are calculated using the maker and taker model.
When putting funds in the Gate.io exchange, there are no transaction fees. It's absolutely free to use.
11. Bitfinex:
Bitfinex is one of most well-known and busy exchanges in terms of trading volume, and a popular destination for skilled traders from all around the world.
It offers both fiat-to-crypto and crypto-to-crypto trades, with the exception of a few nations. Margin trading, limitation and stop orders, and over-the-counter (OTC) trades are all significant aspects.
When it comes to deposits, crypto and stablecoin deposits are absolutely free, however, bank wire transfers cost 0.1 percent of the amount with a $60 minimum.
Bitfinex will be the one to charge when it pertains to withdrawals. A bank transfer/wire in euros or US dollars costs 0.1 percent of the amount transmitted, whereas an express bank transfer (completed within 24 hours) costs 1%.
The fee for withdrawing cryptocurrency varies depending on the currency. On the exchange's website, they include a thorough list of every coin they have listed, as well as their withdrawal fees; some are free, but the vast majority are not.
Internal transfers of digital assets, on the other hand, are free and come with added benefits when sent to another Bitfinex user's account.
12. Poloniex:
Poloniex may not be as well-known as it once was, but it still provides excellent service when it comes to trading ripple.
It boasts the most affordable fees in the industry and only requires your email address to register, with identification verification being absolutely optional.
Poloniex charges consumers for spot and margin trades, as well as bitcoin withdrawals, when it comes to trading.
The trading fee schedule is simple to understand. The amount you pay every trade is determined by whether you're a taker or a maker, and also your 30-day trading volume. Poloniex VIP users in the +Silver, Gold, or Market Maker tiers pay 0% for maker trades and less than 0.04 percent for completed taker orders.
Poloniex does not charge any fees for bitcoin deposits. You can still use fiat-pegged stable coins in your trades even though no fiat currency can be deposited, withdrawn, or purchased on the platform.
Customers will be charged withdrawal fees, which are determined by the network of each cryptocurrency being exchanged.
Related: How Much Money Should I Be Making: Personal Finance Strategy of 2023
13. Kraken:
Another really well-known cryptocurrency exchange is Kraken. While the oldest isn't always the best, Kraken offers a platform with top-notch security, over 60 coins to pick from, and the opportunity to "stake" or loan out your coins for rewards, all at a lower-than-average cost.
Kraken's top-notch security, minimal trading costs, and wide range of accessible cryptos can make it a suitable alternative for both new and seasoned cryptocurrency investors.
However, as with Coinbase, don't spend too much time as a newbie to risk losing a big portion of your investment money to fees on its training wheels platform.
14. Bittrex:
Bittrex is a leading cryptocurrency trading exchange situated in Seattle, Washington, that allows consumers to purchase and sell over 730 of the most regularly traded crypto markets in a safe and secure place.
Multiple bank-like security procedures, such as 2 Factor Authentication (2FA) and cold wallet storage, are also included to secure the safety of consumer funds.
For buy and sell positions, Bittrex charges a set trading fee of 0.25 percent for every transaction. Customers in other jurisdictions pay trading costs based on the maker-taker model, which starts at 0.75 percent and gradually decreases dependent on the 30-day trading volume.
A fee rebate of 0.05 percent is also available for contributing volume to the exchange with a monthly volume of more than USD 25,000.
Bittrex does not charge a fee for depositing funds by wire transfer from a US bank account or cryptocurrency transfer from an external account.
Purchasing cryptocurrency with a credit or debit card, on the other hand, will result in a 3% fee, which is not advised.
15. OKEx:
There isn't many cryptocurrency exchanges that have the kind of competent trading platform that OKex does, replete with the functionality and trading formats present in large, traditional financial exchanges, for more experienced investors.
Another key aspect that will cater to more experienced traders is the low trading fees.
While this is expected to change in the near future, the fact that CNY is the platform's only fiat currency shows that OKex is still largely focused on the Chinese market.
It's realistic to assume OKex's cybersecurity architecture matches industry standards as one of the world's largest cryptocurrency exchanges with strong financial support.
FAQs
1. What is the purpose of ripple XRP?
XRP is the primary coin of Ripple Labs' products. Its solutions are used for payment settlement, asset exchange, and remittance systems that are similar to SWIFT, an international money and security transfer service provided by a network of banks and financial intermediaries.
2. In 2025, how much will Ripple be worth?
This suggests that one XRP will cost around $6 in 2025. By this time, the level of acceptance will have reached a point where it will be more convenient for users to transact and trade using a currency. As a result, the asset's highest anticipated value for 2025 is $8, but it could decline to $4.
3. What is the current value of XRP?
The price of XRP is $1.06.
4. Is Ripple a better alternative to Bitcoin?
Ripple, as an alternative to SWIFT payments, provides a considerably faster, less expensive, and less inconvenient means to swap currencies and move money across borders. Bitcoin is primarily money in which supply and demand are controlled by no third parties or central authority.
5. What makes XRP so valuable?
XRP's worth is derived from a number of variables, the most important of which is Ripple's capacity to cooperate with institutions and its ability to be exchanged for any money or asset swiftly and cheaply.
Conclusion
The risk-reward ratio is important to the investment notion; in other words, do the possible gains outweigh the risks of losing your money?
Ripple is a hot asset from every viewpoint, and it will undoubtedly become one of the most profitable cryptos in the near future.
It is advised that you purchase Ripple in the United States today in order to participate in the upcoming major shift.
References
Related Articles