A gift card is sometimes thought of as a slacker gift, but it's better to offer a gift card and let the recipient choose what they want rather than give them a useless present.
The benefit of these sites is that they provide a single location where you can buy gift cards for hundreds of different stores.
Of course, if you have a specific store in mind, you can always buy directly from their site (assuming they offer a discount), but buying from a specialized gift card site may offer a better deal.
Furthermore, you can acquire cards from numerous retailers with a single delivery, whereas paying for a separate delivery from each store would be more expensive.
What You Should Know Before Purchasing Discounted Gift Cards Online

Getting discounted or gift cards might save you a lot of money, But there are a few things to keep in mind:
1. How do I Obtain a Gift Card?
You may receive cheap gift cards from many businesses and services in one of two ways:
Email-based digital gift cards
Regular mail is used to send physical gift cards.
Some merchants may also allow you to print your gift card. Keep in mind the type you want, particularly if you're presenting the gift card as a present.
Digital gift cards are usually free and can be received in as little as 24 hours. Physical gift cards, on the other hand, are subject to postal delays. Processing physical gift cards may include a cost.
Check Out: Does Target Sell Amazon Gift Cards? Everything You Need To Know
2. Take Care of Yourself
As you may expect, there is a risk of fraud when purchasing cheap gift cards. As a result, many resellers provide a guarantee on gift cards they sell.
Make sure you look into any reseller warranties and spend the gift card balances in full before the warranty expires.
Some fraudsters who sell gift cards to discount gift card reseller websites are astute enough to wait until the guarantee has expired before attempting to drain the gift card's balance.
You have no recourse if you leave a balance on a gift card after the guarantee expires, and the amount vanishes; you will lose the remaining balance.
See Also: How To Sell Gift Cards For Cash In 2022

3. Understand the Refund Policies
Whether you buy a reduced gift card or pay full price, it's critical to understand the retailer's redemption requirements. You don't want to buy or get a gift card and then have trouble using it.
When purchasing cheap gift cards, the best idea is to check the retailer's redemption policies immediately. Some gift cards have a restricted window of redemption, while others do not allow you to redeem them online.
Many of the platforms listed above allow you to view their redemption terms, however, some do not.
The easiest method to protect yourself is to inquire directly with the shop about redemption options.
See Also: Do CVS Sell Gift Cards List Of Gift Cards Sold At CVS
4. What Types of Stores Sell Gift Cards?
Numerous retailers sell gift cards, so there are plenty of opportunities to save money.
Finding discounted gift cards from any of the retailers listed below is a worthwhile investment on items or services you were planning to purchase, anyway.
Check Also: Can You Buy Gift Cards With Gift Cards? Find Out How
15 Sites To Buy Discounted Gift Cards
If you're looking for a gift card, Amazon isn't the only place to go. Here are fifteen places where you can acquire a discounted gift card online.
1. GiftCardSpread:

This website is simple to use because retailers are listed sequentially, but you can also search by price, card type, or a variety of sections.
Gift Card Spread features a wide selection of gift cards available at incredible discounts of up to 31%.
Each merchant, like other exchange websites, offers 'up to a particular amount of savings that you may click to see just what your possibilities are.
This is the place to go if you want to buy cards, but anyone trying to trade or sell should check into other sources.
Read About: Where To Buy Target Gift Cards In 2022
2. Gameflip: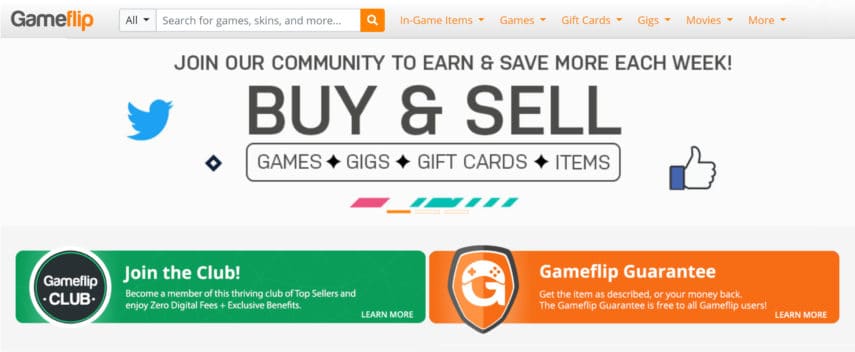 Gameflip sells discounted cards for PSN, Xbox Live, Amazon, iTunes, and Google Play if you're a player trying to save money on gift cards. They additionally sell gift certificates for services like Netflix, Starbucks, Lyft, and Amazon, and other Microsoft products.
You only need to search the website or app to find what you're looking for. When you discover one you like, click or press it to get the complete listing.
You may evaluate the seller's rating, the manner of delivery (auto or mail), the card's initial amount, and the percentage discount on the card listing, and there's even a method of obtaining further information from the seller.
3. Cardflip: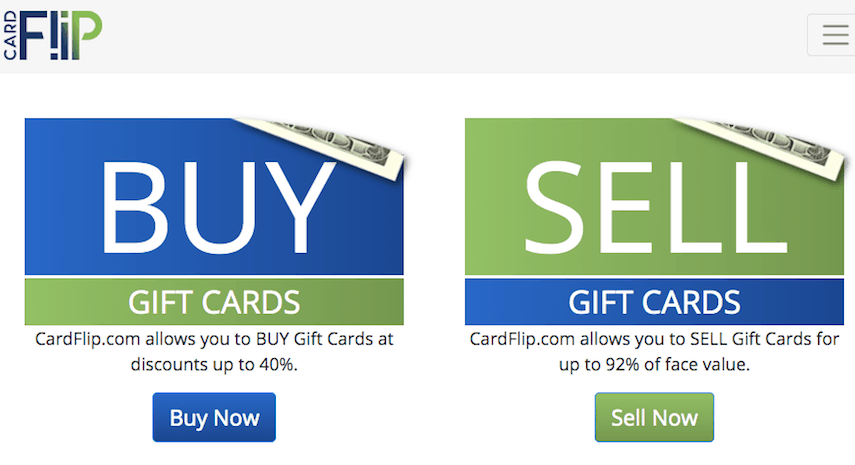 CardFlip.com is a secondary gift card exchange where you can SELL gift cards for top market price and BUY reduced Gift Cards for most brands, restaurants, and merchants."
In other words, the business acquires gift cards in volume so that it may offer them at a discount to clients, and it also allows independent sellers to sell their gift cards on the site.
Gift cards to retailers like Dunkin' Donuts, the Disney Store, and Michael's can be found for up to 25% off. You can pay with a credit card, direct bank transfers, or Bitcoin, and they'll be delivered electronically or by mail.
Should you pay using direct transfers or Bitcoin, you can get even more discounts.
Cardflip also provides a 45-day money-back guarantee, but it's uncertain under what circumstances you'd be eligible for a return.
4. Costco:
Costco, a huge store, also sells gift cards at a discount, including deals on restaurants, fitness centers, and even travel. Unlike other gift card retailers, though, Costco offers discounts by purchasing cards in bulk rather than personally.
For instance, if you want to buy a gift card to The Coffee Beanery, you may pay $15 for a $20 gift card on some other sites, but if you buy through Costco, you'll pay $79.99 for four $25 cards.
It's a good deal, but it only stands to reason if you're buying them as gifts or if you'll be using them regularly. The cards are only accessible in physical form, however, they can be redeemed online or in person.
You don't need to be a member to buy the cards online, but you will need to be a member to buy them in-store.
5. Cardpool:
Cardpool provides a straightforward interface that allows you to purchase discounted gift cards from your favorite stores.
They don't have quite the same selection as some of the other sites on this list, but they're still worth a look.
Their 60-day money-back warranty and free USPS shipping on physical gift cards are notable advantages, and dependent on the card you're shopping for, you might save a lot of money.
The site includes a large range of physical and electronic gift cards, as well as downloadable electronic gift cards that may be redeemed at dozens of shops online or in-store.
6. Staples.com: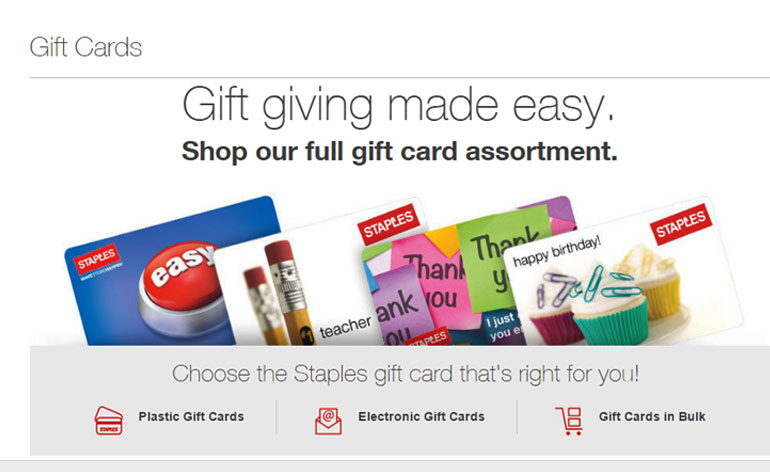 Staples.com offers cheap gift cards for some of the highest-selling merchant brands, and the savings are substantial. Gift cards for iTunes, Sephora, Gap Brands, Applebee's, and a variety of other businesses and restaurants are routinely discounted at Staples.com.
It's also not unusual to find gift cards on sale for 10 to 20% off or to receive a bonus gift card when you buy another, so check into Staples.com gift cards the very next time you need a fresh gift card.
The discounted gift cards offered on Staples.com are limited in quantity and sell out rapidly, so act soon to take advantage of the savings while stocks last.
7. GiftCardRescue:
GiftCardRescue.com has been highlighted in the New York Times, The Wall Street Journal, and NPR, among other publications.
Basically, GiftCardResuce has gift cards for over 400 big-name companies, from Lowe's to Urban Outfitters, and you can save up to 35% on both physical and electronic gift cards.
They offer free shipping for orders over $500, and you get a 60-day money-back guarantee.
8. CardHub:
CardHub is a platform that sells cheap/discounted gift cards as well as credit and pre-paid cards.
Basically, CardHub, unlike some of the other online gift card exchange sites, also serves countries other than the United States, including the United Kingdom and Canada.
On CardHub, you can get up to 50% off discount gift cards.
9. CardKangaroo:
CardKangaroo claims that you can get up to a 35 percent discount on gift cards, however, most cards have a far lower discount.
Although the quantity of possible gift cards is less than Gift Card Granny's, it does feature some of the most well-known businesses, food outlets, and leisure locations.
10. Daily Deal Sites: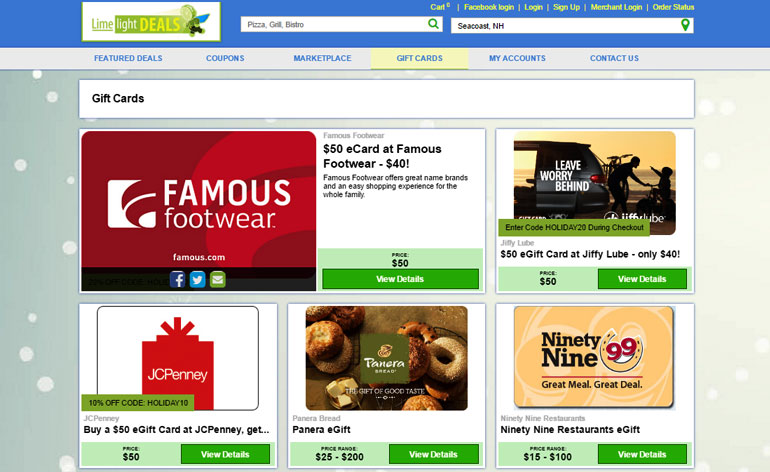 Your favorite daily deal website is the next place to hunt for discounted gift cards.
Around 800 publications, including DoubleTakeDeals, TravelZoo, and others, use NimbleCommerce, the premier digital commerce platform for special deals.
Each of these publications offers discounted travel discounts, concert tickets, amusement park passes, and spa days, as well as other merchandise (such as name-brand charm bracelets, watches, boots, and more).
Gift card discounts are frequently featured in the daily deals section.

You can obtain combo discounts like dinner and a movie when you buy gift cards from a daily deal site, which is one of the nicest features.
Subscribe to the websites you like to receive email alerts when new deals become available, or if you're looking for a specific gift card, use the extensive search function to find what you're looking for.
Many businesses will even allow you to subscribe to a specific merchant so that you can be alerted about deals directly from that organization.
11. RetailMeNot:
Gift Card Zen, a cheap gift card supplier, is combining with RetailMeNot.com.
They provide discounts on gift cards to 145 different businesses, with savings varying from 1% to 27%.
12. GiftCardBin: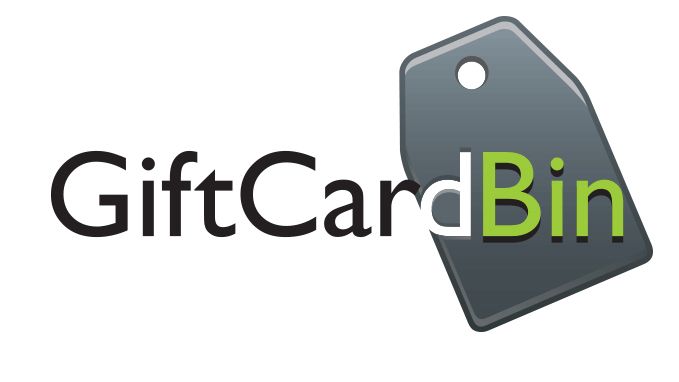 Once you set up an account, you can search by discount, store, category, or your personal favorites.
You can also buy electronic or physical gift cards, with the latter arriving in the mail within 10 working days. Digital cards will show up in your account within two business days, which is a little longer than some websites claim.
You can also acquire vouchers for certain stores that are printable at home and valid in-store.
Discounts as high as 31% are available, implying that a $140 Lane Bryant card might be purchased for less than $100. To make this deal work, you'd have to be confident in making a substantial buy.
13. Gift Card Wiki:
Gift Card Wiki is a terrific place to find popular brands and amazing offers on discounted gift cards.
When purchasing or selling cards, search by store or identify the cards that are popular bargains to get the maximum money.
This site allows you to use gift cards to save and earn money, whether you have extra gift cards you want to get rid of or a discount opportunity to receive gift cards where you already purchase.
You may also look into intriguing statistics on what's going on in the gift card industry to ensure you're receiving the greatest bargain possible.
14. EJ Gift Cards:
EJ Gift Cards is among the best websites for purchasing gift cards online at a discount. You can save 10%, 15%, or even 30% on gift cards from major brands.
The majority of websites do not provide gift cards for tiny brands or shops, however, this website seems to be an exception.
Gift cards from small to large brands are available for immediate purchase.
15. Gift Card Granny:
Aside from being secure to shop at, one of the nicest things about Gift Card Granny is that you can not only sell or buy gift cards on the site, but you can also compare prices.
It gives you a considerably wider range of options and does not deliver gift cards to you; instead, it connects you with others who are purchasing or exchanging gift cards at the lowest prices online.
Starbucks, Apple, Gap, Walmart, and other well-known brands are among those for which Gift Card Granny offers gift cards.

Gift Card Granny also features a loyalty scheme that allows you to collect "Granny" points from select resellers in exchange for free eGift cards.
Gift Card Granny exclusively sells cards from reputable partners who follow Gift Card Granny's consumer protection guidelines.
FAQs
Is it possible to get a discount on gift cards?
On some websites, you can get a discount on gift cards. Gift card discounts are a terrific way to cut costs on gift cards, whether you're buying them for yourself or anyone.
Can you tell me where I can get 50% off discount gift cards?
Many websites provide inexpensive gift cards, including Giftcardgranny, Cardpool, Costco, and Gameflip. There are countless companies that offer the same basic service: the option to buy retail store gift cards for far less than their current valuations.
What are discounted gift cards and how do they work?
A seller normally earns 60 to 90% of the card's value, although traded gift cards are frequently worth more. These previously owned cards are then sold at a discount to buyers, allowing them to buy a gift card for less than its face value.
Do gift cards have an expiration date?
A gift card cannot expire in fewer than five years from the date of purchase, according to federal law. However, if it is not used under 12 months, the card may be charged monthly fees for inaction, dormancy, or maintenance, lowering its value.
Is it possible to return an unused gift card?
The card may be exchanged for cash, albeit at a reduced rate, at the retailer's discretion. For example, the issuer may reimburse 90% or less of the card's original amount, and they reserve the option to reject to accept a gift card return unless you have the proof of purchase.
Conclusion
Now that you know where to search for low-cost gift cards online, compare guarantees and prices to pick the best deal.
You might discover that one website has the greatest pricing for a Walmart gift card while another has the best price for a Target gift card.
If the reductions are big enough, ordering the discounted gift cards individually may be a good idea.
Just don't allow things to get out of hand to the point where you're squandering time to save a few dollars.
References