Get Paid to Answer Questions Online in 2023 | Trivia, Quizzes, Logics
So you love answering quizzes, Trivia, and logic questions, might as well make a lot of money on the side and get paid to answer questions online.
Believe it or not, answering quizzes and trivia questions is a genuine way of earning money in 2023. Imagine getting paid $1000 when you win a quiz tournament after answering just 12 questions, and you don't need to answer all correctly!
You choose when where and which questions to answer. This gives you the option to go full-time or part-time.
In this article, I will list and explain the best ways one can get paid to answer questions online. I will also enlighten you on the most reliable sites that offer you trivia, quizzes, and logical problems in exchange for a decent amount of money.
What answering questions online is all about
You've probably heard of companies' websites and apps that offer money/cash back gift cards if you answer questions on their platform. These are called question-and-answer sites.
There are various companies that want to know how the average Joe views their products/services. They and users looking for quality, specialized information go to this website to gain information.
Most Quiz and Trivia apps operate on a kind of low-risk lottery system where they get money from adverts. A good amount is put as the prize for you to get money for answering questions online.
All you need to get paid to answer questions online is a smartphone or a computer/laptop and a secure internet connection.
The questions asked can require a bit of research; some can be as easy as true or false questions, in some cases, you are giving only seconds to answer particular questions to prevent you from Googling for answers
Most of these sites and apps follow a point-based system. The more questions you answer, the more points you get. Different answers give different points. These points, when they reach a certain threshold, are eligible to be converted and withdrawn as actual cash. 
What are the Best Sites that Let you Get Paid to Answer Questions?
888Quiz
888Quiz is one of the most popular online quiz sites out there that pays a relatively pays large amount of money. Another reason for its popularity is that the questions offered are not confined to "facts & riddles". 
Sports, places, events, history; 888Quiz boasts of a large array of categories to choose from according to your knowledge. There are even categories for children to choose from! That's right, if you have a child, why not encourage them to answer quizzes on a site that makes the idea of answering questions look fun? 
On the site, there are two main options to choose from; "Play for fun" and "Play Prize Competition" depending on your mood at the moment. In The Play for Prize mode, you could win up to $250; no points are needed! 
This game is played on its official website and is unavailable as an Android or ios application.
INBOXDOLLARS
This site pays its users for things they'd normally do online, such as taking surveys and watching videos online. 
However, a registered user (you get paid a bonus when you register) could earn money by answering real questions pertaining to your knowledge or line of work.
You are asked your details (nothing too personal), and the system uses the information given to know which questions you could possibly answer, this increases the likelihood of you knowing the answers to the questions you are given. 
It uses a point-based system with thresholds at 1000pts. Where you can choose to convert your accumulated points into cash via PayPal or your bank account (a service fee is charged). 
One question answered gives you 1 – 10 points, depending on the question. 1000pts equals $5. It is possible to earn up to $20 a day.
Givling
One of the most beloved apps in the Trivia Community because its goal is to help people with student debt. A great way of getting paid to get money online.
The apps coveted payout of $50,000 dollars every seven days to 10 different players is something that leaves trivia players all over America watering at the mouth.
The game works with a que system, and you, as a new player, would have to overtake at least 450,000 players like you to get to that top spot, but it's all about your competitive nature. 
Buying Giving merchandise and watching ads on the site is one of the few shortcuts to getting ahead.
Business Insider, CNBC, and Wired have written favorably about the beloved app.
The Giving app was created in 2015 by former stockbroker Lizbeth Pratt and has remained relevant to this day.
Pop Quiz Perk
This is an application available on both Android and ios platforms. It does have an age limit of 17 and requires that you have a valid Facebook account.
Sign up using your Facebook account or register on their official website. Install the Perk Wallet app, you'll need it to collect and convert the points you earn on the Quiz Pop app. You'll also need a valid PayPal account to be paid real money.
The apps are awesome in that you have the option to choose from almost 400 different categories. You only need to answer 5 questions per gameplay. You are given points depending on the correctness of your answers at the end of the session.
At the session, you are required to watch an unskippable 30sec ad.
You get paid $0.50 dollars when you invite your friends to play.
KO Trivia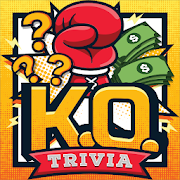 Your main aim in Knockout trivia is to outlast your fellow players, with the help of a few lifelines. While some online quiz sites have specific operation times, KO Trivia is 24hrs of Non-stop trivia action. 
Gain KO Coins every time you win and redeem them for free rewards.
The payouts are fast, and it's 100% free.
HQ Trivia
This Trivia company was on the verge of shutting down; four days later, a deal was struck, and another country purchased the HQ Trivia franchise. 
The company was founded in December 2017 and is still very active at the time of my writing.
It is the foremost trivia games in its niche "LIVE trivia game." It airs daily at 9 pm US Eastern Time.
Multiple choice questions are asked by the host, each question having a possibility of 3 answers with a 10 question limit.
"As of March 2020, the prize for games had ranged from $5 to $400,000 in addition to a points jackpot that was also split evenly amongst the winners"
More modifications are being made to the trivia at any given moment to make the game more accommodating to people of various works of life, and enable them to earn money online by answering quizzes, trivia, and logic questions. 
So what are you waiting for? Scratch that trivia itch by jumping into any (if not all!) of all these amazing apps n' sites.  Register, play, redeem your winnings, and get paid online! 
MindIT Trivia App
MindIT Trivia App provides its users with a chance to learn and make money from answering quizzes with extra money on weekends.
Install this unique quizzing and trivia game to increase your knowledge on topics including science, sports, history, current affairs, etc.
The best part of this app is that you can change your language to Italian, French, German, Spanish, Korean, Japanese, etc, to play, learn, and answer questions.
Choose from thousands of questions to increase your chances of competing in exams and points or coins for answering questions in this fun quiz app.
You cash out and receive payment via PayTM wallet or PayPal account.
FAQs on Get Paid to Answer Questions Online
What are the best sites that let you get paid to answer questions?
888Quiz
INBOXDOLLARS
Givling
Pop Quiz Perk
KO Trivia
HQ Trivia
How much can I earn with Givling?
On daily bases, you can expect to win up to $200+ and also have the chance to pay off the student loan and mortgage payments.
What topics can I expect on Quizbook?
History
Geography
Sports
Arts
Movies
Science
Conclusion
Getting paid to answer questions online is a cool way to get cash when needed. You don't need to have extra knowledge in any field, and you can always do it in your spare time.
Recommendations